Sargent Seniors Present Honors Thesis Projects
Congratulations to all the Sargent College seniors who presented their honors thesis projects this week. The Senior Thesis for Distinction is an opportunity for exceptional undergraduate Sargent College seniors to complete an in-depth research experience within a major or minor field of study. Under the supervision of a faculty mentor, this year, six students developed and executed a personalized research project while collaborating in their mentor's lab or research group.  
Christopher Bougher (Human Physiology)
Christopher presented his thesis, "Evaluating Frailty Assessment Tools and Biological Frailty Markers in Mice," mentored by Professor LaDora Thompson and Research Fellow Lais Rossie Perazza.
Haadiya Cheema (Health Science)
Haadiya presented her thesis, "Understanding the Influence of Role Out of HPV Vaccination Programs in Limited Resource Settings: Causal Graphical Analysis of Bhutan & Rwanda," mentored by Professor Lawrence Were.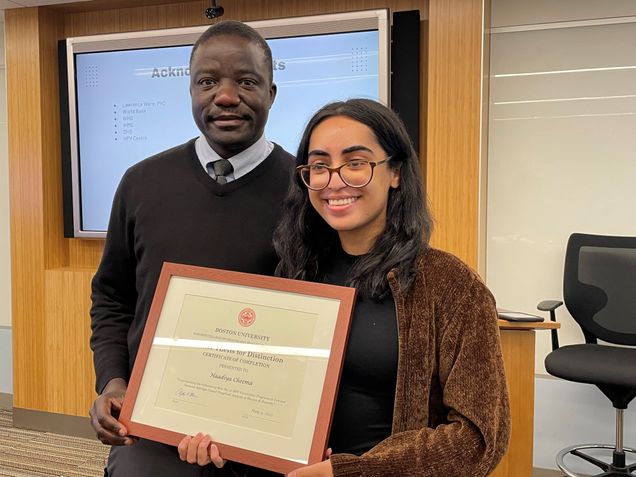 Jessica Morse (Health Science)
Jessica presented her thesis, "An In-Depth Analysis of Feminist Mobilization and Reproductive and Sexual Health Interventions in Bihar, India," mentored by Professor Bria Dunham.
Stephanie Roy (Speech, Language, & Hearing Sciences)
Stephanie presented her thesis, "The Role of Indexical Features in Feedforward Streaming during Cocktail Party Listening," mentored by Professor Tyler Perrachione.
Joseph Yap (Human Physiology)
Joseph presented his thesis,"Physical Function and Depression in Breast, Colorectal, and Prostate Cancer Survivors Following a 16-Week Circuit-Based Aerobic and Resistance Exercise Intervention," mentored by Professor Christina Dieli-Conwright.
 Tianran Ye (Nutritional Science)
Tianran presented her thesis on "Energy Intake Variation on Weekdays vs Weekends in a Sample of Healthy, Non-Smoking Adults," mentored by Professor Megan