The day before Thanksgiving 2009, college junior Drew Sperling got ready for work in the apartment he shared with roommates, walked out of his room, and collapsed from a stroke. The 21-year-old spent five weeks in a coma and was paralyzed on his right side. He was diagnosed with aphasia—a language processing disorder that makes it difficult to speak, understand speech, read, or write—and he had to relearn how to walk.
After five years—and a lot of speech and physical therapy—the former business major gave college another try. He enrolled in a class, but says he found the content and fast pace daunting. By the time he understood a concept in a lecture, the professor had moved on. He dropped the course in its second week.
Sperling's struggles are more common than many people realize. Young adults account for approximately 10 to 15 percent of the nearly 800,000 Americans who have a stroke each year; 15-to-24-year-olds have the second highest rate of traumatic brain injury (TBI) among any age group, often a result of motor vehicle accidents, sports injuries, and falls. And yet there are few rehabilitation programs to help young adults like Sperling overcome the physical, intellectual, and psychosocial barriers caused by stroke or TBI.
Swathi Kiran, a speech, language, and hearing sciences (SLHS) professor and associate dean for research, has developed a new program, Intensive Cognitive and Communication Rehabilitation (ICCR), to help young adults return to college after a brain injury—and to improve their quality of life.
"When you're college-age, everything you're doing—waking up, going to class, remembering your classroom, taking assignments—gets much harder because of the stroke or TBI," says Kiran, director of Sargent's Aphasia Research Lab. "So, most people just drop out of the system."
ICCR is designed to help young adults with brain injuries improve their cognitive and linguistic function and become successful students.
"It's like a practice run to go back to school," says Lindsey Foo, an SLHS clinical fellow and a program facilitator.
Intense Study
In 2018, Sperling moved from California to Boston to enroll in ICCR's 15-week spring semester. As a member of the six-student cohort, he came to Sargent four days a week for lectures in four introductory college courses (subjects included English, statistics, psychology, and human anatomy and physiology), lecture review sessions led by clinicians, technology training, and individual therapy. The program began and ended with one to two weeks of clinical and academic assessment to measure participants' improvements from the beginning of the semester.
The lecture content—open source from Yale University and Khan Academy—isn't watered down, but the pace is calibrated to students' needs. There's no timeline in which participants must complete ICCR; they can continue as long as they show growth each semester.
"When you're college-age, everything you're doing…gets much harder because of the stroke or [traumatic brain injury]."—Swathi Kiran
Kiran developed the program by combining the principles of neuroplasticity—the idea that the brain can form and reorganize connections after injury, particularly in a stimulating environment—with intense treatment. She had seen patients improve using Constant Therapy, an iPad application she codeveloped that allows individuals to engage in therapy anywhere, anytime.
"The more systematic and more repetitive the therapy, the more you're going to improve," she says.
ICCR is more immersive and immediate than a typical speech therapy session because students are learning cognitive strategies in the classroom, where they can implement new skills or strategies on the spot. An ICCR student who is studying the four stages of mitosis, for example, can develop a mnemonic to remember those stages with the help and support of a speech-language pathologist. If they have questions, they can get assistance right away, whereas a student working on those skills in a clinic would need to wait until their next appointment for help.
Master's-level speech-language pathology students, working with ICCR as part of their practicum requirement, help provide this real-time classroom support. Kiran says their involvement enables the program to "infuse every hour with cognitive therapy."
It can be intense. Students take daily quizzes and are encouraged to study every night. They give presentations, write papers, and participate in class discussions. "Having four classes is hard," says Sperling. "But it's actually good for me to work hard."
"It's not going to get better if the work is not tough," says Natalie Gilmore, an SLHS PhD candidate and a program facilitator. "Our students get that. To get up every day and agree to be challenged—they're extraordinarily motivated."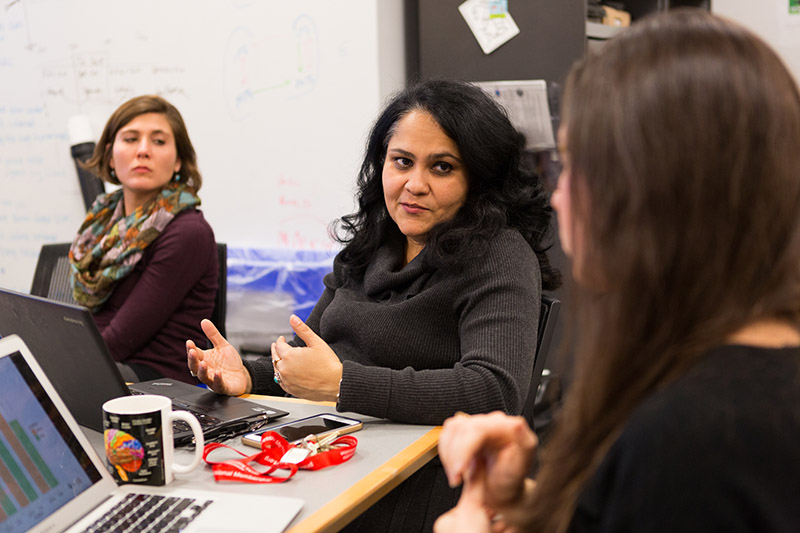 Gaining Confidence
The program isn't just about academic success; one of its main goals is a better quality of life. During individual speech therapy sessions, students focus on a diverse range of skills and goals, from improving their writing to using an online dating app. The latter is a reminder of the challenges and goals for young adults with brain injuries. "There are so many life experiences they haven't had," says Gilmore. "They want to meet people, make friends."
For Sperling, living away from his parents for the first time since his stroke has been "fantastic." He says developing cognitive skills in ICCR has given him self-confidence and independence. By learning to navigate Boston's MBTA system, for example, he was able to travel to the grocery store and to get a haircut.
"He surprised us, and he surprised himself," says Sperling's mom, Shelby. "[ICCR] gave him that much more confidence that he could do the academic part on his own—he didn't need mom and dad to sit with him every night and review questions."
Classmates eat lunch together, connect on social media, and socialize outside of school. Sperling planned a recent student dinner at a Boston restaurant. "A long time ago, I was isolated, and now I'm branching out a little bit," he says. The students are also embracing the wider BU community; Sperling attends a film club and another student joined a BU bible group.
Their assimilation has been particularly gratifying for Kiran who understands the stakes: "If they don't find something like this to change their lives, they're going to fall through the cracks in the system, and they're too young to be written off."
Getting Data
The first two years of the program have surpassed Kiran's expectations. Measured by standardized testing, students have shown progress in classroom participation and individual therapy, as well as social communication and participation, which the program didn't specifically target. The more semesters a student participated in ICCR, the more they improved in cognitive-linguistic functions like attention, memory, and verbal expression.
What is particularly surprising, says Kiran, is that students show improvement despite the long-term nature of their injuries. "Time is against them," says Kiran, but that "does not outweigh their motivation and the intensity and functionality of the therapy—that is a scientific achievement."
One of the next steps for Kiran and her team is to use functional near-infrared spectroscopy (fNIRS) to measure changes in brain activity during class. The technology, which David Boas, director of the BU Center for Neurophotonics, helped pioneer, uses light to noninvasively monitor brain activity. Because fNIRS allows brain imaging to be conducted just about anywhere—participants wear what looks like a swim cap fitted with sensors—it solves a common research problem: laboratory tasks don't often mirror real-life scenarios. With fNIRS, "We could be in class collecting data," Kiran says, allowing her team to better determine how the brain is responding to treatment.
ICCR has grown steadily each semester and enrolled eight students in summer 2018. One program graduate is pursuing an associate's degree at a Massachusetts community college; another is attending BU, enrolled in a course at Sargent. "This is a wonderful opportunity for these survivors to move on to another phase of their life—and be able to construct a meaningful life," says the Sargent student's mother, Lisa. "It's a lifesaver. When parents ask me, 'is it worth having my son or daughter do this?' I say it will make a difference and you will see the changes."
Sperling returned for another ICCR semester over the summer, aspires to enroll in college, and is considering a career helping others with aphasia. Kiran projects that in five years, ICCR will be a comprehensive two-year program where, upon completion, all graduates enroll in college.
Seemingly small events have already proven the program's potential for positive change. Heading to a meeting last summer, Kiran stepped outside Sargent's glass doors and saw two ICCR classmates eating lunch on a bench, enjoying the midday sunshine. Surrounded by BU peers, the students waved and talked to passersby. Being part of the University milieu is the essence of what Kiran and her team are trying to achieve.
"They get to feel that they're alive," she says. "People acknowledge them as part of the University community. Yes, we're doing science, we're doing research, but, at the end of the day, they've got their dignity and their identity and their self-confidence back."