Our apartments are located in neighborhoods that are unique and offer amenities and conveniences to make your life easier.
The University
As a Boston University apartment resident, your University affiliation opens a world of academic, social, sports, and special events to you, usually at no or little charge. Campus facilities and services are available and close to you including athletics and fitness, libraries, the George Sherman Union, and dining locations on both campuses.
Amenities, Entertainment, and Cultural Attractions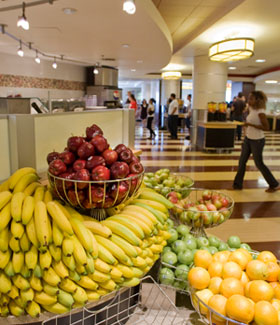 Boston is a city of contrasts. As one of the nation's oldest cities, it is rich in history but also a place of new discoveries and technologies, a center for major cultural attractions, and home to one of America's largest student populations.
Our residences are uniquely situated to place you within walking distance to supermarkets, retail stores, mass transportation, and major cultural and sporting venues.
On the Charles River Campus, the campus borders the Charles River Watershed area with walking, jogging, and cycling paths that can get you downtown or west to Cambridge and the suburbs beyond.
Transportation Access
Boston is one of America's most walkable cities and also home to the nation's oldest subway system. Owning a car isn't necessary here! BU apartments are all located within short distances of MBTA subway and bus service, which connect to train and commuter rail stations as well as to Logan International Airport .
The Boston University shuttle –The BUS – runs between the Charles River, Medical, and Fenway campuses with stops on each campus from 7 AM – 11 PM weekdays, with weekend and late-night service on the Charles River campus.
Prefer to bike your way around the campus and the city? Boston is at the forefront of American cities in recognizing the role that cyclists play in urban transportation. The bike lane along Commonwealth Avenue — through the heart of our campus– was the first in the City of Boston and reflects the University's commitment to our cycling community. Take advantage of the Bluebikes bicycle rental system whether it is to get from one side of campus to the other, or whether you want to explore the city.