Where is China Headed?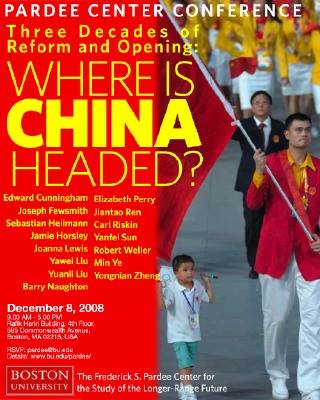 Project Coordinator: Prof. Joseph Fewsmith
An international group of distinguished China scholars gathered at Boston University in early December 2008 for a conference titled "Three Decades of Reform and Opening: Where Is China Headed?"
The conference was organized by Professor Joseph Fewsmith, a Pardee Center Faculty Fellow and a professor at BU's Departments of International Relations and Political Science. Fewsmith is an expert on China and the author of four books about the country, including, most recently, China Since Tiananmen: The Politics of Transition (2001, Cambridge University Press).
The conference included sessions on China's economy, social order, and politics as well as its health care, energy, and environmental systems.  Former U.S. Ambassador to China Roy Stapleton delivered the keynote address during the luncheon plenary.
On September 22, 2010, the new book 'China Today, China Tomorrow' (2010; Rowman and Littlefield Publishers) – which is based on the papers originally presented at the December 2008 Pardee Center conference on the Future of China – was launched with an impressive panel discussion featuring five of the chapter authors of the book – Joseph Fewsmith (on China's internal politics), Min Ye (on Chinese diaspora), Edward Cunningham (on energy), Robert Weller (on religion) and Elizabeth Perry (on social protest). For more information on the book launch, see here.
Videos
This project began with a conference in December 2008. Videos of conference panels and keynote address available here.
Publication
An edited book based on the papers was published in 2010