Diversity, Equity, Inclusion, and Justice
Our Mission
In the Summer of 2020, the Graduate Program for Neuroscience (GPN) faculty and students formed a committee to facilitate anti-racism actions that the BU neuroscience community can take to improve the quality of student life and professional development at the institution.
Systemic oppression is multifaceted and continues to challenge the integrity of diversity, equity, and inclusion in academia. The mission of the Diversity, Equity, Inclusion, and Justice (DEIJ) Committee is to establish the Graduate Program for Neuroscience as a leader in the promotion and training of future neuroscientists in an anti-racist, anti-ageist, anti-sexist, anti-ableist, anti-classist, anti-homophobic, and anti-transphobic environment.
The GPN DEIJ Committee acknowledges and embraces the intersectionality of identities within the neuroscience community just as it recognizes and welcomes the multidisciplinary nature of neuroscience. With our strong commitment, we will work towards dismantling systemic oppression by promoting diversity, equity, and inclusion to bring about justice in neuroscience and academia at Boston University. More information about the DEIJ Committee can be found on the committee's webpage.
Diversity & Inclusion Recruitment Initiatives
Honoring Pride Month 2021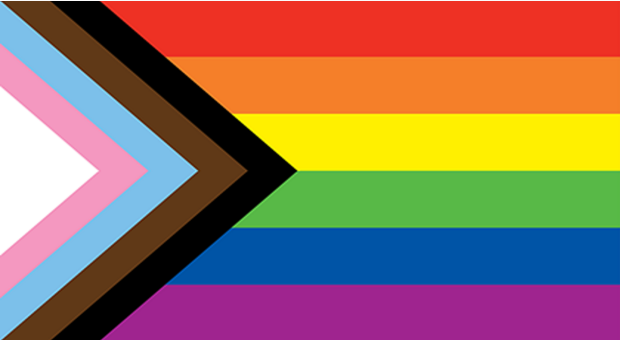 Happy Pride! This June, we are celebrating the LGBTQ+ members of our Neuroscience community, and committing to the creation of a safe and welcoming campus for everyone. While we have so much to celebrate, there is still significant work ahead to achieve true equality for LGBTQ+ people. Estimates suggest that LGBTQ+ folks are 17-21% less represented in STEM than statistically expected based on their prevalence in the US population.  If you're looking for ways to support LGBTQ+ folks in STEM, consider initiatives from organizations like 500 Queer Scientists, oSTEM, and NoGLSTP.  Also check out this list of LGBTQ+ Resources from BU and Beyond and this list of recommended reads from LGBTQ+ authors.
Research Spotlight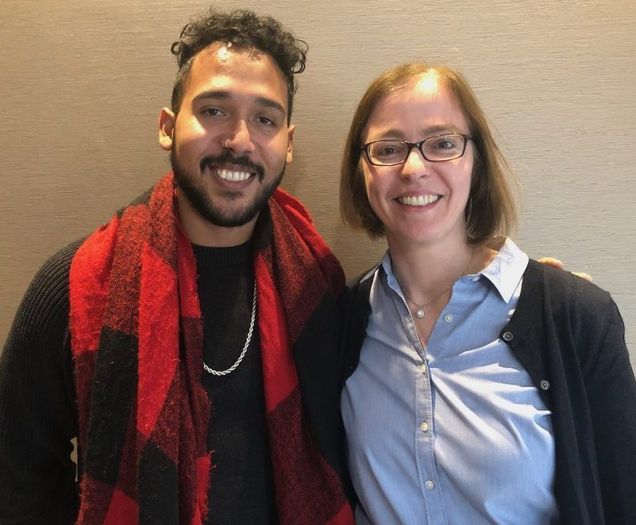 Michael Rosario, a GPN PhD student, and his advisor Dr. Karin Schon are studying the effects of chronic stress due to experiences of racism on brain structure and function. A description of this important work recently appeared in BU's Alzheimer's Disease Center Bulletin:
We know that stress can cause chronic health conditions and affect our overall cognitive brain health. Stress can be caused by many different things, including things that we are aware of and experience daily, and things that we experience over time. Discrimination related to racial minority status – racism – is a known chronic stressor. Experiences of racism are common among Black Americans, the largest minority group in the United States. The prevalence of Alzheimer's disease (AD) is higher in Black Americans than their white, non-Hispanic counterparts. The reasons for this health disparity are unclear, but there has been research implicating a higher prevalence of hypertension, differences in socioeconomic status, and genetic factors. BU ADC investigators are looking at whether chronic stress due to a lifetime of experiences of racism negatively affects brain function in two subgroups of Black seniors. Dr. Karin Schon, an investigator at the Boston University Alzheimer's Disease Center (BU ADC) and Alzheimer's Association Research Grant recipient, along with her PhD student, Michael Rosario, who has received a Health Policy Research Scholarship from the Robert Wood Johnson Foundation, and Dr. Yvette Cozier, an Associate Professor of Epidemiology and an investigator of the Black Women's Health Study at the Boston University School of Public Health, are conducting studies about the impact of racism on memory and whether the Alzheimer's health disparity may, in part, be explained by differences in racism-related chronic stress for Black Americans. The hippocampus, a brain area critical for memory formation, is impacted by both Alzheimer's disease and chronic stress. Schon and colleagues hypothesize that Black seniors who experience higher levels of chronic stress due to racism will show poorer cognition and hippocampal function, and elevated salivary cortisol, a physiological marker of the stress response, independently of other stressors.
First, they will examine whether racism-related chronic stress in Black seniors could lead to poor cognition, elevated cortisol, and a dysfunctional hippocampus. Volunteers will be asked to attend two study visits where they will provide a saliva sample through a cheek swab, answer questions about potential stressors, and undergo cognitive testing. Schon and her team will then compare the cognitive function and cortisol level of Black seniors living in the City of Boston, where they are members of a racial minority, with Black seniors living in Rosario's home island of St. Croix in the United States Virgin Islands, where they are members of the racial majority, to see if differences are found. The proposed work could generate a new hypothesis: Individuals experiencing racism related chronic stress may show accelerated cognitive decline. Dr. Schon's group is also looking at the long-term implications of disparities in brain structure and function and cortisol levels through an additional research project titled Impact of Psychosocial Stress Study. They are looking for volunteers who already participate in our BU ADC HOPE Study. The purpose of this second study is to examine the effects of psychosocial stress, including experiences of discrimination, and socioeconomic status on thinking processes and on the function and structure of the brain over time.
If you're a healthy Black adult between 50 and 80 years old with no neurological or psychiatric conditions and are interested in learning more about this study, please call 617-358-5382 or email JoinADC@bu.edu.
Diversity-Focused Student Groups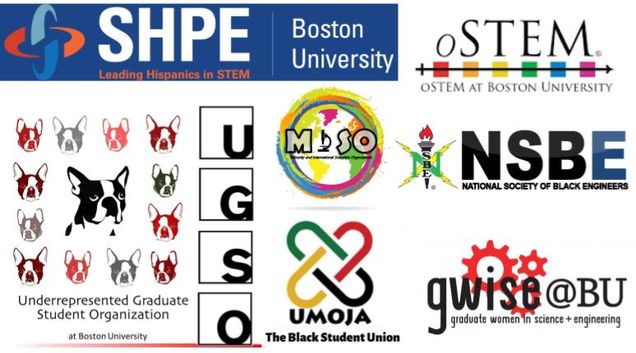 GPN students are members and leaders of many organizations on campus. Here are a few groups specifically focused on DEIJ efforts:
Underrepresented Graduate Student Organization (UGSO)
Reporting a Bias Incident
Community is what holds us together, and it is essential that we support each other and lift each other up. If you experience a bias incident, there are people within our GPN community ready and able to help. There are also resources available at the university level.
If you would like to handle a situation within the Graduate Program for Neuroscience community, we have four GPN Community Points of Contact (two faculty members and two students) who have volunteered to assist with handling bias incidents. These points of contact can help you navigate the University's reporting system, and/or initiate a constructive discussion with the offending party (for instance, surrounding the use of micro-aggressions) .

GPN Community Points of Contact:
ResourcesThe Office of the Ombuds is a safe place to go for off-the-record conversations on issues related to life, work, or study at Boston University. Talking to the Ombuds can be a good first step if you don't know where to turn for help.
The Dean of Students Office has a system in place for reporting cases of alleged unlawful discrimination or harassment.
On-Campus Resources
Readings & Additional Resources