Practice Fellowship
Please Note: Applications for the 2022-2023 academic year are now closed.
Director: Trish Elliott, DrPH, MPH
We engage our community partners in the act of educating students, and students in the act of making a difference in community organizations through intensive, year long, supervised practice experiences. If this working with external organizations sounds appealing, the MCH Practice Fellowship may be a great opportunity for you!
MCH Practice Fellows will:
Receive a professional development stipend of $1500* paid in increments across the fellowship period
Commit to 8-10 hours per week over a period of 11-12 months

Have monthly professional development workshops with Trish Elliott

Demonstrate major contribution to a professional work product related to the fellowship
Present their work at our annual MCH Forum at the conclusion of the fellowship period (early December)
Submit an abstract and present at a national or regional professional conference (optional)
---
Current Practice Fellowship Descriptions
Archived Practice Fellowship Descriptions: 2021-2022
---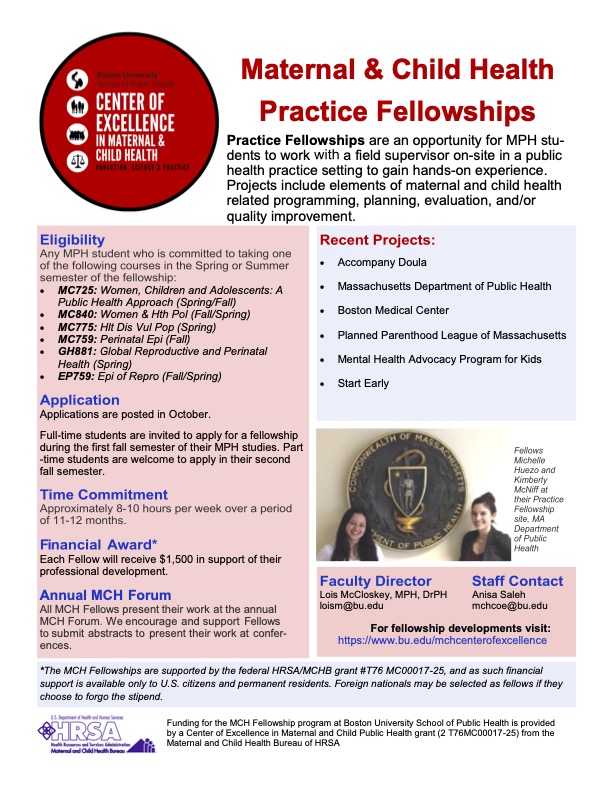 ---
Requirements
Any MPH student who is committed to take one of several MCH courses, ideally in the first spring or summer semester of the fellowship: MC725, GH881, MC840, MC775, MC759, or EP759.
---
How to Apply:
Review research fellowship project descriptions | 2022-2023 MCH Practice Fellowship Project Descriptions
Complete fellowship application | Fellowship Application 2022-23
Submit application to mchcoe@bu.edu by

Friday October 21, 2022 at 11:59 PM EST.
*The Fellowships are supported by the federal HRSA/MCHB grant #6-T76MC00017-27, and as such financial support is available only to U.S. citizens and permanent residents. Foreign nationals may be selected as fellows if they choose to forgo the stipend.
---
Frequently Asked Questions
Find FAQs and answers here.
---
Current Practice Fellows 2022-2023