Course Materials (Reserves)
Reserves are library materials (including physical and electronic books, audio/visual materials, journal articles, media, and electronic resources) selected by a faculty member to support course instruction. Instructors can place books, articles, and other materials on reserve for their students using the Place Items on Reserves form. This form can be used for all library materials, both physical and electronic. 
Electronic Course Materials
Libraries staff will place electronic materials on reserve using BU Libraries Course Materials. Once created, these lists can be embedded in Blackboard or other Learning Management Systems, or instructors can simply share the Libraries-provided link with their classes. 
Print Course Materials
Physical materials on reserve are maintained and loaned through the Library Services Desk in Mugar Memorial Library or the circulation desk at Pardee Management Library. Access to these materials may be restricted to shorter loan times or in-library use only in order to accommodate use by all students enrolled in a course. 
Finding a list in BU Libraries Course Materials
Go to BU Libraries Course Materials to locate electronic course materials (reserves) lists at BU Libraries.
To find a course, click Find Lists in the navigation panel on the left side of the screen.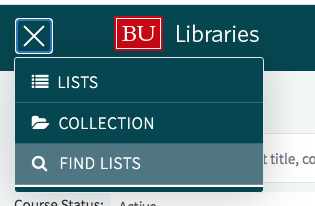 Enter the course number or instructor's last name in the first field at the top of the screen, and click the search icon or hit return.

To add a course to My Lists section of the navigation panel, click ADD next to the course name.