How to Use BU Libraries Search
Get started with our video tutorials

(videos may require BU login)
Know what you're looking for?
For most items, include words from the title or author's name in your search. For articles, try copying and pasting the article title from a citation.
If you know the exact title you can use quotation marks around your search [Examples: "A Brief History of Time", "Huckleberry Finn"]. Variations in spelling and punctuation sometimes prevent a match to the proper result.
The Availability filters allow you to limit to results that are either online or physically available in the library. You can also limit to articles that appear in peer-reviewed journals.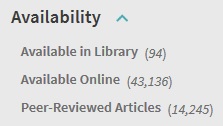 The Material Type filter can limit results to articles, books, or other types of resources.
Doing research on a topic?
Start with a broad search and narrow down using some of these methods:
Look for related subject terms. Items you find in BU Libraries Search have been tagged with subject terms by a variety of organizations. For example, when searching for World War II materials, you'll find books tagged with the subject term "World War (1939-1945)", whereas some articles are tagged with the term "World War II". Other items may be missing subjects but contain words that match your search in the title or abstract.
Limit to peer-reviewed articles or to a certain material type (books, articles, etc.).
Add more words to your search. When you add a word, the results will eliminate all items that do not contain the word somewhere in the record, like the title or subject terms.
See our Search Tips for more suggestions.
You can find subject-specific assistance in our Research Guides.
Can't find what you're looking for?
BU Libraries can get it for you through our Interlibrary Loan Services. If you find an article or other resource we don't have, you can sign in to find a link to request that item.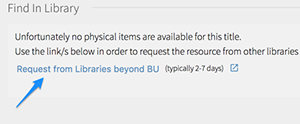 See our Interlibrary Borrowing Help for more assistance.
You can also search libraries beyond BU using WorldCat Discovery.
Advanced Features
BU Libraries Search allows you to save search results, set notifications for newly-added resources, and export search results to reference managers. See more details here.
We're here to help
Ask a librarian for further assistance. You can contact us via email, chat, phone, or in person.