On writing When God Isn't Green.
By Professor of Law Jay Wexler
When God Isn't Green discusses what happens when religious practices end up harming the environment. Should the government regulate those religious practices the same way it would regulate any other source of environmental harm? Should it ignore the environmental impact of those practices in the name of religious freedom? Or should it do something in between?

To investigate those questions, I traveled around the world to try to understand how various societies have dealt with such problems. Among other trips, I went to Mumbai to watch devout Hindus immerse immense idols of the elephant god Ganesh into the sea and leave them there, visited Singapore and Hong Kong to witness Taoists burning joss paper to appease so-called "Hungry Ghosts," and traveled to the northernmost city in the United States to participate in Nalukataq, a Native Alaskan whaling celebration.
The idea for the book was a direct result of my time at BU Law. For over 15 years, I have been teaching Environmental Law and a seminar on law and religion. This might seem like an odd combination of courses for one faculty member to teach, and in some ways it is. But I have long been fascinated by both subjects, so for me, it has always been a terrific assignment. Over the years, I have come to see a number of ways in which the subjects intersect. Whenever I was teaching my religion course and an environmental issue came up, I made a mental note of it. I did the same whenever an issue related to religion arose while I was teaching environmental law. Some of these issues ended up as chapters in When God Isn't Green.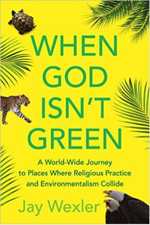 Initially, my intention was to write a book about just one controversy—whether the federal government should allow Native Americans to possess the feathers of bald and golden eagles for their religious rituals. Many Native Americans believe that eagles are sacred and use their feathers and other parts in their ceremonies, but the Bald and Golden Eagle Protection Act of 1940 makes it generally illegal for anyone in the United States to so much as possess a single feather. To accommodate the beliefs of Native Americans, the Fish and Wildlife Service runs a macabre operation known as the National Eagle Repository, which collects dead eagles and then sends their parts first-come, first-served, to tribal members who apply for them. The repository is hardly an ideal solution, as it is a rare religious believer who thrills at receiving their ritual objects in the mail from the government.
Although I spent at least
a year trying to convince editors to let me write a book about eagles (it would have been called
Illegal Eagles
and would have sported a discombobulated bald eagle on the cover), I completely struck out. I remember the precise moment when the idea for the eagle book transformed into what would become
When God Isn't Green.
I was talking with my longtime editor at Beacon Press about eagles for the umpteenth time when she asked me this simple question: "Is this eagle issue perhaps a subset of something larger?"
In frustration, I closed my eyes and thought about all of the issues I had noted over the years. "Maybe something about how religious practices generally impacts the environment around the world?" I offered. When I opened my eyes, my editor had a huge smile across her face. "Now that is interesting," she said. The contract was signed a month later.
This feature originally appeared in The Record, BU Law's alumni magazine. Read the full issue here.
Related News