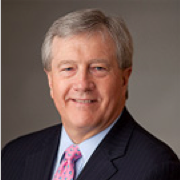 J. Michael Schell ('76)
Biography
Mike is currently engaged in a variety of business, entrepreneurial, educational, civic and charitable activities. He is active as a member of the Commerce Department's National Advisory Council for Minority Business Enterprises (25 U.S. business leaders appointed by the Secretary to focus on promoting the minority business community, led by the Commerce Department's Minority Business Development Agency).
Mike retired from Alcoa at the end of 2010. Almost three years earlier he had joined Alcoa as Executive Vice President – Business Development and Law, with supervisory responsibility for Alcoa's business development activities and its legal department. He was a member of the Alcoa Executive Council, the senior leadership group that provides strategic direction for the company and was also Chief Compliance Officer for Alcoa. Mike went to Alcoa from Citigroup where he had been Vice Chairman of Global Banking and a member of the Global Banking Operating Committee and its Executive Committee. His principal day-to-day responsibilities included senior client relationships and major M&A transactions.
Mike was an M&A lawyer with Skadden, Arps, Slate, Meagher & Flom LLP from 1979 until 2005. He began his professional career with Cadwalader, Wickersham & Taft in 1976, and was soon recruited to join the fast-growing M&A group at Skadden, Arps. He became a Skadden partner in 1984 and was a key contributor to the development of Skadden's M&A business through the 1980's and 90's.
Mike graduated from Columbia University in 1969 with a B.A. and received his law degree from Boston University in 1976. He is a recipient of Boston University's 2001 Alumni Award and the School of Law's 1997 Silver Shingle Award. He was designated a leading M&A lawyer in the world from 2001 to 2005 by Chambers Global: The World's Leading Lawyers, 2001-2005 and led the representation in Euromoney Magazine's 2000 U.S. M&A Deal of Year and Investment Dealer's Digest's 1998 Deal of the Year.