Three BU Law grads working at the ACLU look to move beyond the bipartisan FIRST STEP Act on criminal justice reform issues at the state and federal levels.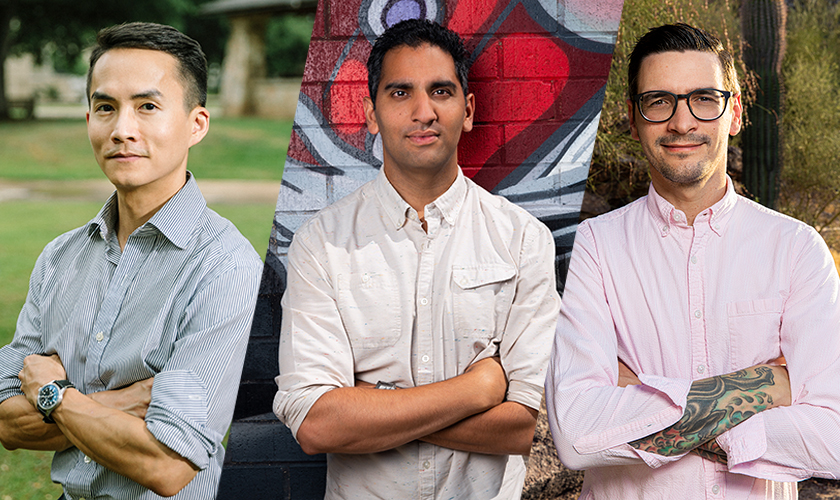 ---
A few weeks before Jared Keenan ('08) was scheduled to start his new job as a staff attorney at the ACLU in Arizona, his boss asked him if he would join a call for the organization's nationwide Campaign for Smart Justice, a multiyear effort to reduce the prison population in the United States and combat racial disparities in the criminal justice system. She mentioned that someone named Somil from the ACLU's national office would be participating.
"Somil Trivedi?" Keenan asked.
Sure enough, his former Boston University School of Law classmate, a 2009 graduate and a senior staff attorney at the ACLU's Criminal Law Reform Project in Washington, DC, was on the line. Both Trivedi and Keenan, who ran in the same circle of friends at BU Law, had been hired to work on the Campaign for Smart Justice but neither knew about the other's position. And before too long, they had reacquainted with a third classmate and friend working on criminal justice issues at the ACLU: Joshua Tom ('08), legal director of the organization's Mississippi affiliate.
Keenan, Trivedi, and Tom each joined the ACLU in 2016 or 2017 after establishing their careers in different ways: Trivedi worked as a senior associate at WilmerHale in New York and as a trial attorney at the US Department of Justice; Keenan served as a public defender in Massachusetts and Arizona; and Tom spent several years as an associate at Skadden, Arps, Slate, Meagher & Flom.
They joined the nonprofit at a critical moment in US history. Decades of reliance on punitive criminal justice measures have caused the country's jail and prison population to soar. The United States is home to less than 5 percent of the world's population but nearly 25 percent of all people who are incarcerated globally. But there is a growing, bipartisan consensus that reforms are necessary, as evidenced by the FIRST STEP Act, passed in December 2018 by a Congress otherwise divided mostly along partisan lines.
"I am on the whole optimistic about our chances for getting real, lasting reform because criminal justice reform has been embraced across the ideological spectrum," Trivedi says. "Conservatives, libertarians, liberals, progressives—sometimes for our own reasons, sometimes for the same reasons—agree the state exerts far too much destructive control over people's lives via the criminal justice system."
Keenan concurs.
"It is actually kind of a hopeful time," he says. "Newer politicians in both parties are waking up to the financial costs—but often, more importantly, also to the human costs"—of bad policies.
That alignment has made for some "strange bedfellows," Trivedi notes. As part of his work nationally, Trivedi has led the ACLU in joining amicus briefs with organizations ranging from the libertarian Cato Institute to the Christian conservative Alliance Defending Freedom, the Second Amendment Foundation, and the Koch brothers–funded Americans for Prosperity.
In 2018, those groups and others joined forces in an amicus brief asking the US Supreme Court to revisit its rulings on "qualified immunity," a precedent that protects police, prosecutors, and other government officials from liability under Title 42, Section 1983 of the US Code even when they have violated someone's constitutional rights. The brief came in the case of Almighty Supreme Born Allah v. Milling, in which an inmate claimed prison officials denied him his due process rights by holding him in pretrial solitary confinement based on a questionable demerit from a previous incarceration. Although a federal trial court ruled in the inmate's favor, the decision was overturned by the Second US Circuit Court of Appeals, which cited the doctrine of qualified immunity.
The doctrine "enables public officials who violate federal law to sidestep their legal obligations to the victims of their misconduct," the parties wrote in their brief. "In so doing, the doctrine undermines the public's trust in those officials—law enforcement in particular—making on-the-ground policing more difficult and dangerous for all officers, including that vast majority who endeavor to uphold their constitutional obligations. Neither the text nor the history of Section 1983 compels this perverse outcome."
The goal of the Campaign for Smart Justice is to reform the criminal justice system from the inside out, including through sentencing and bail reform. In some cases, Trivedi points out, that means the ACLU is working with law enforcement agencies and government attorneys that the organization traditionally might have sued.
"The notion that we can end mass incarceration and tackle systemic racism from within the system has really caught fire," he says.
In 2018, the Arizona State Legislature passed a bill to require two county attorneys' offices to collect and publish data on their prosecutions, including demographics, charging information, guilty pleas, trials, and prison sentences. The 18-month pilot project began in January. The ACLU in Arizona had supported an earlier version of the bill, which died in committee.
Prosecutors have "generally been very reluctant to share anything with anybody," Keenan says. "We're hopeful that if two rural counties can collect and make data publicly available, then every county in the state can do it."
In a February 2019 report called "Unlocking the Black Box," the ACLU argues that prosecutorial transparency is an "essential step" to ending mass incarceration and racial inequities in the criminal justice system because it will enable people to hold prosecutors accountable and implement necessary reforms.
Of course, just because some law enforcement agencies and prosecutors are partnering with rights groups like the ACLU that doesn't mean lawsuits are off the table.
In May, Trivedi and Keenan teamed up on an ACLU lawsuit that claims the elected county attorney in Maricopa County, Arizona, violated open records law by failing to respond in a timely manner to a request for information about that office's operations.
And, in Mississippi, Tom's ACLU affiliate has sued the Madison County Sheriff's Department, which the ACLU claims unconstitutionally targets Black people and communities for law enforcement activities, including stops, searches, and arrests. The ACLU cites data showing that African Americans make up only 38 percent of Madison County's population but accounted for 77 percent of all arrests made by the department between 2012 and 2017.
"This is a county that has had a long history of racially discriminatory policing that goes back to at least the Civil Rights Movement," Tom says. "If we can get a favorable result there, I'll be very proud of the work we've done."
The three BU Law graduates were each drawn to their work in part through their unique personal experiences. Trivedi grew up in the Midwest and South and saw firsthand some of the racial and socioeconomic inequities that drove the Civil Rights Movement and still fuel mass incarceration. Keenan was arrested a few times as a teenager and felt he was unfairly targeted because he hung out with a group of kids that identified as "punk rock." And Tom's parents—Chinese Americans born in Arkansas and Mississippi—went to segregated schools as children (they each went to schools for white children that did not allow African Americans, although other districts had separate schools for whites, African Americans, and Asian Americans).
But the three attorneys also share a common formative experience: exposure to social justice issues and constitutional law concepts at BU. Both Trivedi and Tom say Professor Tracey Maclin's constitutional law course played a major role in influencing their career paths.
"Walking into his class on day one changed my entire life and perspective on the law," Trivedi said in a recent Proud to BU alumni podcast.
"He was quite the force of nature," Tom agrees. Keenan says his experience working in the public defender's office and a legal aid nonprofit organization in New Orleans as a student—during a spring break and his 2L summer—impacted his career path. So did his then-girlfriend, now-wife Grace Guisewite ('09), who knew she wanted to be a public defender and helped convince Keenan that he did, too.
Before that, he says, "I actually wasn't really sure what I wanted to do other than the general idea of public interest law."
Guisewite, who works as a public defender appeals attorney in Maricopa County, and Trivedi were friends and classmates. And Trivedi's now-wife, Shanta Trivedi ('08), a clinical teaching fellow at the University of Baltimore School of Law, was one of Tom's close friends and has also, with her students, worked with the ACLU of Arizona on an amicus brief in support of a Mexican father seeking the return of his son from foster care in Arizona.
"Not only have we now been reunited under the same umbrella, but we all work on criminal justice issues together," Trivedi said in the podcast of himself, Keenan, and Tom. "It really underscores how BU Law creates public-minded lawyers."
Despite the emerging unity on opportunities for criminal justice reform, the three agree the challenges are still great.
"The reform movement is unevenly distributed," Trivedi says. "The Campaign for Smart Justice is active in all 50 states, working at the state and local levels to change policy and to bring lawsuits and to win elections, because we're not there. This work is long-haul."
Reported by Rebecca Beyer
Cover illustration by Taylor Callery, photos by William Widmer, Jimell Greene, and Brandon Sullivan
This feature originally appeared in The Record, BU Law's alumni magazine.
Read the full issue here.
---
Related
News