The Boston University Undergraduate Architecture Association works to support students in furthering their interest of architectural and design topics. UAA promotes an atmosphere of both conceptual discussion and hands on experience. It is a resource to students looking to converse about a unique subject as well as to those considering the professional practices of Architecture, Urban Design & Planning, and Preservation, among other fields. The Association sponsors professional panels, portfolio development workshops, site visits, lectures, graduate program visits, and more throughout the academic year. Events in recent years have included a visit to the Walter Gropius House, the MIT School of Architecture + Planning, and a panel featuring professionals from MASS Design Group and Pinkcomma Gallery. For more information or to join the mailing list, contact undergraduatearchitecture@gmail.com
Meet Your 2022-2023 Officers:
---
---
President – Nic Rowe
Nic is a senior pursuing a degree in Architectural Studies with a minor in Urban Studies. Besides UAA, he is also an active member of the Undergraduate Philosophy Association and has volunteered with Student Food Rescue, FYSOP, and Alternative Service Breaks with BU's Community Service Center. His favorite architect is Antoni Gaudí, and in his free time he enjoys cooking, reading mystery novels, and playing the banjo.
---
Vice President – Zorka Zsembery
Zorka is a junior Architectural Studies major with minors in Philosophy and Mechanical Engineering. Also fond of fashion, astronomy, and film-making, she is particularly interested in organic architecture, like Pierre Cardin's Palais Bulles and Javier Senosiain's Casa Organica. Zorka looks forward to guiding design software workshops and leading collaborative architecture projects at UAA this year.
---
Secretary: James Brine
James is a senior History major with a minor in Urban Studies. Two of his favorite architects are Henry H. Richardson and Juan O' Gorman. He has a particular love for the Het Schip building in Amsterdam.
---
Co-Treasurer – Angela Chao
Angela is a senior Architectural Studies major with minors in Computer Science and Latin. Her favorite architect is Lawrence Halprin and she draws inspiration from SANAA Architects. With a particular interest in sustainable and ethical design, she is fascinated by the interplay between interior and exterior spaces. Outside of the UAA, you can find her fencing for the BUFC Women's Foil team or attending workshops at the FORGE Design Studio. In her free time, she likes to bullet journal, visit museums, and play piano.
---
Co-Treasurer – Bader Baroudy
Bader is a junior dual degree student majoring in both Architectural Studies at CAS and Sculpture at CFA. His favorite architects are Bernard Khoury and Antoni Gaudi. He's particularly interested in parametric architecture, post-structuralist sustainable architecture, and the fading landscape between the art world and the architecture industry (ex: Shahpour Pouyan and David Umemoto). Bader is looking forward to meeting all the new members, and getting to organize many exciting projects.
---
DEI Officer – Romy Binstein
Romy is a sophomore in CGS majoring in Architectural Studies with a minor in Visual Arts. She is interested in environmentally green architecture and some of her favorite architects are Antoni Gaudí and Javier Senosiain. Romy also loves dance, art, and photography. Besides UAA Romy is part of the Squinch magazine artistic team and Students for Reproductive Freedom.
---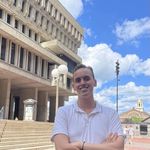 VP of Marketing + Outreach – Colin House
Colin is a rising senior in CAS majoring in Architecture Studies with a double minor in Urban Studies and Visual Arts. His interests include architectural and cultural history – how our built environment has come to be, and how it can be adapted for the future while preserving its integrity. Some of his favorite architects/firms include Mies Van Der Rohe, Richard Neutra and Koichi Takada Architects. In his free time, Colin enjoys cooking with friends, dancing, and exploring Boston's diverse neighborhoods!
---
---