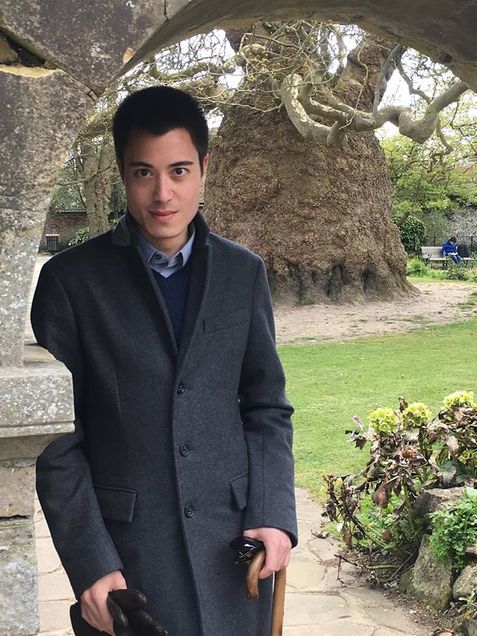 Thomas Porter Wu
CAS 2015
1) What have you been doing since you graduated from BU? Details about your current and past employment? Accomplishments you're proud of? Challenges you've encountered?
When I graduated from BU in 2015 with a BA in History of Art and Architecture, I knew that I wanted to work in museums, but not necessarily in what capacity. By that time, I had also developed a particular interest in European decorative arts. That summer, I was offered a position in the Finance Department at the Museum of Fine Arts. Despite having no background in finance, I decided to accept. I subsequently held term positions in the museum's Textile and Contemporary departments, working closely with curators on acquisitions, gallery installations, collection audits, and donor relations. I then worked in the Membership Department, planning member events and coordinating university memberships. On one occasion, I had the pleasure of representing the MFA at a student engagement event on BU's campus. By being open to moving between departments, I gained a varied, well-rounded body of experience. During my time at the museum, I also co-planned and participated in a series of themed talks and tours designed to engage young adult audiences.
In 2018, I entered an MA program in History of Art at the Courtauld Institute in London, where my studies focused on the decorative arts of eighteenth-century France. I wrote my thesis on the thematic decoration of Sèvres porcelain dinner services, using examples in the Victoria & Albert Museum and Wallace Collection as case studies.
After my graduation in the summer of 2019, I was offered the position of Curatorial Assistant, European Decorative Arts & Sculpture at the Legion of Honor Museum in San Francisco. In my new role, I assist the museum's decorative arts curator with acquisitions, write text for gallery labels and panels, research for exhibitions and publications, and collaborate with an enthusiastic group of decorative arts patrons. I hope eventually to become a fully-fledged curator within the area of decorative arts.
2) How your time in the department shaped your professional and personal lives?
I had a fantastic undergrad experience at BU. The History of Art and Architecture Department provided me with a solid foundation in visual analysis and a comprehensive survey of art history. Another strength of the department is the variety of courses it offers: given the focused nature of my later MA studies, I am grateful to have received a well-rounded undergraduate education in art history. During my four years at BU and since graduating, members of the HAA faculty have very generously encouraged and supported me, particularly as I tried to choose a career path and when I applied to graduate programs. I have been touched by the interest they continue to take in my progress. Within a university as large as BU, HAA is a very intimate and nurturing department.
3) Any advice that you would've given to your younger self?
One of the best pieces of advice I have received (incidentally, from an older and very successful BU Art History alumnus) is always to have a vision of oneself toward which to work.
---
If you're interested in being featured, please fill out this form. Our current students and faculty appreciate hearing about your adventures since you've left BU!