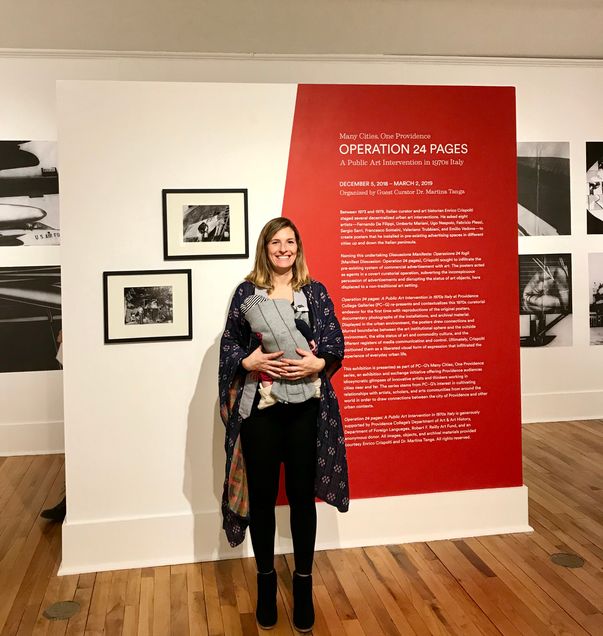 Martina Tanga, GRS 2015
---
---
1) What have you been doing since you graduated from BU?
After completing the doctoral program in 2015, I joined the New England auction house Skinner Inc., as their Modern and Contemporary Art Specialist. It was a fascinating position where I got to learn the business of art. I saw so much artwork during my year there! It expanded my knowledge of local artists and art movements beyond the canon or my area of specialization. Ultimately, I did not have enough time for in-depth research as, once the sale took place, those objects would find new homes. I realized I missed the scholarly connection with art. From Skinner, I moved to deCordova Sculpture Park and Museum and worked two years as the Koch Curatorial Fellow. It was a steep learning curve as it is a small institution, and so even as a fellow, I had a lot of responsibility. In all, I curated three shows and commissioned two sculpture park sculptures. The Museum was a perfect platform for my interests in social and environmental issues, and my favorite aspect was working directly with artists.
While at deCordova, I also returned to my doctoral dissertation; I had to take a long break from it after the defense! But the subject still interested me, and it felt like an unfinished project. I shifted the focus of the manuscript from art in 1970s Italy to highlighting Arte Ambientale (Environmental Art). Working directly in urban space, artists created site-specific interventions that engaged ordinary citizens in 1970s Italy. I added a new chapter on Mauro Staccioli and Francesco Somaini and modified some of the other sections. I am beyond thrilled that the book is now out and can reach a wider audience. I do hope it sparks new avenues of research by expanding our understanding of Land Art and Institutional Critique.
My interests in the cultural role of art museums and how to think about them critically drew me to my current position, Curatorial Research and Interpretation Associate for the Art Bridges and Terra Foundation Initiative at the Museum of Fine Arts, Boston. I manage the curatorial relationship between the MFA and four smaller and more rural partner institutions in a multi-phase exhibition project. Folding Institutional Critique into my curatorial practice, I am interested to see how I can challenge bias, level hierarchies, thoughtfully address audience engagement, and promote institutional collaboration.
2) How your time in the department shaped your professional and personal lives?
I know that most graduate students reading this will not believe me when I say that my graduate time at BU were some of my best years! It was a privilege to have the time to research and write on whatever topic I chose, with minimal administrative distractions. I also made many foundational friendships in the department. Dissertating with a brilliant cohort creates an intimate bond, and now I sort of think about it like we were in the "trenches" together. I think what makes the BU program unique is its collegiality, which I am so glad to see is passed on from the graduating student to incoming student. I hope that culture continues in the department!
3) Any advice that you would've given to your younger self?
Enjoy the time you have to pursue your interests and don't fret too much about finding a job after graduating!
---
If you're interested in being featured, please fill out this form. Our current students and faculty appreciate hearing about your adventures since you've left BU!