Labs
The many resources of the Geddes Language Center are available to students and faculty for language learning and other pursuits.
Computer & Video Lab – CAS 537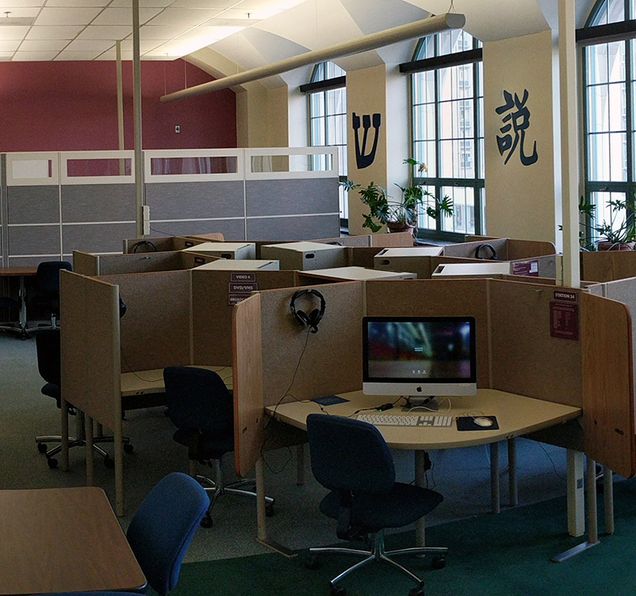 The computer lab currently has 18 stations with Lenovo PCs running Windows 10 and 20 stations with Apple computers running OS X. Each computer has a VLC Player installed which allows for playback of DVDs from any region. USB DVD drives are available at the checkout window for computers without a built-in DVD drive.
Headsets and microphones are available at each station for listening or recording. The 20 Mac stations have DiLL (Digital Language Lab for Macs) installed for classroom activities and paired recordings. Recording on the Windows computers can be done via Zoom or web-based software such as Lingt Language.
Student printing in the lab is done via MyPrint, a managed service by IS&T.  See http://www.bu.edu/myprint for more details.  Black and white printing can be picked up at the lab MyPrint station.  Color printing can be picked up in CAS105, the CAS Think Tank.  (Scanning and coping is also available in CAS105.)
Faculty printing can be done using MyPrint or via the printer in the Faculty Workspace.  Faculty using MyPrint will use their IS&T print quota.  Faculty printing to the workspace printer will use a Geddes quota of 500 pages per semester.
The lab is also equipped with 4 viewing stations with US DVD/NTSC VHS players. Selected stations can play Non-US DVDs and Blu-Ray discs as well as receive over the air broadcast television (NBC, CBS, ABC, FOX, PBS). Groups of up to two can watch together.

Faculty Workspace – CAS 537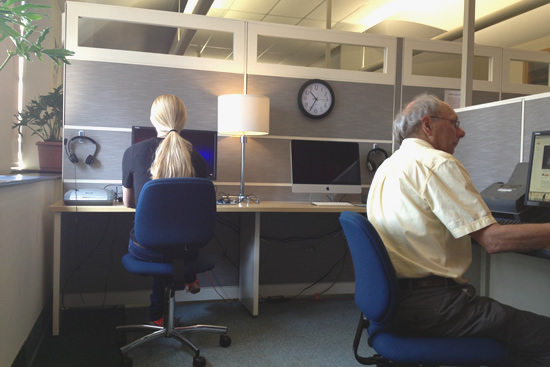 The faculty workspace is open to faculty and teaching graduate students in the Romance Studies and World Language and Literature departments who wish to meet with colleagues or who need a space to prepare materials between classes.
There are two Windows PCs and one Apple iMac available. Flatbed scanners, a document scanner, headsets, microphones, and a printer are available.

Lounge – CAS 536
The student lounge is a great place for preparing for class, meeting with teachers, and collaborating with your fellow students. A TEEM table provides student collaboration via a 55″ monitor, both through wired and wireless (AirMedia) laptop connections.