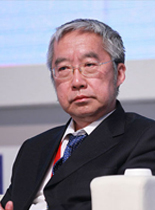 Yu Yongding
GEGI Adviser
Yu Yongding is an Academician of Chinese Academy of Social Sciences (CASS) and Director-General of World Economics and Politics (IWEP) of the CASS (1998- ). He also served as Member of the Monetary Policy Committee of People's Bank of China (2004-2006), Member of National Advisory Board of National Reform and Development Commission (NDRC) of PRC on the 11th Five-Year Plan (2005-), and President of the China Society of World Economy (2003-). He is editor-in-chief of two Chinese economic journals (World Economy, International Review of Economics) and one English Journal (China and World Economy).
Yu Yongding worked at Beijing Heavy Machinery Factory from 1969-1979 and joined the Institute of World Economics, the Chinese Academy of Social Sciences in 1979. He was assistant research fellow in 1983, head of department of western economic theory in 1986, senior research fellow in 1987, and appointed senior fellow in 1995 at IWEP, CASS. He received his MA in economics from Graduate School of Chinese Academy of Social Sciences, and D.Phil. in economics from the University of Oxford.
Yu Yongding has authored, co-authored and edited more than 10 books, and published many papers on macroeconomics, world economy, and other subjects in various academic journals. He is the winner of 2000-2005 Sun Yefang Prize in Economics (China).