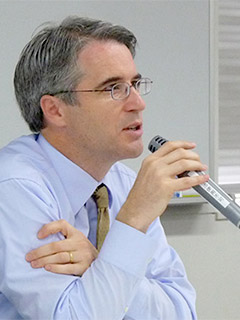 William W. Grimes
Associate Director, GEGI
Associate Dean & Professor, Pardee School of Global Studies
Education

Ph.D., Princeton University

Office

152 Bay State Road Boston, Massachusetts 02215

Email

Phone

(617) 353-9420
William Grimes, Associate Director at GEGI, is Associate Dean for Academic Affairs and Professor of International Relations at the Frederick S. Pardee School of Global Studies at Boston University, where he has taught since 1996. He previously served as chair of the Department of International Relations and as the first director of the BU Center for the Study of Asia.
He currently is focused on the role of regional financial arrangements (RFAs) within the global financial safety net. In addition to his own longstanding work on East Asia's main RFA, the $240 billion reserve pooling arrangement known as the Chiang Mai Initiative Multilateralization, he has worked extensively with GDPC Associate Director William Kring on comparative analyses of various RFAs and their relationships with the IMF and other layers of the global financial safety net. They have secured funding from the United Nations Conference on Trade and Development as well as the Japan Foundation Center for Global Partnership to further these efforts.
Professor Grimes has spent time as a visiting researcher at the Japanese Ministry of Finance, the Bank of Japan, and several universities in Japan and Australia. He has been the recipient of various fellowships and awards over the years, including two Fulbright fellowships and a book-writing grant from the Japan Foundation Center for Global Partnership. Professor Grimes is committed to policy-relevant research and works regularly with government officials and financial professionals, particularly from the United States and Japan.