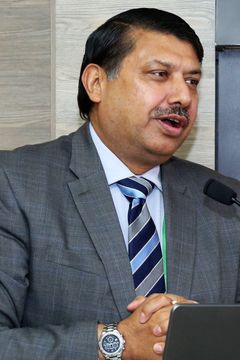 Nagesh Kumar
Non-Resident Senior Fellow, Global Economic Governance Initiative
Education

PhD, Economics, Delhi School of Economics

Email
Nagesh Kumar is a Non-Resident Senior Fellow with the Global Economic Governance Initiative at the Boston University Global Development Policy Center. He is the Director and Chief Executive of the Institute for Studies in Industrial Development (ISID), a New Delhi-based public-funded policy think tank. Prior to taking up this role in May 2021, Dr. Kumar served as Director at the United Nations Economic and Social Commission of Asia and the Pacific (UNESCAP), holding several senior management roles during 2009-21 including as Chief Economist, Director of Macroeconomic Policy and Financing for Development Division and Social Development Division at the UNESCAP headquarters in Bangkok and as Head of the South and South-West Asia Office located in New Delhi, that he also had the privilege of establishing.
During 2002-2009, Dr. Kumar served as the Director-General of the Research and Information System for Developing Countries (RIS), a policy think tank of the Government of India (Ministry of External Affairs). He has also served as an Economist at UNU/INTECH (now UNU/MERIT) in Maastricht, the Netherlands during 1993-1998. He has served on the boards of the EXIM Bank of India, the International Centre for Trade & Sustainable Development (ICTSD), Geneva; the South Asia Centre for Policy Studies (SACEPS), Kathmandu, and as a consultant to the World Bank, Asian Development Bank, Economic Research Institute of ASEAN and East Asia (ERIA), Commonwealth Secretariat, Commission on Intellectual Property Rights (CIPR), ILO, UNCTAD, UNDP, UN-DESA and UNIDO. Dr. Kumar has researched extensively on different aspects of economic development, resulting in the publication of 18 books and over 120 peer-reviewed papers.
Holding a PhD in Economics from the Delhi School of Economics, Dr Kumar is recipient of the Exim Bank's first International Trade Research Award in 1990, and GDN's Research Medal awarded by the World Bank and the Japanese Government in Tokyo in 2000. Read more on Dr. Kumar's work at his website: nageshkumar.com.
 @NageshKum