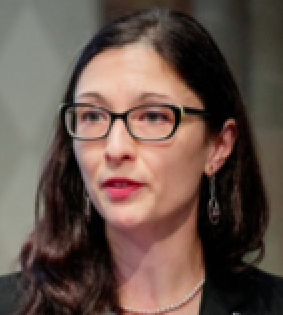 Irene Monasterolo
Non-Resident Research Fellow, Global Economic Governance Initiative
Education

Ph.D., University of Bologna

Email
Irene Monasterolo is a Non-Resident Research Fellow with the Global Economic Governance Initiative at the Boston University Global Development Policy Center and a Professor of Climate Finance at EDHEC. She is a visiting research fellow at Boston University and at the International Institute for Advanced Systems Analysis (IIASA). She was visiting researcher at the Sustainable Finance Initiative at Stanford University (USA), and at the Sant'Anna School of Advanced Studies in Pisa (IT).
Irene's research is contributing to understand under which conditions finance could be a driver or a barrier to the achievement of the climate targets. She has co-developed the CLIMAFIN tool to price forward-looking climate risks, in particular those stemming from a disorderly low-carbon transition, in the value of financial contracts and investors' portfolios, to inform decision making under deep uncertainty. In addition, she has developed the EIRIN macroeconomic model to analyze the implications of climate policies on green investments, financial stability and inequality. In particular, her research has focused on how to exploit synergies across policies (fiscal, monetary, prudential), financial instruments and development finance institutions to scale up the climate ambitions and build resilience to climate risks. Currently, her research is supporting the World Bank in the analysis of compound COVID-19 Pandemic, climate change and public finance in developing countries.
She is also a member of the Task Force on Climate, Development and the International Monetary Fund, a consortium of experts working to advance development-centered climate policy at the IMF with rigorous, empirical research.
Her research has been published on top tier academic journals, such as Nature Climate Change and Climatic Change, and she has edited special issues on climate change and macro-financial risks on Ecological Economics and Journal of Financial Stability. Her research was covered by Euractiv, the Financial Times, OMFIF and UNPRI.
She has long experience in working at the research-policy interface on sustainable and inclusive development, and climate finance, in collaboration with central banks (e.g. European Central Bank, Austrian National Bank), financial regulators (e.g. G20, European Insurance and Occupational Pension Authority (EIOPA)), development finance institutions (World Bank, European Investment Bank, Inter-American Development Bank), NGOs (e.g. CERES, Positive Money) and the European Commission (EC).
In particular, she has contributed to the Western Balkans' Regular Economic Report and compound risk project; G20 Saudi Arabia Task Force "Climate Change and Environment"; climate risk exposure of Chinese development banks and Caribbean Development Bank's portfolios; EIOPA's Financial Stability Report on climate financial risk assessment of insurance firms; the assessment of the climate risk exposure of the ECB's Quantitative Easing program, and the climate risk assessment of US banks.
Irene is co-founder and senior partner at Climate Finance Alpha.
@IreMonasterolo