Tagged: Global Health Collaboration

 "Clinical services and patient outcomes improved at a hospital network in Lesotho after its operations were shifted from the government to a public-private partnership, a new study led by Boston University global health researchers reports.
The study in the journal Health Affairsgauged changes that occurred after the government of Lesotho entered into a partnership with a private consortium in 2008 to build and run its national referral hospital and three affiliated community-based clinics. At the time of the shift, the network was struggling with staff shortages, aging infrastructure, and declining service quality."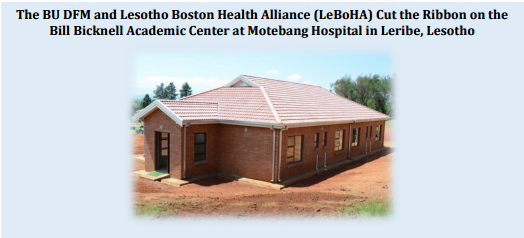 It gives me great joy to report that the newest class of five registrars (residents) have begun their training in our Lesotho-based Family Medicine Specialty Training Program (FMSTP). Following a model similar to that of South Africa, these physician trainees are based in four different hospitals throughout the northern districts of Lesotho and come together one week per month for four years at Motebang Hospital in the Leribe district for focused group education sessions. The FMSTP is the first accredited physician training program ever in Lesotho.
I had the honor of introducing this promising, new class of Basotho physicians to a crowd of over 160 people who gathered for a special ceremony in Leribe to honor the memory of Bill Bicknell and commemorate the opening of the house that is named in his honor. It was an emotional moment for those attending to see the faces of these young physicians returning to serve their country, which has less than 150 physicians (and only 37 Basotho physicians) for its 2 million people. With donations made in Bill's memory and contributions from other supporters of our work, we were able to complete construction this month on the Bill Bicknell Academic Center. Minister of Health Honorable Pinkie Manamolela gave the keynote speech at our opening ceremony. You can hear an excerpt from her speech and see some photographs from the ceremony here.
The Bicknell Academic Center will serve as home to the FMSTP trainees during their weeks in Leribe and will house other health professionals traveling to Motebang Hospital for training including clinical volunteers from BU and elsewhere. This includes the nurse-midwives, who will participate in our IZUMI-funded nursing education program, which also began this month. The completion of the house will make a huge difference in sustaining these and all of LeBoHA's efforts, which rely so much on visiting students, residents, physician educators, and other volunteers and visitors to the hospital. The house has sleeping space for up to eight people in four bedrooms, each with its own full bathroom, along with a kitchen, dining area, living room, library and a conference area. There is plenty of room for clinical volunteers, so if you are interested in volunteering, please contact Lauren Babich at lbabich@bu.edu for more information!
-Brian Jack MD