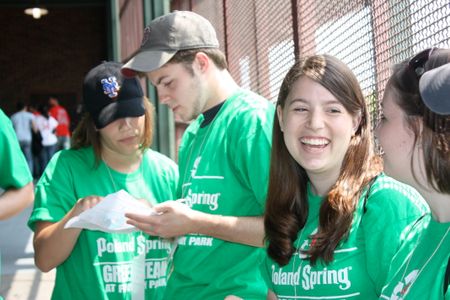 Since 2008, the Boston Red Sox have called upon local college students help with their sustainability promotions and to collect recyclables throughout the ballpark on game days.
What does the Green Team do?
Green Team volunteers must report to the park prior to the game for a briefing. During the game, Green Team volunteers will walk up and down the aisles between innings to collect recyclable containers (water and soda bottles and empty beer cups.)
What do I get for being a Green Team member?
A chance to see a Red Sox game! (They are defending World Champions, after all.)
How can I sign up?

Email the Red Sox at greenteam@redsox.com. Our office no longer assigns games or handles sign-ups – that is all the Red Sox.

Photo above: BU Red Sox Green Team volunteer at Fenway Park in May 2009. Photo credit: Susan Lebovits.