Building Questrom's Online MBA 2021
Boston University Questrom School of Business, in partnership with Digital Learning & Innovation Digital Initiatives and Educational Technology teams, launched the University's first Online MBA (OMBA) in fall 2020, welcoming a global cohort of nearly 400. Since then, the innovative online degree at scale with its integrated curriculum has tripled its enrollment, topping off at nearly 1,200 students since its debut. September 2021 enrollment hit 500 students–the largest cohort to date.
To further extend program honors, Questrom's Online MBA has been named to the short-list for the Wharton-QS Reimagine Award for best online program. Over 1,100 applicants across 16 categories were considered and awardees will be announced during the December 8-10 Reimagine Education Conference.
"The Online MBA is a shared collaborative with students serving also as educators with peer-to-peer feedback coming from an experienced population of learners from all over the world—all of which contribute to the program's overall success," says Questrom Business School Online MBA Assistant Dean Dr. Monica Moody Moore. "Through the ongoing exchange of information and ideas, the online learning environment is both rigorous and highly supportive."
Blending EdTech and Learning Design & Production
Throughout 2021, DL&I's Instructional Production Services team of 15 – a blend of instructional multimedia and educational media producers, digital learning designers, course operations specialists, instructional production staff, and student course builders – collaboratively designed, developed, and launched 540 hours of asynchronous educational content and recorded and produced 300+ faculty videos.
"During another challenging year of coping with life during the pandemic, tight project deadlines, and ongoing resource constraints, the work completed by our online MBA teams is impressive and heartwarming," says Romy Ruukel, director of Digital Initiatives.
The EdTech team of five is also on the frontlines of OMBA production and data analysis. Through this innovative curriculum design, educational technologists and platform administrators are tailoring the Blackboard experience while experimenting with other platforms, including Yellowdig, a digital platform designed to promote community, and peer assessment platform FeedbackFruits.
"We're continuing to experiment with these platforms and innovate within this space to find the right mix to optimize the OMBA teaching and learning experience," says Educational Technology Director Ernie Perez. "These tools amplify communication, connect students and faculty, and foster rich interaction."
During a recent in-studio filming session, Questrom Associate Professor of Operations and Technology Management Jay Kim walked into the studio and was energized, well-prepared, and fully supported by DL&I media producers and a learning designer.
"They are new coaches that I have never had in my teaching career; they teach me how to teach," Kim says. "While coaching me on the structure and process, the team asked me very interesting questions about the contents from the learner's perspective – from the initial design of the course. I am now thinking about students and how they would interpret my lecture." 
Looking Ahead
Ruukel and Perez agree that partnering with Questrom leadership and faculty during a global pandemic to produce the Online MBA has been an "exhilarating opportunity to co-create and support an innovative BU initiative."
Ruukel and Perez are also keeping their eyes on a 2022 prize: OMBA commencement. "This time next year, the founding cohort will have completed the entire online MBA," says Ruukel. "And that will be a moment of great accomplishment for not only the students but for the entire Online MBA production team."
By The Numbers
Nearly 1,200 students enrolled since the fall 2020 launch
500 Students enrolled in fall 2021 (largest cohort to date)
540 Hours of educational content created
300+ Faculty videos and interviews scripted, recorded, and produced 
15 Instructional Production Services team staff
---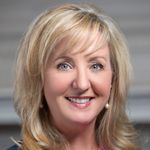 About the Author: Maureen McCarthy is the Communications Manager for Boston University's Digital Learning & Innovation and Editor of DL&I News.