Q&A with Bronwyn Keefe, The Network for Professional Education

"Digital learning initiatives are happening across the BU campus. This Q&A series highlights innovative ideas, collaborative thinking, cutting-edge perspectives and those leading the digital teaching and learning charge."
The dramatically changing health care landscape coupled with evolving complexities in the delivery of patient care present both a challenge and opportunity for social work professionals.
According to Bronwyn Keefe, PhD, MPH, MSW, and director of the Boston University School of Social Work's (BUSSW) Center for Aging and Disability Education and Research (CADER)and Professional Education Programs (PEP), in order to effectively address these shifting landscapes—specifically within the social work profession—continued emphasis on workforce development with increased connectivity between higher education, health and social services agencies is required.
"Social workers are looking for lifelong learning programs that will help them adapt to these changes while state and local agencies are looking for partnerships with academic institutions to build career ladders for their employees," Keefe says.
In support of BUSSW alumni and professional development opportunities, DL&I's Shipley Center, formally the Digital Education Incubator is proud to announce the funding of the lifelong learning initiative, The Network for Professional Education—a portal designed to engage BU alumni in nationwide workforce development training. Keefe, also a BUSSW research assistant professor, will serve as the project's principal investigator with the support of BUSSW colleague and CADER Online Training Manager Anna Stathopoulou.
"The Incubator team is excited to support and fund this effort in piloting innovative ways to engage the Boston University alumni network," says Shipley Center Director Romy Ruukel. "By leveraging qualified alumni to provide nationwide workforce development training, this project creates novel opportunities for alumni to continue to be engaged with BUSSW and to further their knowledge and skills through lifelong learning and graduate opportunities."
During the 24-month grant term, The Network for Professional Education project team will accomplish the following:
create a lifelong learning portal that will serve as a "one-stop resource" for all training and workforce development efforts at BUSSW;
develop a "Trainers Bureau" listing subject matter experts in a variety of topic areas—all of whom are alumni and faculty members at BUSSW and interested in providing training across the country;
create a mini series of online courses designed to train the trainer in areas of best practices in training, develop and deliver content, and evaluate training outcomes; and
recruit a cadre from the above-mentioned pool of content area experts who can serve as consultants to state departments and agencies across the country, who are looking for guidance/technical assistance in assessing training needs, and develop training programs that will build the competencies of the workforce.
"In essence, social workers are the consummate lifelong learner," Keefe says. "BUSSW and our alumni network can influence the current landscape in a significant way…and lifelong learning programs at the university level can link experts to the community of practitioners, enhancing the opportunity for academic and community partnerships."
To further the alumni-focused BUSSW lifelong learning conversation, DL&I connected with Keefe to discuss the Incubator-supported pilot project and the value it poses for key audiences and influencers.
---
DL&I: How did the idea for The Network for Professional Education originate?
Keefe: BUSSW has two programs that provide professional education and lifelong learning both locally and across the country, both of which are under my leadership. Professional Education Programs (PEP) provides continuing education opportunities through in-person workshops and postgraduate certificate programs to individuals throughout the human service field in New England. The Center for Aging and Disability Education and Research (CADER) focuses on creating and delivering online training for a national workforce that provides health and long-term support and services to older adults and people with disabilities.
While PEP and CADER have worked well as separate entities for the past 15 years, since I took over PEP, we realized the two programs shared a vast array of untapped resources in their alumni network. We developed an umbrella framing for this collective work in lifelong learning—called the Network—which will launch through this DL&I initiative.
DL&I: How will the The Network for Professional Education address gaps in workforce development?
Keefe: BUSSW will partner with our talented pool of alumni and faculty to create a network of teaching and learning opportunities–one that will grow their talents, while sharing their established expertise with organizations nationwide. This will be achieved through a three-tiered approach: (1) development of an online Trainers Bureau, (2) creation of "train the trainer" online courses, and (3) consulting opportunities.
DL&I: What is your vision for the Trainers Bureau and workforce development portal?
Keefe: The interactive Trainers Bureau portal will be a "one-stop resource" for all training and workforce development efforts at BUSSW. It will feature alumni and BUSSW faculty who are subject matter experts on a wide range of topics who can provide training for people across the country. Tapping into this wealth of expertise, we'll offer in-person trainings, webinars, review of existing online courses and the creation of new ones that will expand and diversify BUSSW's offerings.
DL&I: Why is the "train the trainer" online course component important and what topics will the series address?
Keefe: This series of courses will nurture and expand the competencies of our alumni to become expert trainers and course developers by covering best practices on developing and delivering content, and evaluating training outcomes. While many people can be experts in their discipline, it doesn't guarantee that they are adept at transferring that knowledge to others. Upon completing the series, these trainers will now have additional credentials, adding depth to their standing not only as experts in content areas but also as certified expert trainers. Upon completion, alumni will join the Trainers Bureau and work with us to develop customized online courses, webinars or in-person trainings.
DL&I: Describe the consulting aspect of the project and outline the benefits for alumni/faculty expert trainers and participating government agencies.
Keefe: This final piece of the project will allow us to recruit a group from our pool of content experts to serve as consultants to state departments and agencies across the country–providing guidance and technical assistance as these organizations develop training programs to strengthen their workforce.
DL&I: How will participants such as BUSSW alumni seeking advanced learning opportunities, BUSSW alumni/faculty expert trainers, and agencies looking for social work consulting opportunities benefit from The Network's lifelong learning portal?
Keefe: The culmination of all of this work will lead to an even stronger alumni group—one that has expanded their own professional expertise and now has the tools and training to share it with a wider audience. We see them emerging as leaders in their field who are sought after by organizations to expand the capacity and knowledge of their workforce. State and local agencies will have an easier path to finding certified experts who can train their staff. And they can feel reassured that these trainers and content developers have been vetted, taught and credentialed by The Network at BUSSW—known as innovators and pioneers in the field of social work.
DL&I: When do you expect to launch The Network portal?
Keefe: We are planning a pilot launch for The Network's Trainer's Bureau online portal in January 2021 and a full launch is expected in April 2021.
DL&I: Describe your team's experience working with DL&I's Digital Education Incubator.
Keefe: We truly enjoy the close partnership that is unfolding in our work with DL&I's Shipley Center. The project support and thoughtful management from DL&I is very different from other funded projects—it's a true collaboration from the early stages of concept development to the implementation—we are thrilled to be working together on this.
DL&I: For BU faculty and staff with an innovative digital education idea, what advice do you offer?
Keefe: Set up a meeting with DL&I's Shipley Center and brainstorm your potential ideas. It's an exciting and creative process to sit down with this group and think through potential innovative projects. Don't get too focused on having a fully fleshed out concept when you first meet with them—the fun part is the exchange of ideas. Think BIG and be bold!
---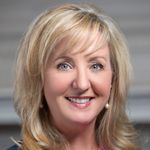 About the Author: Maureen McCarthy is the Communications Manager for Boston University's Digital Learning & Innovation and editor of DL&I News.