Science Day
Science Day 2021 will be held virtually on March 4, 2021.
Submissions are now open for posters and oral presentations!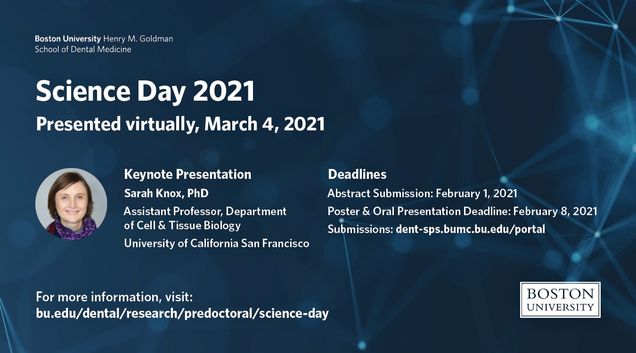 Keynote Address:
Sarah Knox, PhD
Assistant Professor, Department of Cell & Tissue Biology
University of California San Francisco
How to Submit:
Abstract Deadline: February 1, 2021 at dent-sps.bumc.bu.edu/portal under the "Research" tab.
Poster and Presentation Deadline: February 8th, 2021 via email to ksmaelli@bu.edu
All presenters must submit an abstract via the GSDM portal at dent-sps.bumc.bu.edu/portal by February 1, 2021.  Each presenter should then email your poster or presentation to Kendrick Smaellie at ksmaelli@bu.edu by February 8, 2021.  All posters must be in the Visual Abstract format.  Below are helpful guidelines to creating a visual abstract poster as well as several templates and examples.
Visual Abstract Tips and Tricks
Poster Templates:
Visual Abstract Template 1
Visual Abstract Template 2
Visual Abstract Template 3
Visual Abstract Template 4
Visual Abstract Template 5
Examples: