Publications from CURA Faculty and Researchers
Items in bold have become points of reference on their topics.
2022
Lance D. Laird and Samsiah Abdul-Majid. "Muslim Chaplains in the Clinical Borderlands: Authority, Function, and Identity". Journal of Religion and Health. 2022.
Artyom H. Tonoyan. For the Cross and the Land: Radical Counter-Secularization in Russia. Academia.
2021
Kecia Ali, ed. Half of Faith: American Muslim Marriage and Divorce in the Twenty-First Century (Boston: OpenBU, 2021). https://hdl.handle.net/2144/42505
Ash, Ellie. "How Americans View Jews," Bloomsbury Religions in North America Digital Resource, Forthcoming.
Hinton, Alexander Laban. It Can Happen Here: White Power and the Rising Threat of Genocide in the US. NYU Press,  2021.
McClendon, G., & Beatty Riedl, R. (2021). Using Sermons to Study Religions' Influence on Political Behavior. Comparative Political Studies, 54(5), 779-822. https://doi.org/10.1177/0010414020957667
Menchik, Jeremy. "Woodrow Wilson and the Spirit of Liberal Internationalism," Politics, Religion & Ideology. 22(2). DOI: 10.1080/21567689.2021.1904910 . 2021.
2020
Smith, Amy Erica, and Robin Globus Veldman. "Evangelical Environmentalists? Evidence from Brazil". Journal for the Scientific Study of Religion. Volume 59, Issue 2. p. 341-359.
2019
Lele, Amod."Disengaged Buddhism," Journal of Buddhist Ethics 26: 240-89, 2019.
Menchik, Jeremy. "Moderate Muslims and Democratic Breakdown in Indonesia." Asian Studies Review. 43(3), 2019, 415-433.
2018
Patterson, Amy S. "When to Speak? Church Advocacy on Galamsey and Mental Health in Ghana." The Review of Faith & International Affairs, 16:1, 37-50, DOI: 10.1080/15570274.2018.1433589. 2008.
Kuperus, Tracy. "Democratization, Religious Actors, and Political Influence: A Comparison of Christian Councils in Ghana and South Africa," Africa Today, 64:3, Spring 2018, 29-51.
Menchik, Jeremy. "Beyond Secular Democracy: Religion, Politics, and Modernity." International Studies Review. 20(4), 2018, 704-722.
Menchik, Jeremy. "Crafting Indonesian Democracy: Inclusion-Moderation and the Sacralizing of the Postcolonial State." Democratic Transition in the Muslim World: A Global Perspective. Alfred Stepan, ed. New York: Columbia University Press.
Menchik, Jeremy. "Soft Separation Democracy," Politics and Religion. 11(4), 2018, 863-883.
Song, Bin. "Confucianism, Gapponshugi, and the Spirit of Japanese Capitalism," in Confucian Academy (English-Chinese bilingual), 2018 (04): 79-89, 176-188.
2017
Longman, Timothy. Memory and Justice in Post-Genocide Rwanda, Cambridge University Press, 2017.
2016
Robert W. Hefner, Ed., Shari'a Law and Modern Muslim Ethics, Indiana University Press; Reprint edition, 2016
Adam Seligman, Rahel Wasserfall, and David Montgomery, Living with Difference: How to Build Community in a Divided World, University of California Press, 2016
2015
Jeffrey W. Rubin, Ed., and Vivienne Bennett, Ed., Enduring Reform: Progressive Activism and Private Sector Responses in Latin America's Democracies, Pitt Latin American Series, 2015.
Robert Weller, and Lizhu Fan, Ed., "Religion and Public Life in China's Lower Yangzi Region", Shanghai People's Press, 2015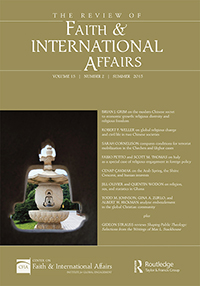 Robert P. Weller, Global Religious Changes and Civil Life in Two Chinese Societies: A Comparison of Jiangsu and Taiwan, Rutledge, 2015.