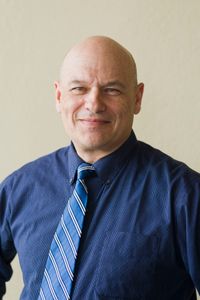 Chair, Computer Science
PhD, Kazan University; MS, Moscow University
Dr. Temkin came to MET in 1989 to teach discrete math in the Department of Computer Science. In 2004, Dr. Temkin was honored with Boston University's Metcalf Award for Excellence in Teaching, and in 2013, he was named chair of the department.
What is your area of expertise?
My area of expertise is cryptography.
What courses do you teach at MET?
Over the past decade, I have taught Cryptography (MET CS 789), Advanced Cryptography (MET CS 799), Computer Language Theory (MET CS 662), Introduction to Probability and Statistics (MET CS 546), and Discrete Math (MET CS 248).
What is the most rewarding aspect of your job?
The most rewarding aspect of my job has always been communicating with faculty and students. The students are my reason for being here and having this job, and my goal is to ensure that they are exposed to an excellent experience, and that, as graduates, they take pride in having received their education with us. We are committed to preparing students for the challenges that are out there when it comes to finding jobs, changing jobs, or moving to better positions within their companies.
What is your vision for the future of the Computer Science department?
As a department, we excel in data analytics, health informatics, security and forensics, database management, mobile development, web languages development, and project management. But our primary areas of strength are always the quality of the people and the courses.
My goal as chair is to ensure that the department continues to flourish. That means strengthening all the programs that we have, developing new courses, updating the curriculum with emerging technologies, and providing a cutting-edge education both on campus and online. That's what the students are expecting—and our faculty is very responsible and knows very well when it is time to update content or develop new courses.