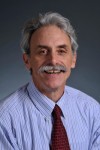 Associate Professor
Wayne Snyder started teaching at Boston University in 1987, after receiving an MA in Classics from Tufts and a Ph.D. in Computer Science from the University of Pennsylvania. He has taught a wide variety of courses, from computer literacy to advanced graduate seminars, but currently focuses on Introductory Programming, Probability, and Audio Programming. His research efforts have focused on Automated Deduction and Logic, and he is now pursuing interests in Audio Programming and Music Information Retrieval. Professor Snyder has served in a variety of administrative roles, from Undergraduate Director (his current post), Chair, and Associate Dean. He is currently Faculty-In-Residence in Rich Hall in West Campus, and when not engaged in academic duties, enjoys swimming and exercising in the Fitrec Center and playing harmonica in a faculty blues band, Fish Worship.
Selected Publications
Oliart, A., and W. Snyder. Fast Algorithms for Uniform Semi-Unification. Journal of Symbolic Computation 37 (2004) 455-484.
Baader, F., and W. Snyder. Unification Theory. chapter eight of Handbook of Automated Deduction, Springer Verlag, Berlin (2001)
Lynch, C., and W. Snyder. Redundancy Criteria for Constrained Completion. Theoretical Computer Science, 142 (1995) 141–177.