EPIC Ribbon-Cutting Welcomes Industry, Local Officials
Features tour of ENG's new design, manufacturing studio
01.21.2014 By Leslie Friday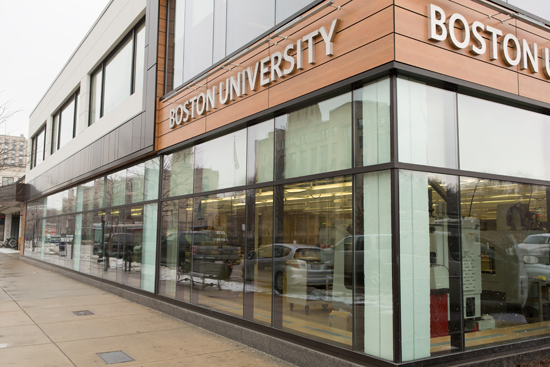 The Engineering Product Innovation Center (EPIC) hadn't yet opened for its inaugural semester, and it already had a wait list of students eager to register for classes in the sleek, glass-fronted Commonwealth Avenue building that not too long ago was the Guitar Center. That bodes well for the College of Engineering and the University officials and corporate sponsors who made the new facility possible.
ENG will host EPIC's ribbon-cutting ceremony this Thursday, January 23. Among those present will be President Robert A. Brown, ENG Dean Kenneth Lutchen, local dignitaries, and key corporate partners, including representatives from principal industry sponsors GE Aviation, Procter & Gamble, PTC, and Schlumberger.
Lutchen, who is also an ENG professor of biomedical engineering, says that EPIC's opening "now begins the opportunity for us to transform our engineering education at the undergraduate level to really create a much more powerfully enabled graduate who understands the process of designing products from conception to deployment."
Those skills are particularly important, and valuable, now that manufacturing is making a comeback in the United States. US manufacturers have added at least 500,000 new workers since the end of 2009, energy costs have dropped, and labor costs in competing countries such as China and India have been inching upward.
Companies like Apple and GE are bringing high-tech facilities back home from overseas. While a positive development, "the problem is now there aren't enough engineers trained in highly technological methods," says Bruce Jordan, ENG assistant dean of development and alumni relations.
EPIC could help fill that void. "We're hoping to set a standard for the training of engineers for the future manufacturing economy in this country," says EPIC director Gerry Fine, an ENG professor of the practice.
Funded through the University, ENG alumni and friends, and regional industry, EPIC's 15,000-square-foot space houses a computer-aided design (CAD) studio, demonstration areas, fabrication facilities, materials testing, and project management software available to engineering students in all specialties—from computer and electrical engineering to biomedical engineering and nanotechnology. The facility has a flexible design and offers students supply chain management software, 3-D printers, robotics, laser processing, and around-the-clock digital access to the studio's online resources.
A representative from each principal industry sponsor, GE Aviation, Procter & Gamble, PTC, and Schlumberger, will sit on EPIC's Industrial Advisory Board, whose primary function will be to offer suggestions on how the ENG undergraduate curriculum might be redesigned to better prepare students for employment in the years ahead.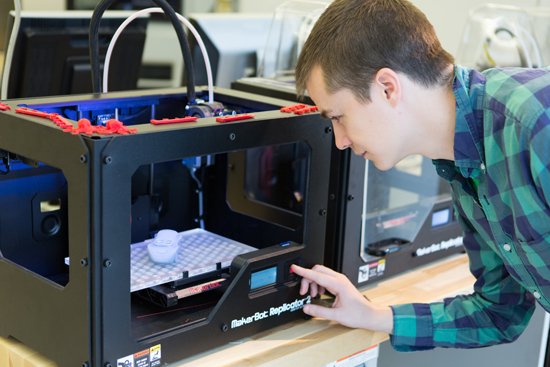 "We want to create as many options for our graduating students as possible," Fine says. "By teaching them some of the things that regional industry wants, we think we're giving our students more options. And we're making our students more desirable to potential employers."
Representatives from the principal sponsors will also participate in guest lectures and provide case studies and projects, and the companies will offer internship and employment opportunities to qualified students.
While other universities have manufacturing-oriented centers, most focus on basic research, but EPIC allows engineering students to put theory into practice by converting their ideas into products that could one day benefit society.
Fine has given tours of the facility to at least five teams from other universities since June. "We're not aware of anyone who's invested in this scale and made this commitment to undergraduate education," he says.
"When I first heard from Dean Lutchen about the idea of EPIC, I was thrilled," says Michael Campbell (ENG'94), executive vice president of PTC's CAD segment, who will serve on EPIC's advisory board. "I always felt that my engineering education lacked that real-world perspective, that real-world exposure to the challenges, processes, and complexities of collaboration and the sophistication of tools. Now we have a chance to share all of that with students."
J. David Rowatt, research director and technical advisor at Schlumberger, echoes that sentiment. "There were so many things I didn't learn in school that I picked up on the job," he says. "Some of these are clearly being addressed by what EPIC is trying to do," which is exposing students to the entire engineering process—from conception and manufacturing to working on deadlines and understanding resource constraints.
Greg Morris, strategy and business development leader for additive manufacturing with GE Aviation, says this generation of students grew up in a world where computers and software were second nature, but tinkering under the hood of a car was not. EPIC will provide engineering students with the hands-on experience that gives them an advantage in the marketplace. "I can't tell you how much that resonates with an employer," he says.
Both BU and its partners see EPIC as a win-win. ENG faculty and students will benefit from a revamped curriculum and access to global leaders in innovation and manufacturing, while industry partners will interact with the University's deep bench of cutting-edge researchers and get exposure to a new crop of engineers.
"If we tap into EPIC," says Bruno De Weer, the vice president of global engineering at Procter & Gamble, "we can find ourselves connected with another hub of innovation that brings the very best."
The EPIC ribbon-cutting ceremony will be held at 4:30 p.m. on Thursday, January 23, at 750 Commonwealth Ave., followed by a reception and tours for those invited. The event is not open to the public.
Leslie Friday can be reached at lfriday@bu.edu; follow her on Twitter at @lesliefriday.
This story originally appeared in BU Today on 1/21/2014.