Faculty Feature: Felice Amato
Felice Amato, Assistant Professor of Art Education at Boston University, knows what it's like to juggle teaching, motherhood… and pursuing a higher degree. Having taught for nearly 20 years in Minnesota public schools, Amato feels a lot of reward in teaching. She also feels this way when immersed in her art. She's a firm believer that art educators are artists.
This belief is evident throughout the Art Education department at BU. In this CFA Faculty Feature, Amato shares the ways she and other professors in the School of Visual Arts empower their art education students, who work in a tight-knit community while also having access to resources from a large research university bustling with activity and innovation.
Amato teaches in the online Art Education Master's degree program and in the on-campus Art Education programs, which include both graduate and undergraduate degrees.
Q
&

A
AN INTERVIEW WITH FELICE AMATO
CFA:
We know you like to teach and like to make art, but how and when did you decide to teach art teachers?
Amato: I really get a lot of reward out of teaching. I taught Spanish and art for almost 20 years in Minnesota public schools. At a certain point, I decided to fully reconnect with myself as an artist. I had continued making art and had even received some grants and recognition, but I was always juggling that with teaching– and motherhood. So, I went back [to college] for a Master of Fine Arts (MFA) degree. I was in Minnesota and the graduate programs in ceramics were few and literally far between. Because I also had two kids, I ended up straddling two states with long commutes. I was a TA and a mom in addition to being a student.

To make a long story short: by the time I completed the MFA, I still felt that I hadn't been able to immerse myself in my work. There were themes and opportunities that I was just starting to explore. Along with two other MFA students, I went on and completed a Ph.D. in art at the University of Wisconsin, Madison. With my range of experiences in the arts, higher education, and K-12 art education, I felt extremely lucky to find this position at BU and it has been an amazing fit.
CFA:
Is it challenging to have two serious professions going on at the same time?
Amato: As a community, the Art Education department at BU cultivates the belief that art educators are artists, as well as teachers. We encourage our students to teach from a place of deep knowledge and love of art, and the vibrancy that comes from maintaining a personal practice. We often use the phrase 'teaching-artist,' because it captures this idea. This is not to scare off people who don't have a BFA or a developed portfolio when they are thinking about applying to our program.

We embed artmaking and a broad array of media in our classes. In one of the classes I teach, for example, I focus on mask making which incorporates 2D, 3D, and 4D processes. I integrate puppetry and weaving into a class that deals with making one's art lessons accessible to all, including scaffolding the classroom language for English language learners and addressing the needs of students who have experienced trauma. We look at how weaving and puppetry can be drawn upon to create effective arts experiences for students and how to anticipate and design the lesson to be easily modified for students with a disability. For some of our students, the mediums we teach become passions in themselves. We have a student who is working on a large loom and has decided that their next painting is going to be a weaving.
---

As a community, the Art Education department at BU cultivates the belief that art educators are artists, as well as teachers. We encourage our students to teach from a place of deep knowledge and love of art, and the vibrancy that comes from maintaining a personal practice. 

---
CFA:
How do you balance your artwork and teaching?
Amato: There is a real balancing act in being a teacher when you are also an artist at heart. There is also a psychological balancing act because, in art education, I think that there's an almost universal insecurity that we carry; we worry we aren't seen as artists. Unlike at the college level, when you're a K-12 teacher, you have to remind yourself [and others] that you are also an artist – and teach from that place.

Beyond art-making, teachers must have a whole other set of skills that allow them to effectively teach techniques and to make experiences available to all students in their diverse classroom communities. They need to have skills and strategies that generate curiosity in processes, materials, and concepts. Managing a classroom is a complex and highly skilled endeavor. Working effectively in the complex culture of a K-12 school requires a high level of interpersonal skills. It's a demanding career but it can also be a wonderfully rewarding career.

Most of us in the arts need to have a job of some sort. For example, someone who gets an MFA in painting will often need to find another income source to supplement their art career. Despite the reputation of being poorly paid, in states such as Massachusetts some districts have higher teacher salaries than people might expect. Teaching is surprisingly compatible with maintaining one's own art practice, but it has to be intentional. Through flexibility and compromise, you can sustain a practice although it might not be every day or even every month. There are vacation days and entire summers to devote to art. Sometimes, I'd apply for a show or a grant and that would give me the impetus to move my art to the front burner for a while. I was preparing for classes, but knowing that a show was coming up, gave me that extra adrenaline and discipline to spend time on my own work.

It takes commitment to maintain one's artistic practice when you are a teacher–but I think that can be said about anyone wanting to continue the path of an artist once they are out of a degree program. Finally, there is something energizing and rich about being around young children and adolescents immersed in creativity and expression. Being a teacher usually implies being a life-long learner; I knew nothing of printmaking until I decided I should incorporate it into my teaching.
CFA:
BU offers a Master of Arts (MA) in Art Education degree on campus and online. The on-campus MA can include earning a license to teach in U.S. public schools, right?
Amato: Yes, like many other institutions, we offer an on-campus MA in Art Education, as well as a BFA and a BFA/MA program. In general, these lead to us being able to endorse a student for licensure. The State of Massachusetts issues the licenses (and can be used to apply for a license in another state through a program of reciprocity).

We also have a robust online MA Art Education degree program. We don't prepare people for initial licensure in the online program. Many of the students, who come from all over the world, already have an initial license or another certificate that allows them to teach where they are located. Some, however, work in professions or schools where the license isn't required–such as a private school or museum education. Many have an initial license they wish to convert to a professional license by gaining a master's degree. Others may be doing it to fulfill continuing education requirements for their current license or to move up the pay scale. Students not pursuing a license have the flexibility and can take a wide array of courses to explore their interests and develop their skills. Most of our on-campus students come to earn their master's degree and their initial licensure to teach in public schools.
CFA:
What about international students? Do they come for the MA with or without licensure?
Amato: Actually, about half do want licensure because they want the skills that they acquire through the curriculum which includes student teaching. Teaching courses and practicums in the schools offer a wonderful immersion in the English language at its most nuanced levels, as well as American culture. There's nothing like speaking all day in a classroom, interacting with students and teachers, and re-thinking lesson plans on the fly, to master your pedagogical, interpersonal, and language skills. If a student doesn't feel they need the actual license, they may opt-out of taking the Massachusetts Test for Educational Licensure (MTEL), though the license might offer some unexpected opportunities.
CFA:
Tell us about Summer Studios. It's an optional in-person component for online students who after having formed relationships with each other virtually, get the chance to work together in person, doing what they love.
Amato: We are so happy to be back on campus and we would love for everybody to come to Boston. We've had students from all over the country and the world, who only knew each other via a screen, come to Summer Studios and connect to each other and to their own art practice.

This summer, for the first time in three years, we had a wonderful in-person cohort and excellent studio classes. The energy and joy that students bring to exploring new studio experiences is very exciting and contagious. The external world goes away and they're in that precious flow state that we all crave. When they are teaching, there might be a different kind of flow, but they are monitoring everything and making so many decisions. Their focus ultimately must be on their students.

At Summer Studios, it is all about them and their process. They can shut out the world and merge with the techniques, the media, and the content – they just love it. The final project is a unit plan that they complete at home, once they have been able to process and reflect on their own experiences. They love adding new tools to their toolbox as teachers, but they can also discover something new like printmaking and it can become a passionate part of their own practice. That's the ideal; they return to the classroom as a printmaker teaching a printmaking unit.
---

At Summer Studios, it is all about them [the students] and their process. They can shut out the world and merge with the techniques, the media, and the content. They love adding new tools to their toolbox as teachers, but they can also discover something new like printmaking and it can become a passionate part of their own practice.

---
CFA:
The extensive facilities at CFA allow students to try new things.
Amato: Yes. This summer we offered four electives. Printmaking, as I mentioned, is one of them, and our facilities are indeed great. Joshua Brennan, an accomplished printmaker and gifted teacher is leading that class. Our students love making books and they can be used in the classroom when they return home in addressing issues like literacy. Lynne Allen's expertise and the facilities mean that the students in her studio class are working at a really high level artistically and with regard to craft. Weaving is a new studio elective that is quite popular. The students made many beautiful fiber pieces with skilled weaver, Suzanne Hemmat. I teach puppetry, which has myriad applications in the classroom. It's a broad medium that includes shadow puppets, hand puppets, toy theaters, and so forth. This year we focused on hand puppets and a Brazilian form called lambe Lambe, personal miniature puppet shows viewed through a peephole.
get a glimpse of SVA's studio spaces
CFA:
Can people say things through puppets that they'd normally find difficult to say?
Amato: Definitely. There is a history of specific forms of puppetry [that you find almost universally across the globe], where the puppet is able to say things that people can't say. It's not "you" saying it –it's an alter ego. This was a major part of the Punch and Judy tradition. But that isn't the only way in which puppets can articulate differently. There is a field that is sometimes referred to as applied puppetry [in education and therapy] and, since puppetry is about multilayered communication, it can be harnessed to say things one cannot otherwise say.

Puppetry has great utility in role-playing, for example, which can be important for students in order to develop social-emotional skills and habits at the core of communication. Many puppet works are non-verbal and convey a visual narrative, full of metaphors that we intrinsically grasp. One could argue that all this content would be difficult to say. Puppetry asks us to be intentional about how we tell a story. Even as adults, we often don't claim or find a space to tell our stories. The process of making the objects actually helps us discover stories; stories and the way to tell them emerge through the materiality. In teaching, it is also ideal for introducing interdisciplinary content. You can use it in connection to social studies classes, language learning, and literature.
CFA:
Studying art education at BU sounds like the best of both worlds. It's a small program where everyone knows each other, within a large research university with lots of resources. Is that a fair description?
Amato: Oh, yes. Our campus art education community is very tight. The program is small, and we know each student really well and are responsive to them as mentors; there's nothing impersonal about our program. Our students take many of the same classes with each other, often moving through the program and going on to student-teach together. They are able to support each other through this intense time.

The BFA, BFA/MA, and MA students interweave in terms of sequences of coursework, so people get to know people in different stages of the program, which allows for student-to-student mentorship. For our online students, we have an e-portfolio platform and discussion boards to facilitate interaction. As an instructor, I get a strong sense of who my students are, and they get to know each other well. When the students see each other's work in the portfolio, for example, and read the reflections they write about their investigation and discovery, it builds a true learning community.
CFA:
Can you tell us about the job placement rate for students graduating with an art education degree at BU?
Amato: Most of our on-campus students are seeking licensure to work in the K -12 public school system. For those who are successful and want to teach, we have close to a 100% placement rate in a full-time position for the fall after graduation. Schools reach out to us looking for teachers because of BU's reputation. Through their extensive work in the schools, students build important relationships and networks. They have references from their host teachers who are longtime practitioners in their field. And having "BU" on your transcript makes our graduates attractive to school districts.
CFA:
There are other art education programs in the Boston area and around the country. Why choose BU?
Amato: Returning to a previous theme, the faculty in the art education program are artists as well as educators and so we are uniquely positioned to promote this ethos in our students. The program is housed within the College of Fine Arts and the School of Visual Arts; it is not separate from SVA but is very much a part of it. We benefit from SVA's continuous reflective process around contemporary art, society, pedagogy, and artistic research practices. Our students in the on-campus program are in the midst of a vibrant, research university.

BU is one of the original online art education programs. We've crafted and refined the program over the last two or more decades and it is considered one the best programs in the country. It is also highly innovative, with, for example, a new arts research capstone class. The level of intellectual engagement, combined with high artistic standards, is reflective of the quality of a BU education overall. Students work in small cohorts and get a lot of feedback and personal interaction with faculty and facilitators. For our online program, Summer Studios is a unique and extremely popular feature. The structure and pacing, combined with flexibility, also keep students on track while responding to the complex life of people working in the education field while pursuing their higher degree.
CFA:
What part of your job as a professor do you enjoy most?
Amato: It's never boring! It's such a multifaceted field. The skills needed and the ideas generated are always evolving. It's very rich. I love the interpersonal connections I have with students and seeing them develop their unique voices. I get to see their growing passion and developing competence in the field. I am constantly surprised; students create unit plans that I would not have thought of. Mentoring is highly satisfying –helping to support someone's path forward and be a sounding board for ideas and sometimes challenges. I love facilitating students' initiatives and responding to their enthusiasm.

I love that BU provides me with opportunities to be creative and to develop classes and initiatives, compelling me to continually learn. This job requires me to stay engaged with the art world, the latest pedagogical developments, and pressing social issues. Art is a reflection of society, but it is also a catalyst for change. We're not just preparing students to be teachers. We're teaching our students to teach theirs to be designers, thinkers, and problem-solvers. The art room is often the only place in K-12 where you actually, for example, must fix something. It seems sort of utopian to say but I believe that when we teach students to build and, maybe even more so to fix, they gain the agency and resilience needed to make real change in their lives and communities. This is what makes teaching such a profound role in society.
---

Art is a reflection of society, but it is also a catalyst for change. We're not just preparing students to be teachers. We're teaching our students to teach theirs to be designers, thinkers, and problem-solvers.

---
This Series
Also in
March 29, 2023

November 8, 2022

June 1, 2022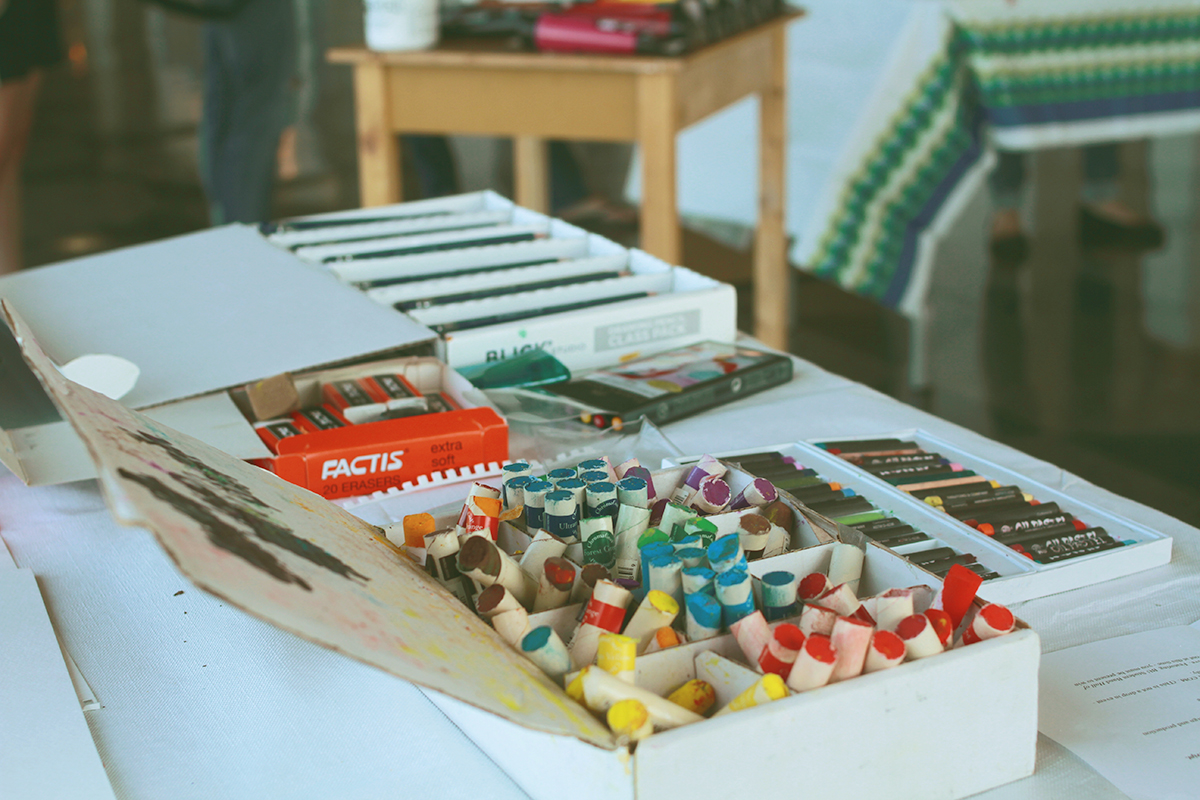 Learn more about BU's Art Education programs
As part of a professionally oriented art school at a major research institution, the Art Education program at BU School of Visual Arts is uniquely positioned to offer students a comprehensive preparation for a career in the discipline. Students engage in the study of the cultural, social, cognitive, emotional, and artistic dimensions of children and youth development with a focus on diversity and inclusion. They develop skills in applying innovative pedagogies that meet the demands of teaching and research in a global and contemporary environment.