Curtains Open on 2022 CFA Fringe Festival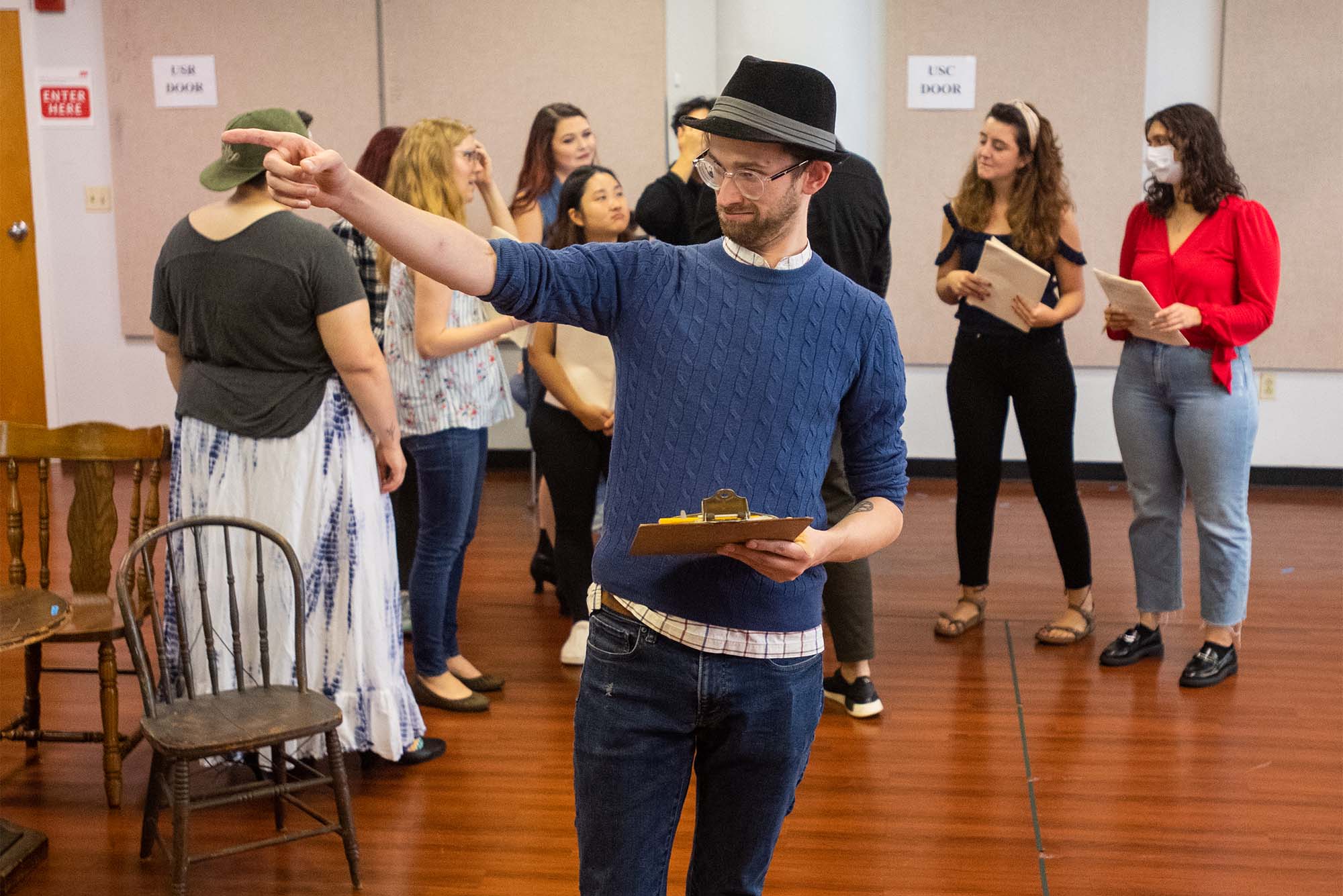 BU Opera Institute
Curtains Open on 2022 CFA Fringe Festival
Annual showcase of opera and theater pieces includes works-in-progress by BU students
This article was first published in BU Today on October 20, 2022. By Molly Callahan.
Excerpt
For the first time, the College of Fine Arts Fringe Festival, its annual celebration of opera and theater, offers audiences a peek behind the curtain—a chance to experience the performance of a play that is still, purposely, a work-in-progress.
In addition to the operas and plays the festival is known for, this year's celebration of arts, music, and theater will feature Next Stage Workshops and Plays: student works that are still in development.
Putting them on before a live audience gives student playwrights, directors, and actors invaluable feedback about what lands and—just as important—what might not.
"When you open up what you've done to an audience, you become very aware of your responsibility for being a rigorous artist with the work," says Susan E. Mickey, CFA School of Theatre director. "Listening to how the audience is listening, and to what's being received—it's a really important step for the writers and performers of these pieces."
So far, two of three student works in the Next Stage series have been staged for audiences, Salome, by Trevor Turnbow (Pardee'25, CFA'25), and Mother May I? by Dylan Avillanoza(CFA'23). Festival-goers can catch the final play, Against a Village, by Elliot Dupcak (CFA'23), directed by Matthew Swain (CFA'23), October 22 and 23.
BU's Fringe Festival—a nod to Edinburgh's famous alternative music and arts festival of the same name—features new or rarely performed pieces of opera and theater. So, in addition to the Next Stage productions, this year's lineup includes two operas, La hija de Rappaccini and Our Town, and a play, Little Row Boat, or Conjecture. Tickets to all three are free at the door for anyone with a BU ID, and $20 each for members of the general public.
First up is La hija de Rappaccini, an opera based on a short story by Nathaniel Hawthorne, the 19th-century writer of The Scarlet Letter fame. First performed in 1991 at the Palacio de Bellas Artes in Mexico City, La hija de Rappaccini tells the fictitious story of Giacomo Rappaccini, a medical researcher who cultivates a garden of poisonous plants. Rappaccini trains his daughter to tend to the garden, and she becomes immune to the plants, but poisonous to others.
Composed by Daniel Catán, La hija de Rappaccini runs from October 21 through 23 in CFA's Studio ONE. Allison Voth, a CFA associate professor of music and opera, is the music director.
Our Town, an opera based on the 1938 Pulitzer Prize–winning play of the same name by Thornton Wilder, is next in the repertoire. The piece is aboutthe everyday lives of the citizens of the fictional American small town of Grover's Corners, N.H., between 1901 and 1913. First performed in 2006, the opera is unique in that it contains almost no spoken dialogue, a bare stage, and minimal props.
Composed by Ned Rorem, with a libretto by J. D. McClatchy, Our Town will be performed October 28 and 29 in the CFA Concert Hall. William Lumpkin, a CFA associate professor of music and artistic director of the Opera Institute, is the music director, and the stage director is Nathan Troup (CFA'04), a CFA opera lecturer.
Finally, Little Row Boat, or Conjecture is a piece that's been years in the making. Written by nationally renowned playwright Kirsten Greenidge, a CFA associate professor of playwriting and theater arts, the piece, originally scheduled to be produced in 2020, examines the relationship between Sally Hemmings and her brother James Hemmings, while they were enslaved by Thomas Jefferson, the third president of the United States.
The COVID-19 pandemic prevented Little Row Boat, or Conjecture from being fully produced (although a team of BU student actors and designers hosted an online reading of the play in April 2020 that informed some of her revisions of the script, Greenidge says). This year's Fringe Festival is the first time the piece will be "on its feet, with all the bells and whistles," she says.
Taking inspiration from American historian Annette Gordon-Reed's accounting of the complex, real-life relationship between Sally Hemmings and Jefferson, the drama imagines and fleshes out the power dynamics that must have been at play while the pair were living in Paris, just before the French Revolution.
"I don't know the tenor of their relationship, because I wasn't there," Greenidge says, "but Sally Hemmings' descendants believe they had a form of relationship, and an agreement that governed not only how they would relate to each other, but also their future children's status as free people or enslaved people."
Greenidge was intrigued by this murky (and conspicuously under-documented) time, when Hemmings—who would have been a teenager then and also would have been a free person in France—and Jefferson—her enslaver in the United States—began an intimate relationship that resulted in at least four children who lived to adulthood.
"I was very interested in Sally Hemmings as a young person," Greenidge says. "I think there's this tendency to see ourselves as separate or very different from people throughout history, but there are certain qualities that are consistent through time."
Through today's lens, it's likely that Jefferson was engaging in grooming behavior, she says. "What would it have been like to be 14 or 16 years old and be groomed to be able to enter into this agreement?" she wonders.
Greenidge's answer, in the form of Little Row Boat, or Conjecture, runs in Studio ONE from November 4 through 6.