In conjunction with Symphony Hall concert, the School of Music & BU Arts Initiative host a discussion on the role of arts in social change
Spark Volume 3, Issue 3 | by Emily White
Stirring speeches move and motivate crowds. Vibrant homemade signs inspire community, humor, hope. Resonant songs unite millions. Art and creativity have found a home in movements and protests throughout human history, and artists are fueled by moments of civil unrest as people connect over shared experiences and common goals.
April 4, 2018 marks fifty years since Dr. Martin Luther King, Jr., a graduate of Boston University, was assassinated. Dr. King (GRS'55, Hon.'59) and his legacy are woven into the history of BU and Boston, a revolutionary city in its own right. In recognition of his countless contributions to American society and indelible impact on the culture of civil rights and nonviolent protest in the 20th century, events across the University this spring honor Dr. King's work.
The School of Music's semi-annual concert at Symphony Hall will showcase repertoire composed in the spirit of protest and social change. 1968 was a year of tumult around the world. Fifty years later, the 2018 concert recalls the attitude of those moments of protest through the lens of a new era of social awareness, division, and protest across America.
In preparation for the Symphony Hall concert on Monday, April 9, the School of Music will host a panel conversation in coordination with BU Arts Initiative on Friday, April 6 at the BU Photonics Auditorium. The panel—Protest Without Words: The Arts and Social Change—complements Boston University's commemoration of Dr. King's legacy. CFA Dean Harvey Young, composer Kirke Mechem, and Dr. Kerri Greenidge (GRS'09, GRS'12), co-director of African American Freedom Trail Project at Tufts University, will engage in a panel discussion moderated by by Louise Kennedy, Senior Producer, Arts Engagement at WBUR. Exploring the role of the fine arts in American culture's history of protest, resistance, and resilience, the evening's conversation will serve as prelude to the Symphony Hall concert repertoire.
On the Monday following the panel, School of Music ensembles will perform music inspired by moments of protest, resistance, and resilience. Boston University Symphony Orchestra, Symphonic Chorus, and Wind Ensemble will perform at Symphony Hall. Works include Adagio for Strings by Samuel Barber, Lincoln Portrait by Aaron Copland, Music for Prague 1968 by Karel Husa, Songs of the Slave by Kirke Mechem, and Plain-Chant for America by William Grant Still.
As Shiela Kibbe, Director ad interim of the School of Music reflects, "We're living in a period of history where the written word is challenged and the spoken word is questioned. Composers respond to their time and place, using music to ignite the senses, reflect emotions, and provoke action. This is as true for classical music as for any other style, be it folk, jazz, blues, country, rock, hip hop, or a myriad of other genres."
The curated selections interlace various forms of emotive connection born out of moments of strife and struggle. Copland's Lincoln Portrait, commissioned in 1942 to bolster American spirits after the breakout of war, includes words from Abraham Lincoln. Dr. Cornell Brooks, former president of NAACP and visiting professor at BU in the Schools of Law and Theology, will narrate the text.
"Each piece on this program links to a moment of social upheaval," says Kibbe, "and yet also speaks in a timeless way to broader issues of freedom, human rights, individual potential and cultural and societal responsibility."
The repertoire weaves an intricate tapestry of experiences, embodying protest and resistance in the language of music. Husa's Music for Prague 1968 recalls the Czech peoples' determined revolt against Soviet invaders: the Prague Spring. William Grant Still's Plain- Chant for America includes text by Katherine Chapin which calls America to account for "lynchings in Georgia, justice undone in Massachusetts" and other violations of justice across the country.
Miguel Ángel Felipe will conduct BU Symphony Orchestra & Symphonic Chorus in Plain-Chant for America and the New England premiere of Kirke Mechem's Songs of the Slave, works born of the American story of slavery and hard-fought paths to civil rights. "Our rehearsals mix the usual work of preparing the music with conversation exploring (African-) American history, African-American art, and the context of these works." Songs of the Slave, based on Mechem's opera John Brown, features the words of abolitionist Frederick Douglass and the Declaration of Independence sung by chorus and soloists.
As Felipe reflects, "art speaks to people in ways words simply can't. Artists, therefore, have the responsibility to 'speak' with careful consideration and compassion—we can give to our society's struggle."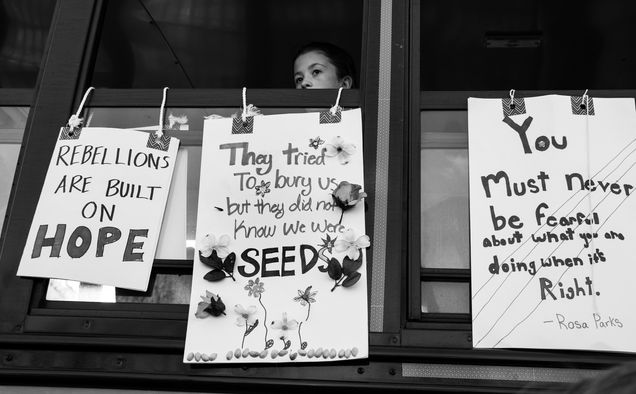 Protest Without Words: The Arts and Social Change
PANEL
April 6, 2018 • 7:00pm • Boston University Photonics Auditorium, Room 206 • 8 Saint Mary's St., Boston
Moderator: Louise Kennedy
Panelists: Dr. Harvey Young, Dean of the College of Fine Arts • Kirke Mechem, composer • Dr. Kerri Greenidge, (GRS'09, GRS'12)
This event is free and open to the public, but guests are asked to register online at bu.edu/cfa/symphonyhall. Sponsored by the School of Music and BU Arts Initiative.
---
CONCERT
April 9, 2018 • 8:00pm • Symphony Hall • 301 Massachusetts Avenue, Boston
Boston University Symphony Orchestra • Neal Hampton, conductor
Samuel Barber, Adagio for Strings; Aaron Copland, Lincoln Portrait (Dr. Cornell Brooks, narrator)
Boston University Wind Ensemble • David Martins, conductor
Karel Husa, Music for Prague 1968
Boston University Symphony Orchestra & Symphonic Chorus • Miguel Angel Felipe, conductor
Kirke Mechem, Songs of the Slave (Soloists: Michelle Johnson, soprano & Brian K. Major, baritone)
William Grant Still, Plain-Chant for America
This event is free and open to the public, but tickets are required for admittance into Symphony Hall. Up to four tickets may be requested at bu.edu/cfa/symphonyhall or in the School of Music office. Walk-up tickets may also be obtained at the BU table on the day of performance.