From Classroom to Community
Music Education students on instilling a love of music in others, one passion project at a time
Spark Volume 3, Issue 2 | by Emily White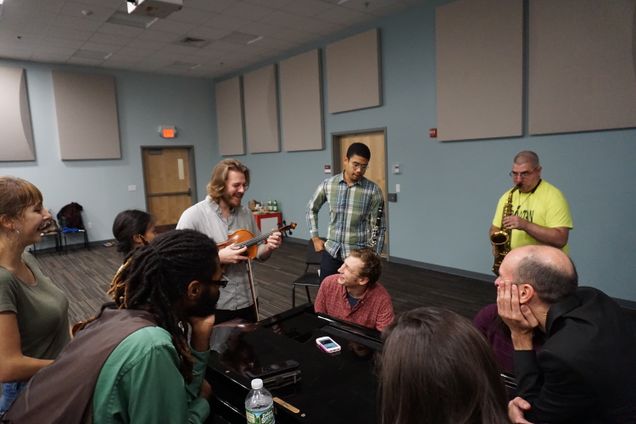 Concert hall to clinic. Theatre to temple. Stage to street corner. As a wide-ranging and nuanced medium built on technique and emotion, music connects artist with audience in seemingly infinite ways. And the Music Education program at BU takes that to heart. Students and alumni have been exploring ways to take their practice out into the world, sharing their talent and fostering others to do the same.
According to Assistant Professor of Music Education Kinh T. Vu, Music Education occurs as much out in communities as within practice space and classrooms. Current CFA music education students are establishing roots in Boston as they work and collaborate in their communities, continuing the classroom processes of making and sharing their art beyond the campus. "Many students are supplementing their academics with community service, some of which includes work in music programs around the city," says Dr. Vu. "Music Education happens in schools, churches, synagogues, street corners… and students are making lots of music!"
Lauren Casey-Clyde (CFA'18), Ben Colgan (CFA '20), Yank'l Garcia (CFA'18), Ben Icenogle (CFA'18), and Nicholas Quigley (CFA'19) are just a few of the Music Education students whose research, community service, and creative teaching influences the next generation of musicians and music listeners.
According to Nicholas Quigley, a musical entrepreneur and researcher in DIY music, the community connection is what drew him to the School of Music. "Social justice is not just an afterthought at BU. It's a central force." While working on a master's degree in music, Quigley – a classical musician (viola, voice) and contemporary songwriter/composer – released his first album of original classical chamber music and indie songs over the summer.
This fall he worked with Dr. Vu and Moisès Fernández Via, Founding Director of Arts|Lab, a community-based music partnership with the Boston Medical Center, Boston University's affiliated teaching hospital. For years, CFA student musicians have flooded area hospitals to perform for patients. This bumper crop of artist support and outreach has manifested in a workshop performance collaboration between the School of Music and BMC patients who have been successfully treated by the Department of Neurology. "When Patients Heal You" was held in conjunction with Arts|Lab at CFA in early November, featuring CFA student-artists and BMC patient-artists working together to find their narratives in pieces ranging from Jazz to Creole. "Maybe these performers are not musicians by training or trade," remarked Quigley, "but they're bringing their voices, stories, hopes, and dreams. We are transforming these into bigger ideas by empowering individuals to make their music."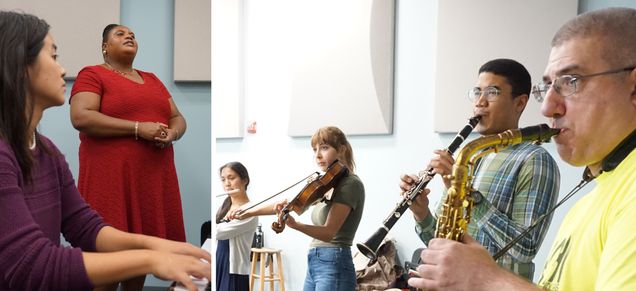 Like many of his contemporaries, Quigley's interest in music-making and music appreciation transcends genre and medium. He has immersed himself in research with Assistant Professor Tawnya Smith, also from the Music Education department, on "DIY musicians" whose music-making process is entirely self-reliant (from production to performance and recording to release). This genre blurs the lines between the formal and informal, and relies on community engagement. Nicholas hopes to learn more about how the K-12 music education experience informed or inspired these musicians, in order to identify critical moments in the music-making process.
Avenues for teaching creative arts often intersect with new approaches to traditional learning environments, as Yank'l Garcia found. Before arriving at BU, she was practicing as a music therapist and teaching artist for the Miami Music Project. In a nonprofit atmosphere, she helped serve students from some of the most underrepresented neighborhoods in Miami, establishing opportunities to engage with and transform through music. Then she began to question "what and how music education should look and sound like."
Reaching students who lack exposure to music education, Garcia has found a vocation in instrumental orchestra programs, which "bring communities together… foster the developmental needs of students, and … provide an outlet for students who come from difficult circumstances to cope and overcome." This passion led her to research in piloting orchestral workshops for students living in low socioeconomic households. By creating these connections in an orchestral class, she aims to understand how students respond to new creative environments, and hopes that this research "will continue to spark and support the benefits of a student-centered classroom specifically for students from underprivileged communities."
Ben Icenogle's summer internship brought him to the front of the class at the New School of Music in Cambridge, teaching students ages 5-14 in courses from world music to instrument exploration, to one program in which the students got to write and perform their own musical. Icenogle stayed on as the school's resident ukulele teacher, and reflects on his favorite aspect of being a music educator – seeing students put on performances that they can be proud of. "I don't think that there is any other feeling quite like that particular sense of pride in artistic engagement and progress. That continues to be one of the biggest motivators for me as a teacher."
Music Education inherently highlights the overlap of classroom and performance space. For Ben Colgan, "there's nothing more satisfying than to share music with others, and theatre is a great way to do it!" By combining different kinds of music and sharing it with a variety of audiences, Colgan explores another way of bringing music to the masses through teaching. He studies Musical Theatre in addition to Music Education, and spends his time music directing and playing in shows, both at BU and on Cape Cod, where the theatre brings together people of all ages and levels of musicianship.
Colgan aspires to use theatre to help get people interested in music and more confident in their instruments/voices. "I treat rehearsals with actors like it's a class, and I do my best to teach basic vocal technique, proper vocal health, etc. I believe that my job isn't done well unless everyone has taken at least one thing away from each show! … On the flipside, music directing is a learning experience. You have to get used to working with all different kinds of people, all with unique voices…"
Central to the goals of the College of Fine Arts, to access opportunities to engage with others and impact the world, Lauren Casey-Clyde hopes to empower others to hone their talents and tell their stories, because "music allows people to express themselves, to learn how to use their voice, to make art with others, and teaches compassion." Casey-Clyde is wrapping up her degree in Music Education and Euphonium Performance, and has spent her time working with BU's National Association for Music Education chapter. She hosts events that open students up to what music education can be, so that teaching can extend beyond the walls of the classroom. "We frequently have workshops regarding anything from talking about community music, to making samba music, to studying children's songs from Afghanistan, to hosting improvisation sessions where all BU students can come and simply make music with strangers."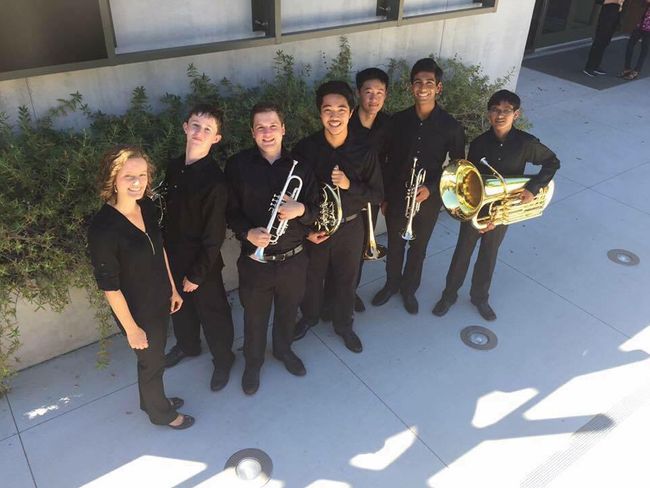 Echoing her peers' aspiration to share music and learn with students, Garcia reflects that her goal "as an educator is not to create professional musicians. If that happens, then that is wonderful. I want all my students to have access to a positive music environment and to be curious learners, to ask questions."
Posing new questions. Sharing skills. Creating music. Giving voices the chance to be heard… The passionate faculty and students of CFA's Music Education program are working to ensure that generations to come find their voices, in Boston and beyond.