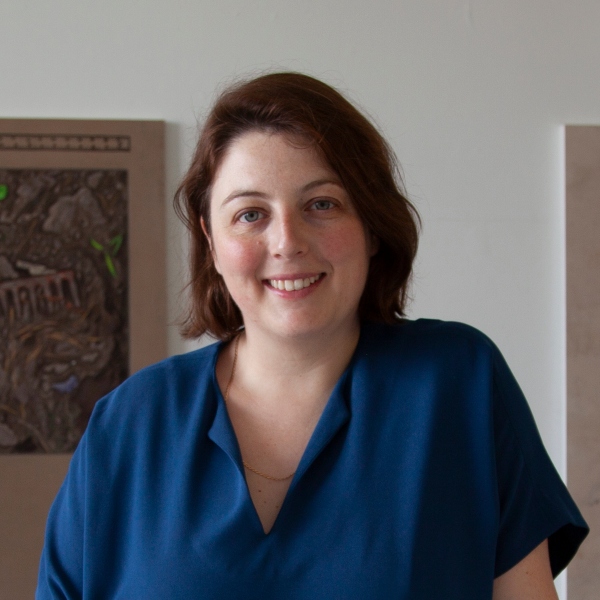 Josephine Halvorson
Professor of Art, Painting; Chair of Graduate Studies in Painting
Josephine Halvorson (she/her) makes paintings as well as prints and sculptures. Working directly from objects and environments she encounters, Halvorson's artistic practice foregrounds firsthand experience, attention span, and the relationship between place and time.
Born in Brewster, Massachusetts, Halvorson studied at The Cooper Union (BFA 2003), Yale Norfolk (2002), and Columbia University (MFA 2007). Halvorson is the recipient of major international residencies and grants: The US Fulbright to Vienna, Austria (2003-4), the Harriet Hale Woolley at the Fondation des États-Unis in Paris, France (2007-8), and was the first American pensionnaire at the French Academy in Rome at the Villa Medici (2014-15). In 2021, she was awarded a John Simon Guggenheim Fellowship.
Solo institutional exhibitions include the Ogunquit Museum of Art, Ogunquit, ME (2022), the Georgia O'Keeffe Museum, Santa Fe, NM (2021-2022), The Institute of Contemporary Art, Boston, MA (2019), Storm King Art Center, New Windsor, NY (2016), and the Southeastern Center for Contemporary Art, Winston Salem, NC (2015). Institutional group exhibitions include the School of Visual Arts, New York, NY (2021), the deCordova Museum, Lincoln, MA (2020), and the Havana Biennial (2019). Additionally, her work has been exhibited internationally at galleries and community art centers and is represented by Sikkema Jenkins & Co., NY, and Peter Freeman, Inc., Paris.
Halvorson has been on the faculty at the Skowhegan School of Painting and Sculpture (2018), Yale University (2010-2016), and has taught at The Cooper Union, Columbia University, and the University of Tennessee. She lectures widely and is the subject of documentaries, including Art21's New York Close Up (2010-2013). Halvorson's art has been written about in major publications including ArtForum, Art in America, Frieze, The Brooklyn Rail, The New York Times, The New Yorker, and The Boston Globe, among others, and has appeared in significant survey publications including Vitamin P2 edited by Barry Schwabsky, Contemporary Painting by Suzanne Hudson, and Prints and Their Makers by Phil Sanders. Halvorson also writes about art and has contributed essays to artist monographs and art journals. She lives in western Massachusetts.
Creative Works
Ogunquit Museum of Art, Ogunquit, ME (2022)
The Georgia O'Keeffe Museum, Santa Fe, NM (2021-2022)
The Institute of Contemporary Art, Boston, MA (2019)
The Havana Biennial (2019)
Storm King Art Center, New Windsor, NY (2016)
The Southeastern Center for Contemporary Art, Winston Salem, NC (2015)
Awards
John Simon Guggenheim Fellowship (2021-2022)
Blackwell Prize in Painting, University of West Georgia (2019)
James and Audrey Foster Prize, the Institute of Contemporary Art, Boston (2019)
Rome Prize at the French Academy in Rome (2014-2015)
Louis Comfort Tiffany Foundation Award (2010)
Harriet Hale Woolley Fellowship at the Fondation des États-Unis, Paris (2007-2008)
US Fulbright Fellowship to Austria (2003-2004)