Two Alums Crowned Winners on Food Network's NFL Tailgate Takedown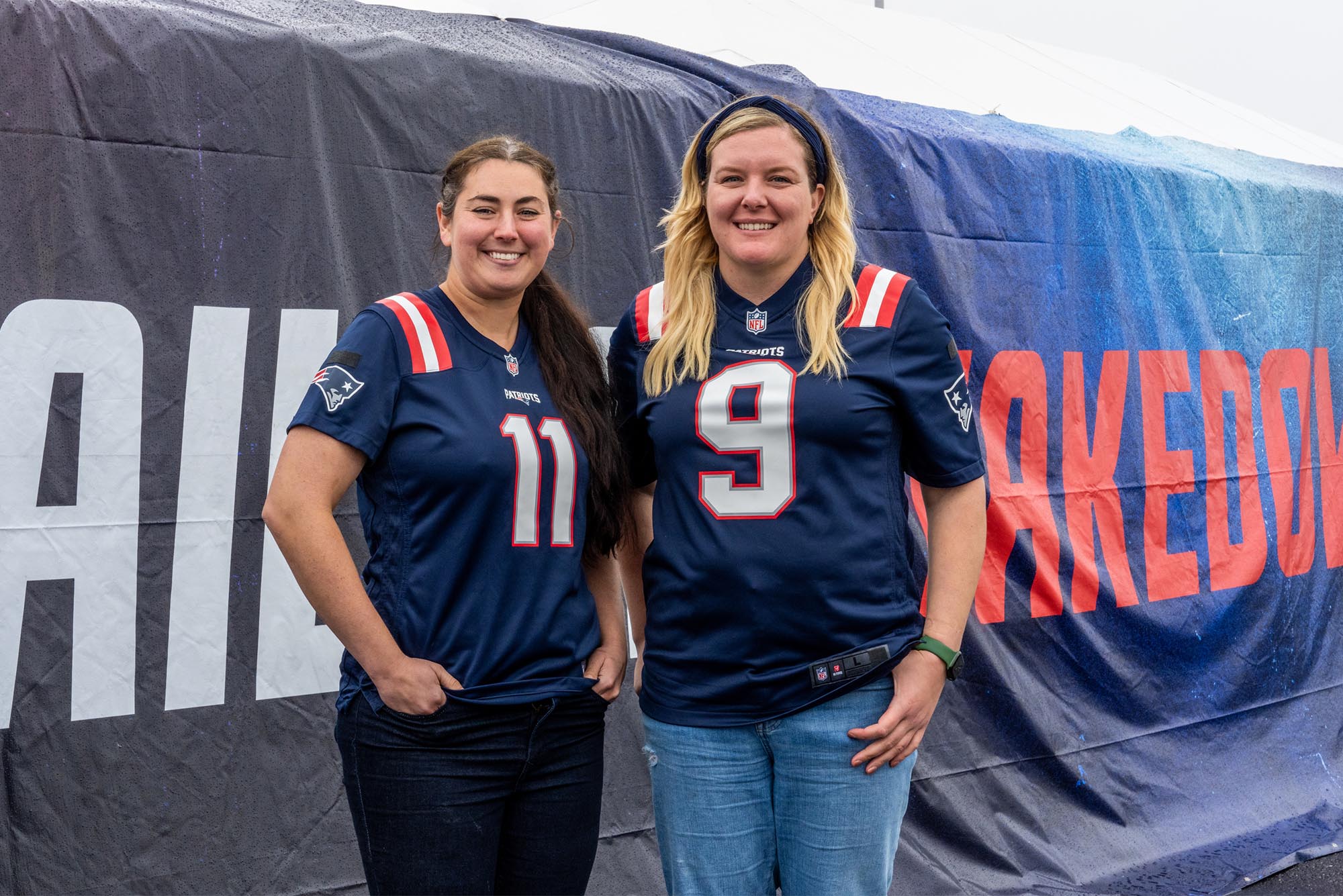 Food
Two Alums Crowned Winners on Food Network's NFL Tailgate Takedown
Patriots fans Molly Winsten (Sargent'18) and Erin Truex (SSW'15) cooked up New England–inspired bites to wow the judges
Friends Molly Winsten and Erin Truex share two passions: playing competitive football on the Boston Renegades, a women's professional team, and working in the culinary industry. They combined these talents for their winning turn on the new Food Network show NFL Tailgate Takedown.
The six-episode show, which wrapped February 8, pits two teams of two against one another every week and challenges them to dream up elevated spins on typical tailgate food. The show is hosted by Food Network star Sunny Anderson and Vince Wilfork, a Patriots Hall of Famer, three-time Super Bowl champ, and barbecue ribs aficionado. A rotating panel of judges determines the winners, and the champions win game tickets.
Winsten (Sargent'18) and Truex (SSW'15) repped their beloved New England Patriots in the January 25 episode against two Chicago Bears fans. Their winning menu—which was completely gluten-free—consisted of items like fried clams with briney tartar sauce, lobster rolls, and deep-fried sausage bites coated in pancake batter and drizzled with spicy maple syrup.
The Patriots-Bears face-off was filmed in October in the parking lot outside Gillette Stadium in Foxborough, home of the Pats. The home-turf advantage didn't do much in terms of luck—the filming day was cold, windy, and rainy.
"What you didn't see was the entire [filming] team behind the camera that's there to make sure you can work effectively," Truex says. "In the crummy weather, we couldn't get the fire started to boil our lobster. But there are producers on hand to figure out how, so it was helpful to have that team support us."
Truex and Winsten hadn't cooked together before, but both are comfortable in the kitchen. (Their opponents ran a restaurant together back home in Chicago.) Truex is director of development and communications at the nonprofit Mabel Center for Immigrant Justice, which provides pro bono legal representation to asylum seekers. On the side, she works as a bartender in her hometown of Salem, Mass., experience that came in handy when she and Winsten decided to introduce a mulled cider cocktail on their NFL Tailgate Takedown menu.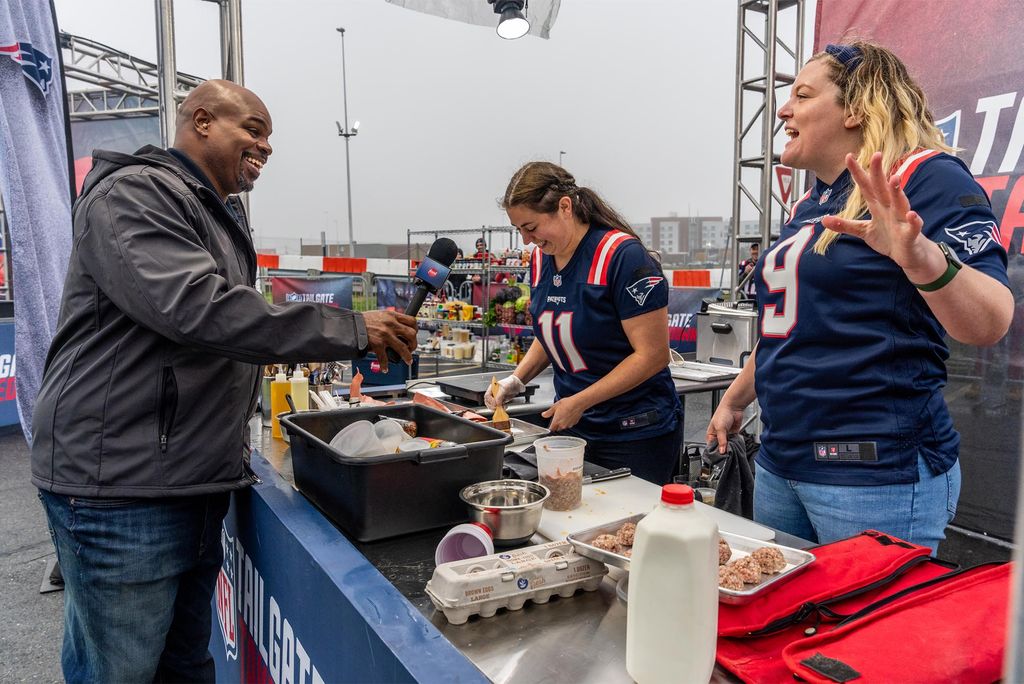 Winsten is a registered dietitian with a master's degree in nutrition from BU. She is a part owner and operations manager of Freedom Bakery, an allergy-friendly wholesale factory in Woburn, Mass. "My whole goal in life is to make the world more food-inclusive by coming at food from a science perspective," says Winsten, who was diagnosed with a gluten allergy when she was 18.
"I remember not feeling like myself, because I didn't know what was gluten-free and what was safe to eat," she says. "There just wasn't a lot of understanding from the community in general, and I really wanted to change that."
The two friends didn't meet at BU, but as players on the offensive line of the Boston Renegades. The team won its fourth straight Women's Football Alliance national title in July. (Truex retired from the game at the end of the season.) In a way, she says, the Food Network competition flipped their roles: Truex was Winsten's mentor in football, while on NFL Tailgate Takedown, Winsten took the lead.
Winsten is also no stranger to showing off her culinary talents on TV—she had previously competed on Netflix's Best Leftovers Ever and the Food Network show Bakers vs. Fakers and led an allergy-friendly holiday segment on the Rachael Ray Show. She also had a relationship with NFL Films (which coproduced NFL Tailgate Takedown)—the show had filmed the Boston Renegades on their journey to the 2021 championship.
Winsten says the NFL Tailgate Takedown sounded like fun. "When thinking of a partner, I thought about who I worked well with and who I knew could handle themselves in the kitchen," she recalls. "I called Erin and was like, 'We're gonna do this.'"
Truex was not so sure. "I had no interest in doing this show," she says with a laugh. "I hate TV. I don't like attention. So, it was pretty much a miracle that she got me to agree to do it."
The dishes the contestants made had to represent their home region. Winsten and Truex went for "really essential New England cuisine, but elevated," Winsten says. They also followed a breakfast, lunch, and dinner theme, "because when you tailgate in New England, you go all day," Truex says.
The finished menu consisted of a bite-sized tailgate snack with a dip (sausage bites), a handheld tailgate dish (garlic butter lobster rolls with spicy pickles), and a tailgate party platter (whole-belly fried clams with tartar sauce, and apple slaw with scallions and blue cheese).
Winsten designed the menu to be entirely gluten-free to dispel the myth that gluten-free is taste-free. "Gluten-free food can be delicious, and it isn't daunting," she says. "To show that it can compete is really validating."
Patriots fans would be excited to learn that when they won, the women were handed the "Yum-Bardi" Trophy by former New England player and Pro Hall of Famer Andre Tippett.
"We were here in our hometown, took a second-round loss, kept our cool, kept our heads," Winsten says as the credits roll. "And we did the damn thing."
Watch the full NFL Tailgate Takedown episode here.