BU Students Raising Money for Earthquake Victims
Turkish Student Association is accepting donations of money and supplies, as death toll in Turkey and Syria rises past 11,000
World events
BU Students Raising Money for Earthquake Victims
Turkish Student Association is accepting donations of money and supplies, as death toll in Turkey and Syria rises past 11,000
On Monday, February 6, a pair of massive earthquakes struck parts of Turkey and Syria, leaving unimaginable death and destruction in their aftermath. Dozens of aftershocks caused even more damage, leading to a death and injury count in the thousands.
For the roughly 148 Turkish and Syrian students enrolled at Boston University, watching the tragedy unfold from afar has been devastating. Internet and cell service have been inconsistent since the quakes hit, making it difficult to contact loved ones in some regions.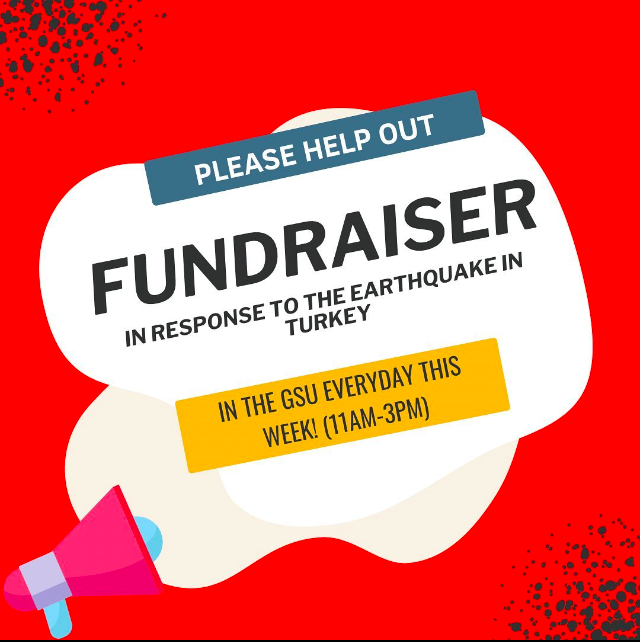 Many students are doing whatever they can to help. Within hours of the quakes, the BU Turkish Student Association (TSA), which has both Turkish and Turkish-American students, began raising money to aid the ongoing recovery efforts.
Because Turkey is sited on top of two fault lines, the region is prone to earthquakes. But with a magnitude of 7.8, the first of Monday's quakes marked the most powerful earthquake the country has seen in over 80 years. The second quake, nine hours later, registered at 7.5.
Since then, thousands of buildings have been leveled, and over 7,200 people have been killed. That number is expected to rise significantly as search and rescue crews continue to comb for survivors in what is increasingly becoming a race against the clock. A snowstorm and cold front that hit the region soon after the quakes has only complicated matters for the devastated and displaced population.
On Tuesday, Turkish President Recep Tayyip Erdogan declared a three-month state of emergency in southern areas of the country, which were hit especially hard by the quakes and the snow.
"I know people who can't reach family and friends in the affected regions because the infrastructure has collapsed," says Derya Binal (ENG'23), TSA president, who is from Istanbul. "You're always scared, not just for your friends, but for all Turkish people right now. Students here are really, really concerned, but we'll do whatever we can to help and to spread awareness."
The BU club's primary mode of fundraising is a GoFundMe page. The club raised over half of its $5,000 goal—more than $3,000—in the first 24 hours, Binal says. Members are also setting up a table at the GSU every day this week from 11 am to 3 pm to collect donations and sell TSA sweatshirts, with proceeds going to support relief efforts. All donations will be sent to the Bridge to Türkiye Fund, a long-established Turkish-American charity established in North Carolina. Any sweatshirts not sold will be donated to Turkey at the end of the week.
Additionally, the club is accepting new and gently used supplies such as coats, blankets, thermoses, socks, and scarves to send to Turkey, which is still experiencing a major cold snap. ("It's extraordinarily cold for the region," Biyal says.) Community members can bring any items to the TSA table at the GSU this week. Supplies will be flown directly to Turkey through a collaboration between the Turkish Consulate General in Boston and Turkish Airlines.
In a letter sent to Turkish and Syrian students Tuesday, Jason Campbell-Foster, interim associate provost and dean of students, offered condolences and listed support resources available on campus.
"The news and images out of Turkey and Syria have me thinking about you, here with your Boston family, watching this unfold as we all are," Campbell-Foster wrote. "It is my sincere hope that those you love back home have found safety. My thoughts, and those of your fellow BU Terriers, are with you, your family, friends, and neighbors during this extraordinarily challenging moment."
Growing up in earthquake-prone Istanbul, TSA member Lal Erol (Questrom'23) recalls regularly practicing earthquake drills in her childhood bedroom. At the time, she says, her main concern was grabbing her teddy bear quickly enough. Now, she's plagued by guilt that she's safe in Boston while thousands of her fellow citizens remain in danger.
"I have trouble getting through my day because I'm constantly worried about what's going on back home," she says. "I feel guilty eating and drinking, knowing thousands of people are trapped beneath the rubble. It's so heartbreaking to see what my country is going through from afar."
For now, all she and others can do is wait for news from home and hope their aid finds its way to those who need it.
"As Turkey is so prone to earthquakes, most of us grew up in fear. We were constantly reminded that a deadly earthquake like this could happen at any time," Erol says. "Hopefully my friends and family are safe, but they all know someone affected by this disaster. My prayers are with those facing cold nights without shelter, those still searching for missing loved ones, and those struggling to pick up the pieces."
The Turkish Student Association is accepting donations at a table at the GSU from 11 am to 3 pm every day this week. You can also donate to the club's fundraiser and find information about the Bridge to Türkiye Fund here.

The Turkish Consulate General in Boston is also collecting supplies in collaboration with the Turkish Embassy in Washington, D.C. Requested items include warm coats, blankets, sleeping bags, and over-the-counter medications for cold and flu. Find more information about how and where to donate here.
Members of the BU community who have been affected by the earthquakes can find counseling and support through Behavioral Medicine, the University Chaplains Office, and the Faculty & Staff Assistance Office.