Award-Winning Poet John Murillo to Headline Spring 2023 Lowell Poetry Reading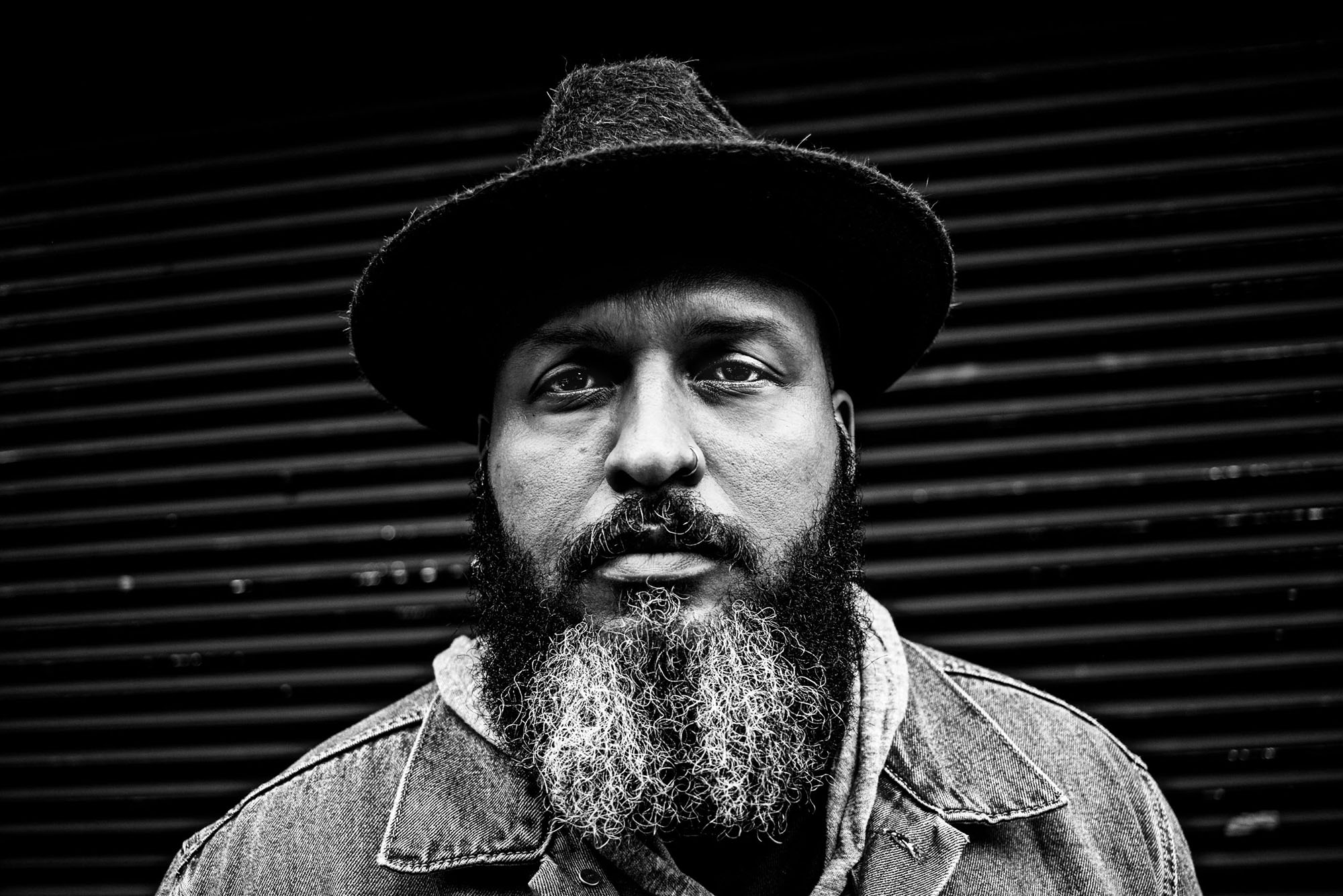 Poetry
Award-Winning Poet John Murillo to Headline Spring 2023 Lowell Poetry Reading
Creative Writing alum and poet Annaka Saari (GRS'21) also featured
Throughout the past two decades, John Murillo has earned a reputation for writing poems that deftly explore violence, racism, injustice, and the human capacity for cruelty. He is the author of two acclaimed collections, Up Jump the Boogie (Cypher Books, 2010) and Kontemporary Amerikan Poetry (Four Way Books, 2020), the latter the recipient of the prestigious Kingsley Tufts Poetry Award.
"Violence was an integral part of my childhood and has always perplexed me," Murillo says. "Not only violence, but cruelty, and our capacity for it. There are the ways we hurt each other just by virtue of living, but then there is the deliberate pain we inflict on one another."
An assistant professor of English and head of the creative writing department at Wesleyan University, Murillo will read from his work Thursday, March 30, at the spring Lowell Poetry Reading at BU Hillel House. A book signing and reception will follow.
One of Murillo's best-known poems, "A Refusal to Mourn the Deaths, by Gunfire, of Three Men in Brooklyn"—a sequence of 15 connected sonnets—was inspired by real events: In 2014, Ismaaiyl Brinsley shot and killed two New York City police officers. Cornered on a subway platform by other police in the department, Brinsley killed himself. Murillo had just come from a poets' rally in New York's Washington Square Park to protest the uptick in the murders of men and women of color by police officers when he heard the news. The poem, raw with anger, is his attempt to make sense of and respond to the event and his conflicting emotions.
"…Again this week, they killed
another child who looked like me. A child
we'll march about, who'll grace our placards, say,
then be forgotten like a trampled pamphlet. What
I want, I'm not supposed to. Payback. Woe
and plenty trouble for the gunman's clan.
I'm not suppose to. But I want a brick,
a window. One good match, to watch it bloom."
Murillo says he wants the speakers in his poems to be flawed.
"If we are to say anything of value about 'what we are made of,' we have to be honest, especially concerning ourselves," he says. "One of the consequences of all the virtue-signaling and performative outrage we see on social media—'call-out culture'—is that instead of writing honestly about the work we still have left to do—as individuals, as a culture—we write as if we have everything already worked out. Or rather, we expose those flaws that are socially acceptable, or even popular."
Murillo is, by his own admission, a late bloomer as a poet. He was nearly 30 when he began writing and studying poetry, having previously been a playwright and an essayist and the author of rap lyrics.
"I fell in love with the rigor, the dedication, and sacrifice required of one who is serious about writing poems," he says.
His work often begins with an image or impression and it can take a year or two before he feels a poem is ready for a first draft. Kontemporary Amerikan Poetry took a decade to produce.
A master of poetic form with a command of rhythm, Murillo frequently works in blank verse, iambic pentameter, and sonnet sequences. He says that when beginning some poems, he sets out to work in a particular form, but sometimes a new form insists upon itself during the revision process.
As to the state of contemporary poetry, Murillo is heartened by the range of voices and perspectives being published. But he remains concerned about a literary culture that is too often fixated on prizes, titles, and the number of followers a writer has on social media.
"I stay, as much as I'm able, off social media," he says, adding that he tries to surround himself with "good people—poets, artists, workers—who are grounded and have a healthy sense of self…. I learn from those who walk with dignity, grace, humility, and integrity through all this rigmarole." And he has some pointed advice for young poets: stay off social media, read deeply and widely, and work hard. "Know that you won't get everything you deserve, nor will you deserve everything you get," he says.
Murillo will be joined at the reading by Annaka Saari (GRS'21). In addition to her work as a poet, she is administrator of BU's Creative Writing Program and managing editor of Solstice Literary Magazine.
Saari says she became enamored of poetry when her high school Advanced Placement English teacher had her class read Allen Ginsberg's "Howl."
"I knew immediately that I wanted to spend the foreseeable future trying to make more of whatever that was," she says.
Saari says she has no standard way of approaching a poem. "Sometimes I begin a poem with a line or phrase, or image; other times I know what story I want to tell but have to figure out how to present it on the page." Inspiration, she says, often finds her without her having to seek it out. "A line will simply appear and I'll be tasked with building the poem around it, or I'll remember or happen upon an image and focus on recreating that picture on the page, letting the poem branch out from there."
Saari's poems reveal an underlying interest in the way we, as humans, perform. "I'm someone who's always thrilled by behind-the-scenes stories from filmmakers, musicians, artists, actors, and comedians," she says. "I want to both see the performance and know how it was made. I think my poems are propelled by a similar curiosity: they're interested in peeling back the layers of how we present ourselves and interrogating what they find."
For the Lowell Poetry Reading, she plans to read from an in-progress manuscript of poems focused on the performances of femininity and desire and the way those performances engage with the ways women's bodies are discussed, perceived, and policed. "As humans, we perform all the time: desire, gender, expression, familial and professional roles are all types of performance," she says.
The Robert Lowell Memorial Poetry Reading, featuring John Murillo and Annaka Saari (GRS'21), is Thursday, March 30, at 7:30 pm in the River Room on the fourth floor of Hillel House, 213 Bay State Road. A book signing and reception at the BU Castle will follow. The event is free and open to the public. Find more information here.
The Robert Lowell Memorial Reading series was established by Nancy Livingston (COM'69) and her husband, Fred M. Levin, through the Shenson Foundation, in memory of Ben and A. Jess Shenson. Listen to John Murillo read excerpts from his poem "A Refusal to Mourn the Deaths, by Gunfire, of Three Men in Brooklyn" here.