Opening Doors: Emma Kalff (CAS'15) and Sandra Soto (Wheelock'16)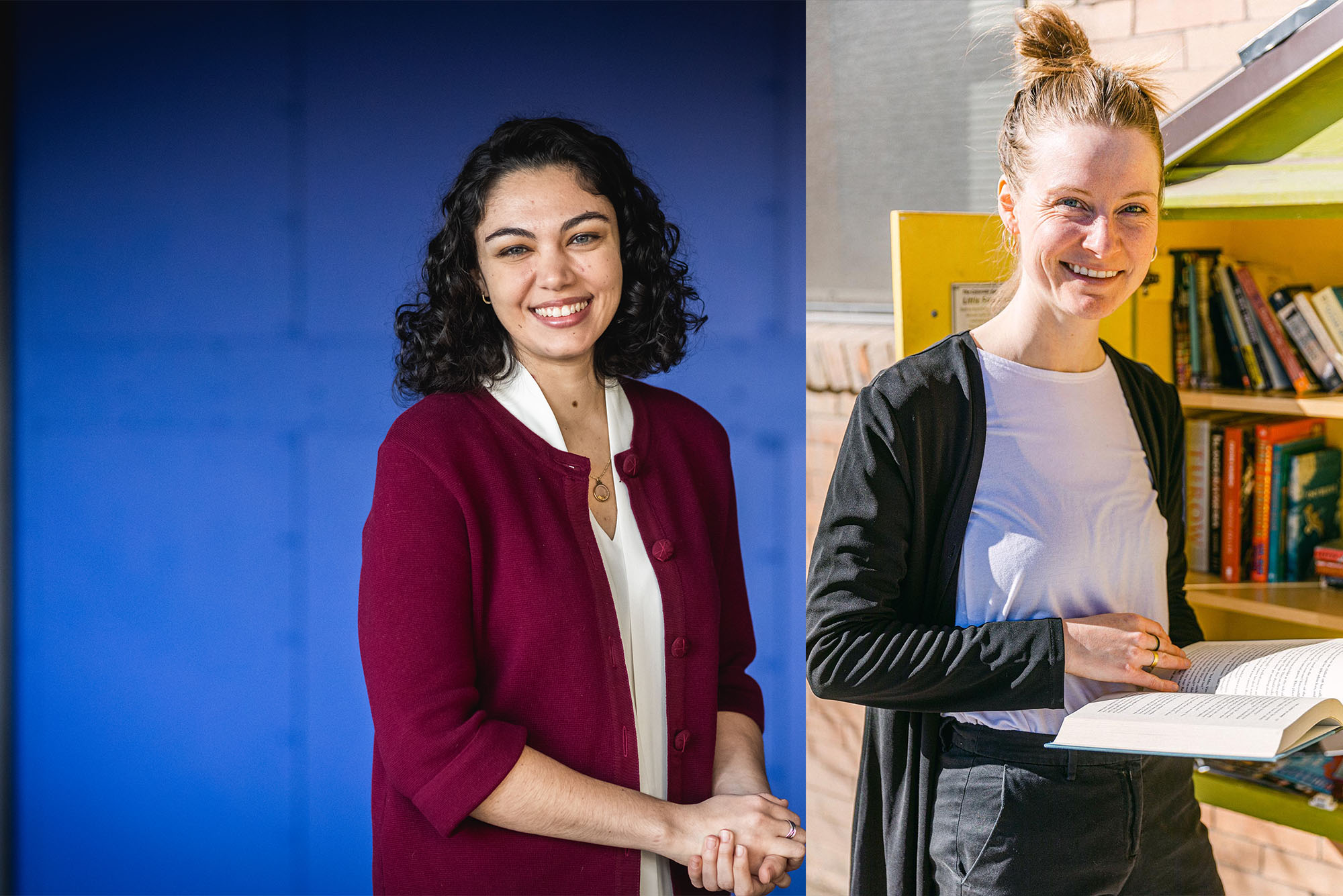 Emma Kalff and Sandra Soto,
Libraries for Liberation
They are determined to use their experience, influence, and positions to help make their business, organization, and world more inclusive. They are breaking barriers—and then reaching back to help those behind them overcome the same hurdles. They are BU alumni, faculty, and staff—of every race, ethnicity, age, and gender—and they are "Opening Doors" for the next generation.
---
Emma Kalff was moved to take action after the murder of George Floyd by police in 2020. She brainstormed with her dad and started thinking about what she was reading at the time, books that "moved her emotionally and intellectually," says Kalff (CAS'15), including The New Jim Crow: Mass Incarceration in the Age of Colorblindness by Michelle Alexander.
"There is a whole spectrum of books that affect people's lives and change how they think and how they interact with people," she says. "And so we just started buying sets of books. It was really just based on the books that I had read and loved."
Kalff had a plan for those books: ship them to friends across the country so they could put them in their local Little Free Libraries. Her friend Sandra Soto (Wheelock'16) saw the potential and brought in Alisa De Los Santos, a friend who knew a lot about nonprofit management.
"Emma had the idea, her dad had the funding, Alisa came up with the name, and then we sort of snowballed from there," Soto says.
In July 2020, they officially launched Libraries for Liberation, which buys adult, youth, and children's books that raise awareness of systemic racism from BIPOC-owned bookstores, and ships them to communities across the United States. Recently purchased titles: The Hate U Give by Angie Thomas, Are Prisons Obsolete? by Angela Y. Davis, and The Day You Begin by Jacqueline Woodson and Rafael López. To date, their network of volunteers has distributed thousands of books in 37 states, with the goal of expanding to all 50.
In addition to book distribution, Libraries for Liberation facilitates conversations with volunteer distributors, educators, parents, and community members about which books would be the best fit for their cities and states. They also run learning communities that readers can join to discuss books virtually. For this project, they received a grant through the Lucy Legacy Foundation, a nonprofit that supports BU Wheelock College of Education & Human Development scholarships, grants, and programming.
When they aren't running Libraries for Liberation, Kalff is an artist in Ridgeway, Colo., and Soto is a youth development coordinator at Inquilinos Boricuas en Acción, a Boston-based organization that manages affordable housing and has a variety of programs that support the community.

Kalff and Soto spoke to Bostonia recently about their work and the power and influence books can have on their communities.
Q
&

A
with Emma Kalff and Sandra Soto
Bostonia:
How does Libraries for Liberation work?
Kalff: People can go on our website and sign up to distribute books. They fill out a short form and choose the sorts of books that they think their community needs. We always feel that people know their area and neighborhood best and what books people would want. And once we have the funding raised, we purchase the books through the BIPOC-owned bookstores that we partner with, and then we ship them to those volunteer distributors after they attend an orientation meeting.

Soto: We buy from BIPOC-owned bookstores, and many of them are bookstores that are also cultural centers or nonprofits and do amazing community work that we want to support. [Some of their favorites are Birchbark Books & Native Arts, Tía Chucha's Centro Cultural & Bookstore, and Eastwind Books of Berkeley.]

This is all volunteer-led. The books go out directly from the stores to the distributors, and then they put those books in Little Free Libraries.
Bostonia:
Can you describe the book vetting process?
Soto: So, within the first few months of the organization, we started having community conversations about what makes a book liberatory, what it means to be Libraries for Liberation. I went to grad school and got a master's in education [at Harvard], and my advisor was this incredible human, Aaliyah El-Amin, who developed a course called Educating to Transform Society, which prepares students to disrupt and dismantle racism.

The concepts of the class guided some of our thinking about particular themes, and we ended up with five: positive racial identity development, critical consciousness, healing, solidarity and activism, and hope. And so those five themes guide our thinking about the books that we want to distribute, and we've trained lots of volunteers to vet books based on that criteria. [We want] people to think about how a book will help readers to not just navigate society as it is, but to transform it, to change it in a creative way.
Bostonia:
How many people are involved in the organization?
Soto: Hundreds. We have a partnership with an organization called Reading Is Resistance, run by a wonderful woman named Zapoura Newton-Calvert. She is a professor at Portland State University, and we are one of her community partners for a course she teaches. We get volunteer book vetters from her every semester. We've also been part of BU'S Global Days of Service.

Kalff: Often we'll have multiple vetters on one book. So we have multiple eyes on each book, and then we go through and eliminate the ones that don't align with our mission of actual liberatory material.

Soto: One of our early huge successes was when one of our volunteers posted a picture of them distributing My Grandmother's Hands, and we tagged [author] Resmaa Menakem, and he retweeted us. He volunteered to host a fundraiser for us.
Bostonia:
Can you talk about the urgent work your cause has taken on with the continued banning of books around the country?
Soto: This organization started, like Emma said, in the wake of George Floyd's murder, and the truth is, it's always necessary, as things change and shift. There's a different news story out there, but it's still just a new manifestation of white supremacy and racism. Libraries for Liberation is very much trying to be proactive in that fight and trying to maintain these conversations and trying to make sure these conversations persist. We are not necessarily responding directly to all the conversation about critical race theory, the banning of books. In some ways, that is the core of our work. But as the conversation shifts to focus on the "new fire," that is, the news, we are just trying to be stable and consistent and proactive in making sure conversations about racism continue.

Kalff: I think it's important to slowly and consistently continue to put these books out. Our goal is always to give people access to free resources, whether it's educating them, whether it's giving them books that represent how they look or about the lives that they lead.

People don't always get access to this important literature, and it's really important to us to give people that for free. And surprisingly, we have not directly received pushback. But we know from the news that people do vandalize, specifically, the books that we distribute, and we've heard about that happening. This just reinforces that this work is necessary.

Soto: A lot of the Little Free Libraries we are distributing to are in suburbs, and in whiter, more affluent areas. And I think one thing we try to do is distributor orientations. [These distributors] are predominantly white, and [we want them to think] about having these conversations in a way that helps them explore their own racial identity. Think about what liberation means to them, and have those conversations, both in a way that is helpful in their own thinking, but also helps them think about how they might facilitate these conversations. These are leaders in their community, and it is even more important that they are the ones leading these conversations. It's a little like planting seeds all over the place, and seeing those seeds grow, and trying to water them both through the books we're bringing and the conversations we're having. I think that's ever more important for white and white-presenting people.

I'm Cuban, Italian, and American. My immigration story is very close to me. The conversation and where I belong in the conversation have been complicated, and I think it's very important for people to be having those conversations and exploring that both within themselves and their families and broader communities. And I think that's a big part of what we're hoping to do with Libraries for Liberation—using those books to start conversations.
Bostonia:
What can people do in their communities to make them more inclusive and diverse?
Kalff: I live in a very small town in Colorado; my town has about 900 people. And in the town up the road, there's more racism and there's more homophobia, and because of that it's kind of scary to go there sometimes. There are two spaces there, a coffee shop and an art gallery, and they have really made it evident that they are welcoming spaces for everyone. They have gotten so much pushback because they're doing that, because they're doing a simple thing—whatever race you are, whatever sexuality you are, whatever gender orientation, you are welcome here.

These types of spaces stick out to me. I'm gay, so being in those spaces in that town, I feel safe because they have really made an effort. They are not going to put up with it. I've seen them do that when violent threats are made. We live in a heterodominant, white supremacist country, and so you have to fight to make spaces that are not that. I think it's really important to keep being vocal about it and actively stick up for people in those places. I'm sure it will be recognized and appreciated.

Soto: In one meeting we had early on, we were talking about our own identity and how it affected the work that we did. One of those things that you hear or read is that racism is a white people's problem. We have this collective obligation to stand up and act.

This work we do with Libraries for Liberation is not something you do on the side. It's not a protest and then go on with your day. How are you living in a way that is authentic to your values? That can look a lot of different ways for different people. But for me, it's about finding spaces we're talking about disrupting and dismantling and also talking about reimagining. And I think that's important when we get into what we're going to build, and how we are going to replace the systems and structures that exist.

So I don't have an easy answer for people to get involved. But, I think, keep reading, talking to each other, and learning, until the necessity to take deeper action becomes clear.

Kalff: I feel like it's also important to know your sphere of influence. These problems seem daunting and overwhelming. If you do a little bit every day, that becomes something. You don't have to be a Washington politician to change the world. You can change your role from your bedroom.