My Big Idea: A Better Way to Move into College—or Anywhere, for That Matter
Business & Economics
A Better Way to Move into College—or Anywhere, for That Matter
Lisa Dale (CGS'88, COM'90) and Kristen Grace (CFA'92) created KEEP bags for easier, more eco-friendly packing, moving, and storing
In our series My Big Idea, we bring you interviews with BU alums and other members of the University community who have launched a business, built a new product, or solved problems big and small. We ask them how they got the idea, what were their biggest stumbling blocks, and what's next for their big idea.
Anyone who has ever moved from one home to another—and in the fast-moving college town of Boston, that's almost everyone—knows how annoying it is to find packing materials.
Cardboard boxes are unwieldy, unsustainable, and often flimsy. Luggage, while better for the environment, is expensive and bulky. Garbage bags, the go-to choice for many a college student, leave clothes and goods a wrinkled mess (not to mention all that single-use plastic).
When sisters Lisa Dale (CGS'88, COM'90) and Kristen Grace (CFA'92) were moving their kids into college, they experienced this dearth of good packing and storage options firsthand. Frustrated, the sisters searched high and low for solutions—until they decided to just make their own.
Enter KEEP bags.
"We started talking about it amongst ourselves and imagined what would be perfect. Over the course of a couple of years," Dale says, "we finally designed these bags that really are the perfect solution to packing for dorm rooms."
The cuboid-shaped bags are made with recycled, heavy-duty, water-resistant material and fold up easily when they're not being used. A reinforced zipper along the top and one side creates a signature "packing wall" to keep things organized. And sturdy handles ensure that the bags are easy to carry and won't rip on the way in and out of tight doorways. Bostonia spoke with Dale and Grace about their journey to entrepreneurship, the highs and lows along the way, and the passion that motivates them.
Q
&

A
with Lisa Dale and Kristen Grace
Bostonia:
What was the catalyst moment for KEEP bags?
Lisa Dale: It really came from our experience as moms. I have four kids, and Kristen has three. My two older kids went to boarding school before they went to college, so I got a little bit of a head start on doing this pack-up-for-the-dorm-room routine. I tried everything: classic duffel bags and suitcases, boxes, plastic bins, trunks, we really went through everything. Nothing was easy to pack. Nothing was easy to carry. And nothing was easy to store in these tiny rooms. And nothing was really eco-friendly. Eventually I thought, there's got to be a better way. But I never really talked to anyone about it. And then Kristen was sending her oldest off to college and called me asking for advice on the best way to pack for these dorm rooms.

Kristen Grace: I was thinking I'd have to go buy all this expensive luggage, which just doesn't make any sense.

Dale: We also realized that if we brought things in suitcases, our kids would ask us to take them back with us, because there's just no storage space in these dorm rooms. So, we started talking about it amongst ourselves and imagined what would be perfect. Over the course of a couple of years, we finally designed these bags that really are the perfect solution to packing for dorm rooms. They're super lightweight, but really strong and durable. They're gigantic. We optimized the size for ergonomics of carrying. We also made them very squared off so that you can stack them in the back of your car, or fold them up and stack them for storage during the summer.
Bostonia:
What was the design process like? Did you test out different materials and shapes?
Grace: We did; we spent a lot of time on it. We chose a white material very intentionally, so they would look really clean. It was also important to us that the materials were recyclable and eco-friendly. And we wanted it to have a certain weight, so when you have the bag open to pack, it stands up on its own—you're not lifting it open and trying to shove things in it at the same time.

The depth of the bag is the size of a folded shirt or folded sweaters, and we wanted them to be able to fit everything you need: your shower caddy, almost any kind of electronics, books, everything. They hold at least 50 pounds, so you can really fill them completely.

Another piece we spent a lot of time testing was the length of the handle. If it's too short, you can't get over your arm. If it's too long, it's dragging on the ground.

Dale: We road-tested the handles on different-sized people. My husband is really tall and I'm not as tall, so we both tried it. We had our kids try them. And we had everyone holding them in two positions: over the shoulder and in your hands, to make sure that they're not hitting the ground. So to Kristen's point, the design was really intentional.

Grace: They're also customizable, so if you want a specific logo, we can add that. Harvard started selling them in their Coop, and so we created customized versions for them.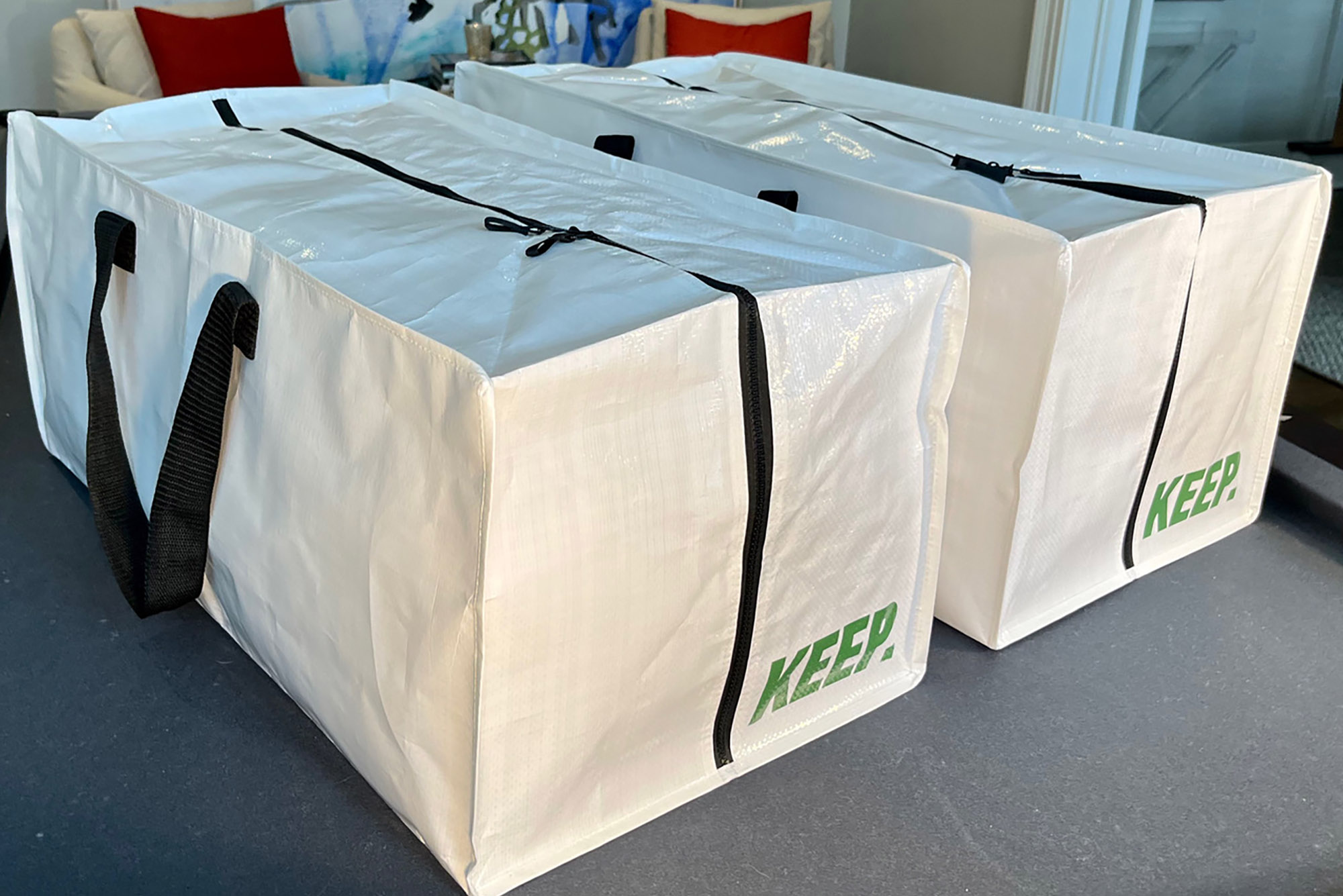 Bostonia:
Were there any challenges or roadblocks along the way?
Grace: I think the manufacturing was an interesting part of the process, because neither of us had really done it before. Throughout our careers, we've both spent a lot of time advertising and marketing products. I spend so much time creating visuals for products and deciding how it will look the best, but actually making a product has been an interesting process. That's probably been the biggest challenge, just trying to get it exactly how we want it so that we feel confident with the product, both the way it looks and the way it works.

Dale: When we started designing this, it was also within a COVID world. So, the manufacturing was extra complicated. A big learning curve for us was just how many little details there are to consider: the zipper, the stitching, the material of the handles, the way the corners fold. These were all decisions that had to be made and considered and tested to get them just right.
Bostonia:
How has it been to work together as sisters?
Dale: The business is really the two of us, which is great, because we're very close. We don't have any other siblings, it's always just been the two of us. We're also lucky in that we had each other to encourage this idea and foster it, and turn it into a business. Everyone needs someone to tell them they have a good idea. Even if it's just one other person.

But we have been working with BU's PRLab, which has been great for us too. Working with, and mentoring, and learning from the BU students has really been a cool process. They all have different perspectives and skills that they bring to the table, and it's been fun for us to really think about the product and communicate to them how we want to communicate it to the media. That's been a great part of this whole experience as well—and it's obviously fun for us to work with students from our alma mater.
Bostonia:
Along those lines, do you have any advice for someone who's thinking of starting a business?
Dale: I think my number one piece of advice is just to go for it. It's going to seem like a big mountain to climb, to turn an idea into a product or a business, but it's just a matter of taking little steps in the right direction, and then suddenly you've created something that wasn't there before.

Grace: I'd add that it's important to be open to a new idea and a new way of doing things when you encounter a problem. I mean, we looked at those big, heavy trunks [for moving and storage], and we almost can't believe they're still for sale. We thought, there has to be a better way, and then expanded our imagination about what moving and packing containers could look and feel like.