Excerpt from Jonathan Eig's Acclaimed New Biography, King: A Life
In this excerpt from Jonathan Eig's acclaimed new biography, Martin Luther King, Jr.'s days as a BU graduate student come to life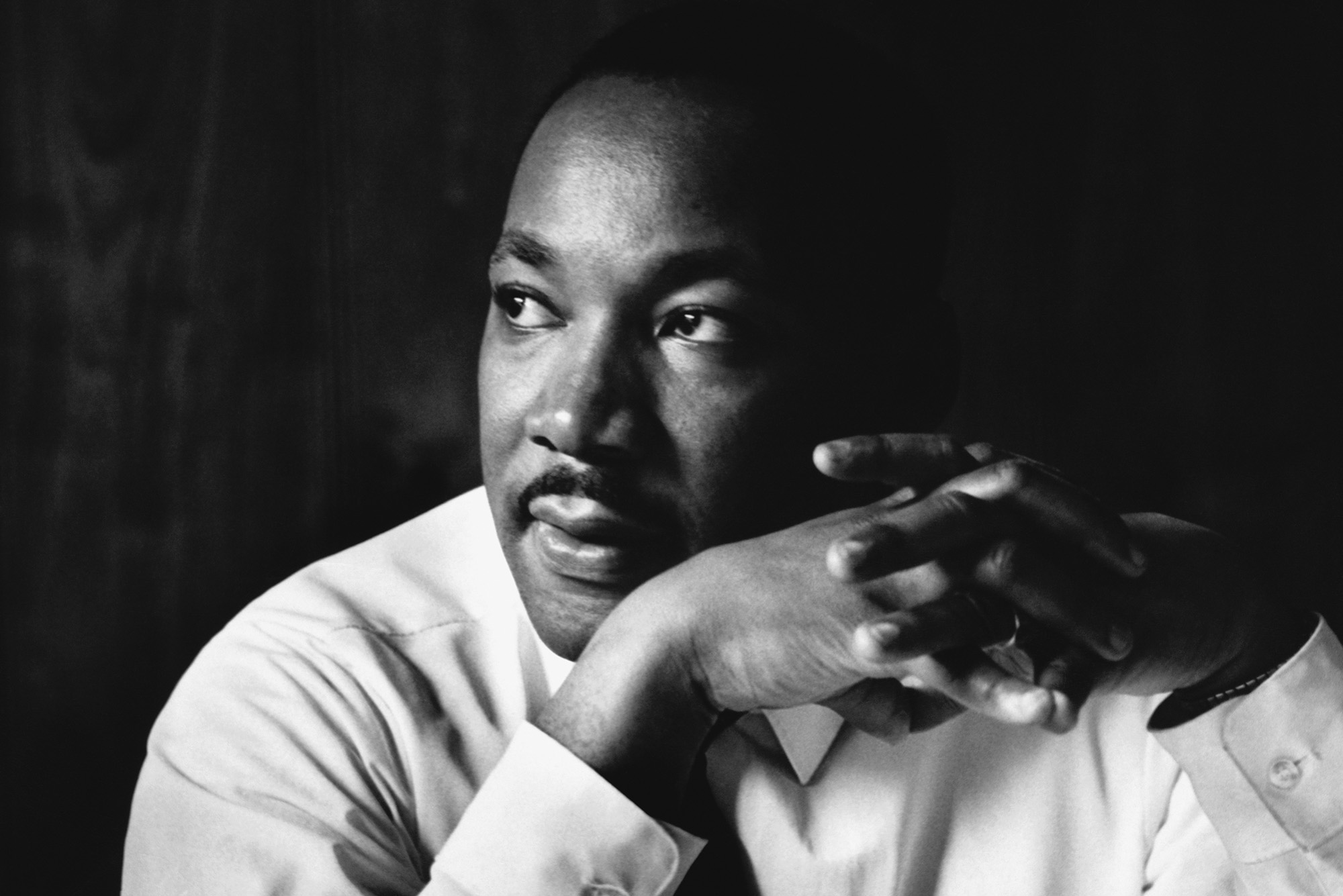 Books
"I'm Going to Kill Jim Crow"
In this excerpt from Jonathan Eig's acclaimed new biography, Martin Luther King, Jr.'s days as a BU graduate student come to life
In 1951, Martin Luther King, Jr., with degrees from Morehouse College and Crozer Theological Seminary under his belt, steered his Chevy north from Atlanta to begin his PhD studies in systematic theology at BU.
At the time, he was thinking about a career in academia, perhaps after working as a preacher in a small town, writes Jonathan Eig in his new biography, King: A Life (Farrar, Straus and Giroux, 2023).
During his time at BU's Graduate School of Arts & Sciences, King (GRS'55, Hon.'59), known then as M.L., was recognized as a leader. He attended sermons by Howard Thurman (Hon.'67), dean of Marsh Chapel from 1953 to 1965 and the first Black dean at a mostly white American university, who became his mentor. (The two watched Jackie Robinson play in the 1953 World Series on TV at Thurman's home, according to Eig.)
"King found lasting inspiration in Thurman's beliefs on integration, community, and the interrelatedness of all life," Eig writes. "'There is but one refuge that one man has anywhere on this planet,' wrote Thurman. 'And that is in another man's heart.'"
He would also meet his future wife, a New England Conservatory of Music opera student named Coretta Scott (Hon.'69), in Boston. After King finished his studies, he and Coretta left the city for Montgomery, Ala., "soon to be the crucible for the civil rights movement," Eig writes. "After saying he wanted a job that would place him on the front lines of the fight against segregation, the Reverend Martin Luther King Jr. had been granted his wish."
The following is an excerpt from Eig's book, described as the first definitive biography of King in decades.
---
King earned a bachelor of arts degree in divinity from Crozer and graduated as valedictorian, winning a $1,200 scholarship for graduate study. His parents rewarded him with a car, a green Chevrolet with Powerglide, the new two-speed automatic transmission that allowed for quick, smooth acceleration without the use of a clutch.
But if Martin Sr. and Alberta King had hoped to see their son driving the Chevy around Atlanta, smoothly accelerating from home to church, and perhaps soon hauling grandchildren in the back seat, they were disappointed. In the fall of 1951, King took the car from Atlanta to Boston, where he enrolled at Boston University in pursuit of a doctorate.
Daddy King hadn't been happy with his son's decision to go to seminary. He had more reason to complain now that his son seemed intent on an academic career. M.L. knew better than to argue with his father. "Oh, yes," he would say vaguely when listening to something he didn't want to hear and didn't wish to debate. He knew by now that he didn't need to persuade his father to get his way. If there were any doubt that M.L. had his mind on a career beyond the pulpit, he confirmed it in his application to Boston University. "For a number of years, I have been desirous of teaching in a college or school of religion," he wrote. "It is my candid opinion that the teaching of theology should be as scientific, as thorough, and as realistic as any other discipline. In a word, scholarship is my goal."
Boston University was a historically Methodist school, with a predominantly white faculty and student body. Daddy King, despite reservations about his son's decision, agreed to pay all of M.L.'s graduate school expenses not covered by his scholarship. Perhaps he was relieved that M.L. had chosen Boston University and not the University of Edinburgh in Scotland, which had been among his top choices, and which might have set his life and career on a dramatically different path.
King chose BU, in large part, for the chance to study with Edgar S. Brightman, known for his philosophical understanding of the idea of a personal God, not an impersonal deity lacking human characteristics. [Brightman (STH'10, GRS'12) was the Borden Parker Bowne Professor of Philosophy at GRS.] "In the broadest sense," Brightman wrote, "personalism is the belief that conscious personality is both the supreme value and the supreme reality in the universe." To personalists, God is seen as a loving parent, God's children as subjects of compassion. The universe is made up of persons, and all personalities are made in the image of God. The influence of personalism would support King's future indictments of segregation and discrimination, "because personhood," wrote the scholars Kenneth L. Smith and Ira G. Zepp Jr., "implies freedom and responsibility."….
…. In Boston, where he began to introduce himself as Martin, he didn't take long to find new romances. His approach to women at times resembled a competitive sport, according to Dorothy Cotton [Wheelock'60], the civil rights activist who would later become close to King. He would "try to make sure he could win the girlfriend of the tallest…handsomest guy on campus," Cotton said. "And that became a bit of a habit, I feel."
One day, while he was eating lunch at a Sharar's Cafeteria, he spotted a fair-skinned African American woman, seated alone. King got up from his seat and approached her.
"You're not eating your beets," he said. The young woman looked up and said she hated beets.
King said he felt the same way and asked if he could join her for lunch. Her name was LaVerne Weston, and she was a Texas native who studied at the New England Conservatory of Music. She and King bonded over the cafeteria's failure to offer an alternative to beets with the chicken platter. LaVerne admired King's natty wardrobe and warm personality. He talked a lot and bragged a bit, but he asked good questions, and he listened, too. It was obvious that he was flirting, but LaVerne wasn't interested. King was too short for her taste.
"I'm going to kill Jim Crow," King told her….
…. After his first semester at BU, King and one of his friends from Morehouse, Philip Lenud, a student at the Crane Theological School, affiliated with Tufts University, rented an apartment at 397 Massachusetts Avenue, a South End rowhouse. The place was piled high with books. Morehouse pennants hung on the wall above the sofa. Lenud, an Alabama native, did most of the cooking; King washed the dishes. King made frequent phone calls home, reversing the charges. The apartment became a hub for young intellectuals and artists. King hosted a weekly potluck supper for a group he called the Dialectical Society or, sometimes, the Philosophical Club. The men smoked pipes. Graduate students read their papers aloud. Spirited discussions followed. They recorded the minutes and reviewed them at subsequent meetings. At first the meetings were attended exclusively by Black men, but they diversified over time, accepting women and the occasional white person. King was more than comfortable taking a leadership role. With the Philosophical Club, peers saw King already as a leader and a charismatic figure, urbane, sociable, and pleased to be at the center of attention.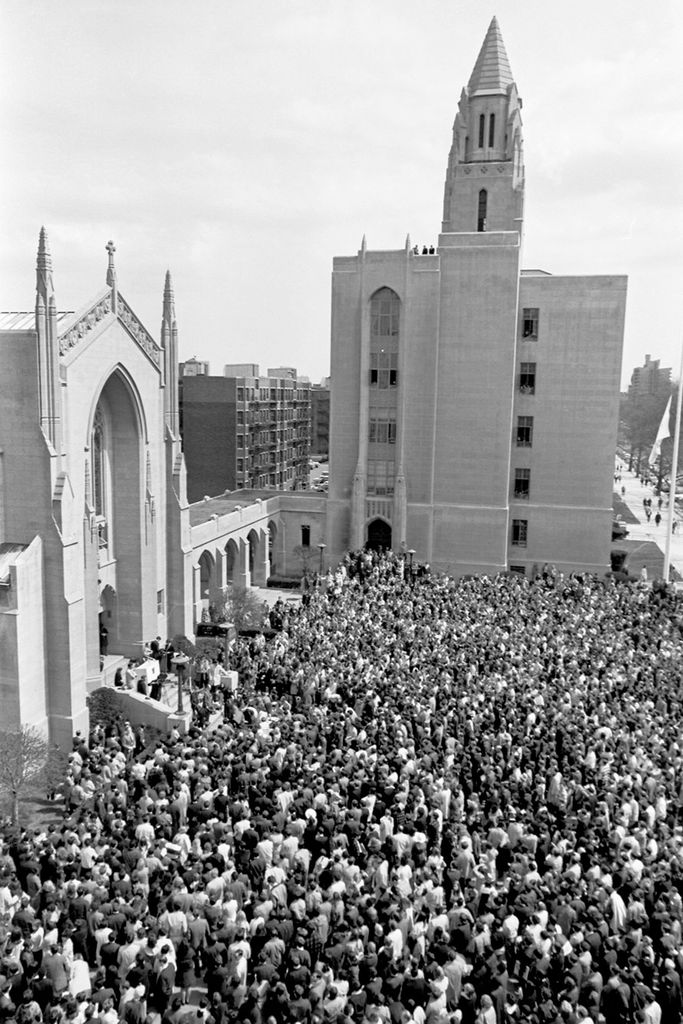 "Martin was the guru," said Sybil Haydel Morial [Wheelock'52,'55], who grew up in New Orleans, attended Boston University, and went to parties as well as casual gatherings at King's apartment. She would become an educator, an activist, and wife to the first Black mayor of New Orleans, Ernest N. "Dutch" Morial. "He was the leader of it," she said of King. "He was so even-tempered and so self-possessed and so humble…. And he had a car!"
Boston was not free from racism by any stretch. The Red Sox would not integrate their team until 1959, although Sam Jethroe integrated the Boston Braves in 1950, before that team moved to Milwaukee. Public schools remained segregated in practice. But it was far better than in the South, Sybil Morial said. Boston had art and theater and integrated colleges. From September 21 to September 23, 1951, the Boston Garden hosted an all-star jazz concert with the Duke Ellington Orchestra, Sarah Vaughan, and the Nat King Cole Trio, whose recording of "Too Young" had topped the charts that summer. The Boston Celtics, with Chuck Cooper, had one of the first racially integrated teams in the National Basketball Association. Boston also had a seemingly endless array of ambitious young Black men and women from prosperous families. King attended services at Twelfth Baptist Church, a congregation that had been founded by free people of color in 1840, served as a stop on the Underground Railroad, and had a long history of organized protest.
"It was thrilling because everything was open," Morial said. "Those of us from the South loved the freedom of the North." The young men and women often discussed whether to remain in the North, or "Freedomland," as Morial called it. At first, Morial said, most of her acquaintances in Boston vowed to stay in the North, but their views shifted as they began to miss home and began to see signs that cultural and political reform might be possible in the South. Even in Boston, King felt pulled to return to the South, in part because Boston's Black community was "spiritually located in the South," as the scholar Lewis V. Baldwin writes. "I am going back where I am needed," King said in Boston.
Excerpted from King: A Life (Farrar, Straus and Giroux, 2023) by Jonathan Eig with permission from the publisher.