This BU Professor and Competitive Swimmer Is Preparing for the Most Critical Race of Her Life
Laurie Craigen hopes to swim across California's Catalina Channel. Obstacles: sharks, fluctuating water temperatures, and risk of losing sight of the horizon
Watch it again
This BU Professor and Competitive Swimmer Is Preparing for the Most Critical Race of Her Life
Competitive Swimming
This BU Professor and Competitive Swimmer Is Preparing for the Most Critical Race of Her Life
It's 13 days out from the most critical race of Laurie Craigen's life, and she seems remarkably zen. On a mercilessly muggy day in late July, the competitive marathon swimmer slips off a boat and into the calm waters of Boston Harbor, just off the shore of the L Street and M Street Beaches. She starts doing methodical laps. The competitive swimmer knows she will face very different conditions on August 10 when she attempts to swim across California's Catalina Channel. (To see how she did, scroll to the bottom of the story).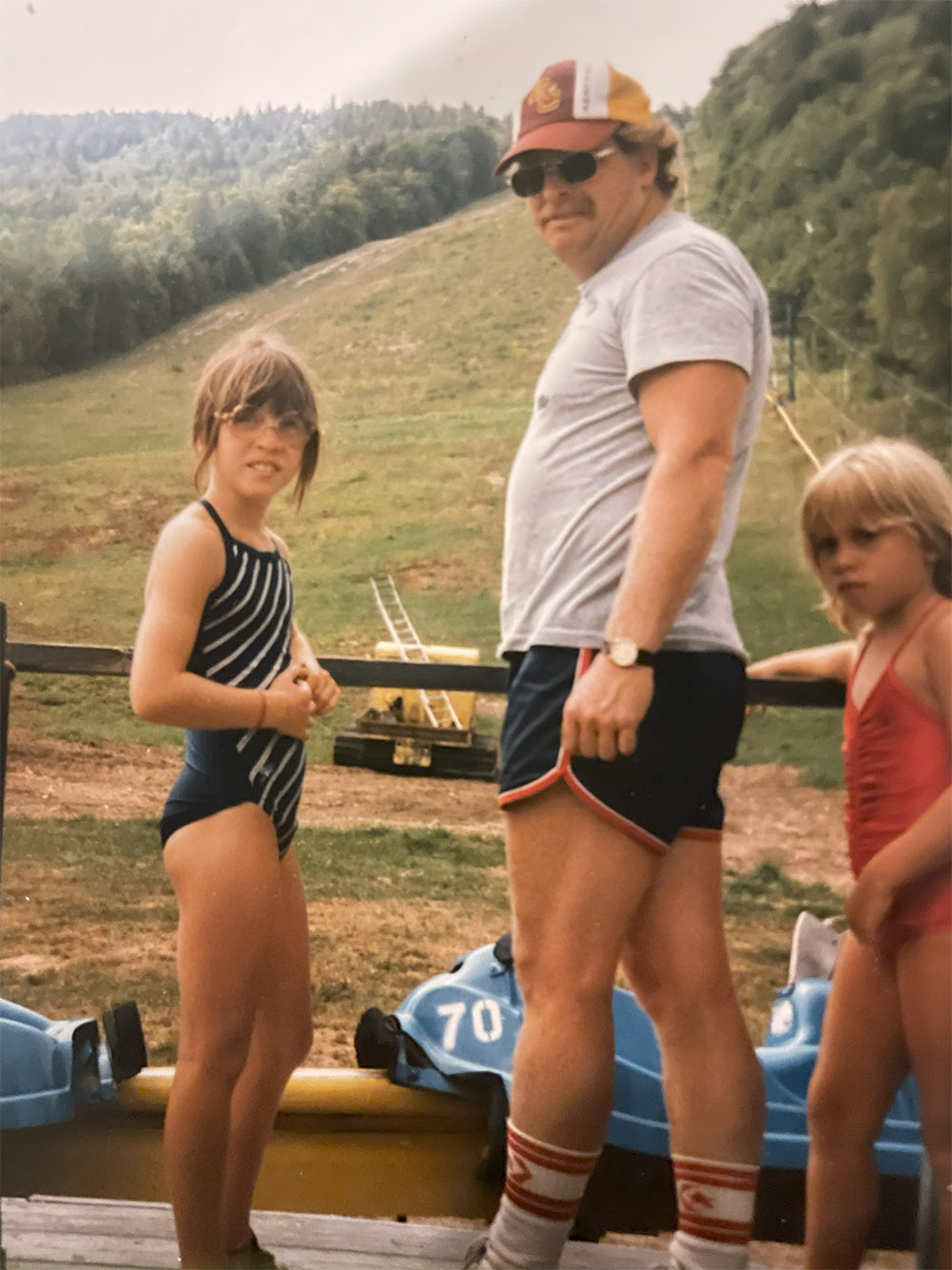 She uses the word "attempt" because this 20-plus-mile swim is hard. Lots can go wrong. "With the Catalina swim, I start at 10 or 11 pm, and I swim through the night," says Craigen, a Chobanian & Avedisian School of Medicine associate professor of mental health counseling, once she's sitting back in the boat, swim cap and goggles still perched on her head. There are currents in Catalina Bay, fluctuating water temperatures, the risk of nausea and losing sight of the horizon, and sharks. "I'm hoping I'll finish, but I don't know," she says.
A competitive swimmer throughout high school and college, Craigen found open-water swimming after a 20-year break from the water and says it has profoundly impacted her life. Now, she's hooked. Last summer, she swam 28.5 miles around Manhattan Island, and followed that up with a 25-mile trek across Lake Memphremagog, which straddles Vermont and Canada. Races like these take upwards of 11 hours, and she missed setting a record by 19 minutes for Memphremagog.
If all goes well, Craigen has her sights set on an even more daunting goal next year: crossing the English Channel. Accomplishing that feat would earn her the "triple crown" of open-water swimming: Manhattan, Catalina, and the English Channel, something that only 269 people have achieved to date.
So what are people's reactions when she tells them of her passion? It's usually some form of, "You're crazy," Craigen says.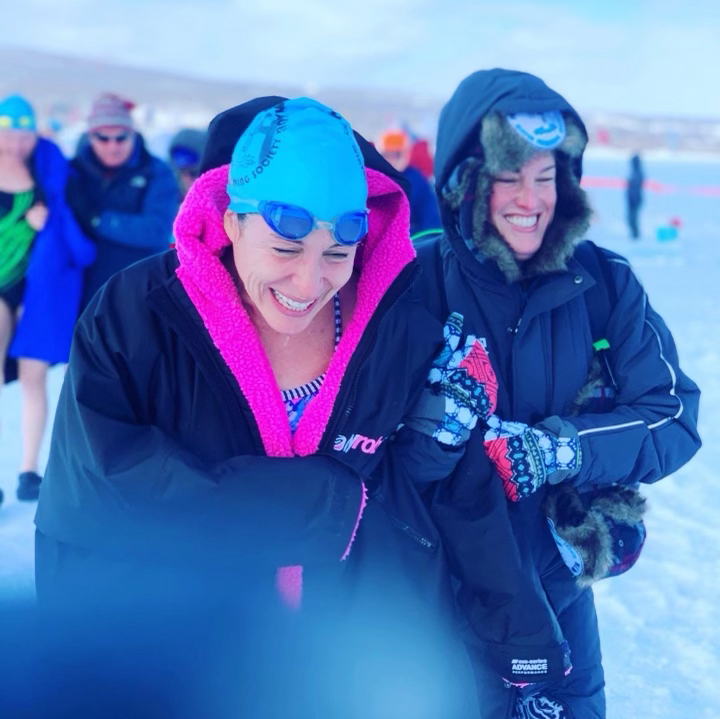 Finding a community in the water
Craigen grew up on Boston's north shore, in Hamilton, Mass., competitively swimming starting at age 9, and continuing throughout her time as an undergrad at Holy Cross, but gave it up once she moved away to attend grad school and begin her career in counseling. When she returned to Massachusetts in 2016, she was eager to join a social network. She discovered a mile-long memorial swim race leaving Boston's L Street Bathhouse and begged her sister Amy to sign up with her.
"We hadn't swam in like 20-something years, so we went and got wet suits, and we threw up—it was awful," Craigen recalls with a laugh. But she kept swimming longer distances—a mile, 3 miles, a 5K, and finally, her first 10K (considered a "marathon swim" in the sport). And in 2021, she joined the L Street swim group on one of her first open-water attempts: an eight-mile swim from M Street Beach to Boston Light, on Little Brewster Island in Boston Harbor, the country's oldest continuously used lighthouse. "I've never been so nervous," she says. "I honestly had no idea what I was doing."
After that swim, she hired a coach and now typically swims five days a week and works with a trainer on lifting and strength training two mornings a week. She consults with a nutritionist to make sure she is eating the right things to help her energy levels stay high.
"We always say it's a sport that is scary. You can die," Craigen says. "Someone just died doing the English Channel. And it can happen to you. I had a full workup and a physical and had my heart looked at, just to make sure my body could endure the stress and the long swim."
But it's not all serious training. Craigen credits the camaraderie she has found with the L Street swim community as one of the reasons she loves the sport. "It's just really cool to be surrounded by these women who take on these challenges," Craigen says about the group. "I wouldn't be doing these swims if I hadn't met this group. They are so encouraging."
One friend she met through L Street, Nancy Monbouquette, offers to take Craigen out on her boat for a swim whenever she wants. "After you talk to Laurie, you feel uplifted and better about yourself because of the time you spent with her. She restores your energy," says Monbouquette, whose son Luke graduated last year from BU's School of Law.
"I can't live my life with fear anymore"
Open-water swimming carries plenty of risks: in addition to the unpredictable currents, which can make an already long swim longer, there's fluctuating temperatures, the risk of hypothermia, chafing, vertigo, nausea, and the perils inherent in swimming in the dark. The ocean is home to jellyfish and—especially in Catalina—sharks.
For a long time, ocean swimming frightened Craigen. But the mental health professional realized that everything she was doing in her life was about moving away from fear, and her rediscovery of swimming has taught her the benefits of facing her fear head-on. "I can't live my life with fear anymore," she says. "When you move closer to fear, you end up finding out who you are."
Swimming, Craigen says, has now become a cathartic experience that has helped her mental state. After the first two or three hours of a swim, which she describes as horrible ("I'm like, what am I doing? I'm an adult. This was a choice I made, it's insane. I want to get out of the water and have a snack."), she finds her brain shuts off.
"I just zone out; it's the best," she says. "I can't match it, because I'm an anxious overthinker, so my brain never shuts down. This is complete clarity, and not to sound weird, but you're one with everything that is happening around you. And it's a really cool moment." She also says this has informed her work with her students and patients, and she recently published a journal article about it.
Even though she is a strong swimmer, Craigen will be trailed during the Catalina race by a crew of two kayakers (friends from the swimming community, who will also be cheering her on) and a larger boat for safety purposes. The vessels will also have flags to warn other boaters that a swimmer is in the water. Craigen's crew will periodically drop her a snack—usually a drink with carbs and proteins to keep her energy up.
"If I start throwing up, I have a Plan B and a Plan C, because you can't keep swimming if you're not getting the energy put back in your system," Craigen says. "If you get swimming-induced pulmonary edema (SIPE), which is water in your lungs, it's game over. They'll pull you. If I get hypothermic or my energy is low, my stroke count would slow down, they would pull me out for that. The crew is really responsible for making sure I don't die out there."
For these reasons, it's hard for Craigen to estimate her finishing time for Catalina. "There are goals I have in my head for if it's calm water, but after that, if I finish and don't have a panic attack in the dark, then I consider myself successful," she says. "I would like to go under 10 hours, but it depends."
Friend Elaine Howley, an accomplished marathon swimmer and cofounder and president of the Massachusetts Open Water Swimming Association, has mentored Craigen over the years and will make the trek out to California with her. Howley says she is certain Craigen will conquer the Catalina Channel, even if the weather and conditions on the day don't cooperate.
"She will bring 100 percent of herself to the swim and lean into the challenge," Howley says. "I've seen her do it before, and her attitude of just keep going no matter what will serve her well when the going gets tough out there. I'm stoked for her that she's stepping up into this big swim and taking on a test of her ever-growing abilities."
8/14/2023 update: Craigen successfully crossed the Catalina Channel, swimming 20.7 miles in 11 hours, 30 minutes. Her next big race will be the English Channel in 2024.