BU Interim President Kenneth Freeman Says BU Will Not Stand Still
He talks about future of online graduate programs, data science, COVID, the "energy and enthusiasm" of a new semester, and more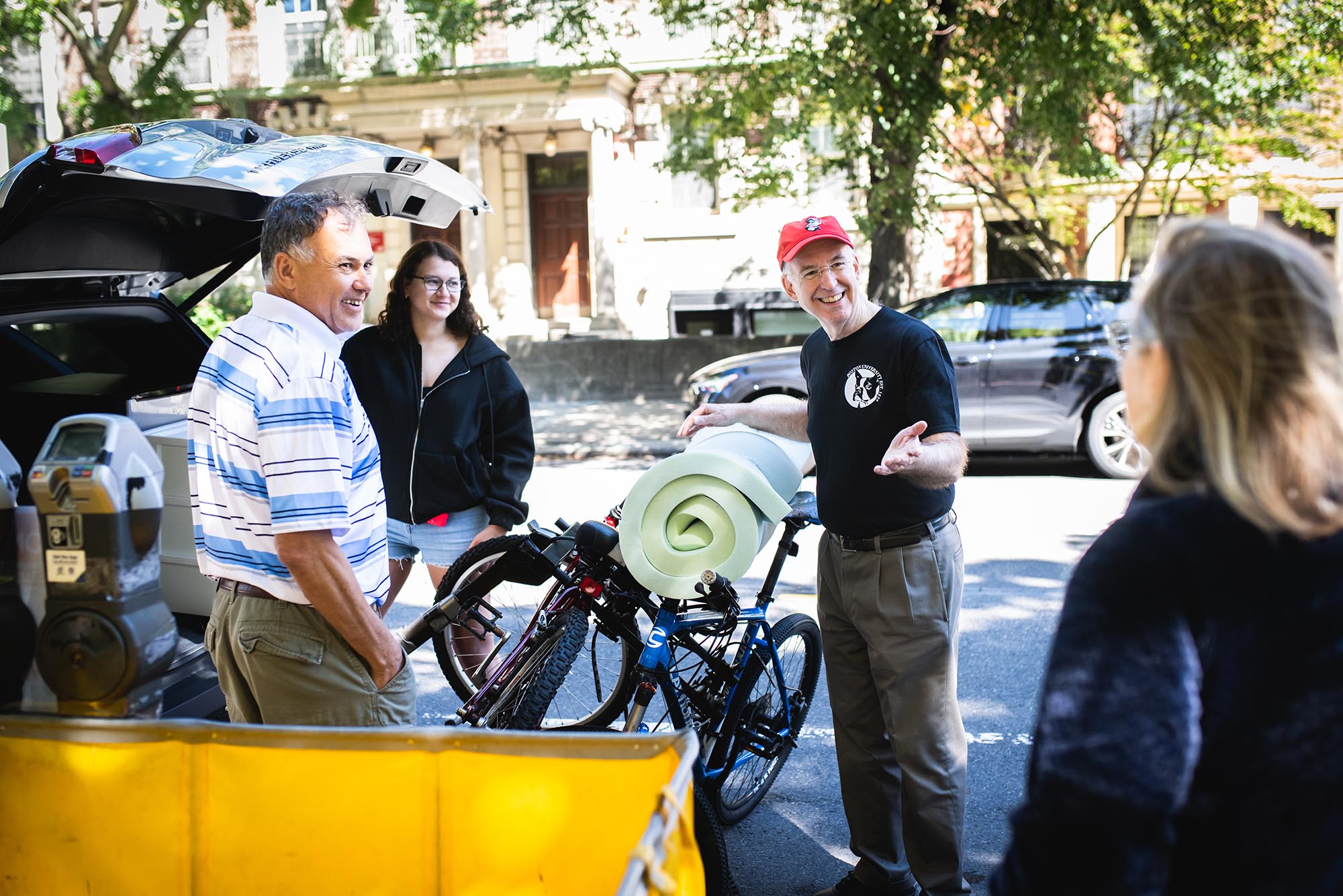 Administration
BU Interim President Kenneth Freeman Says BU Will Not Stand Still
He talks about future of online graduate programs, data science, COVID, the "energy and enthusiasm" of a new semester, and more
For the first time since fall 2005, Robert A. Brown will not be the president leading Boston University into a new school year. It will be Kenneth Freeman, a longtime University administrator who is serving as ad interim president while the search for Brown's permanent successor, BU's 11th president, continues.
In his 13 years at BU, Freeman has been a professor and dean of the Questrom School of Business, a mentor, a vice president for human resources, and now, interim president. He told BU Today previously that despite his temporary title, he will not let BU stand still while other universities continue to aggressively move forward, and that his role is "not to be a caretaker, but to be a value creator."
In a recent wide-ranging conversation with BU Today, Freeman talked about BU's continued growth in online learning, the first full school year for the Center for Computing & Data Sciences building, the importance of teaching humanities in today's divided world, and more. He spoke with us as he and his wife, Janice, prepared to greet students during Move-in.
This interview has been condensed and edited for clarity.
BU Today:
So, how are you feeling about the start of a new semester?
Freeman: Fall is the time when college campuses come alive with abundant energy and enthusiasm, and BU is no exception. Our community of more than 45,000 people becomes a vibrant small city within the city of Boston. BU is a very special place, and it is all about the people—our students bring inquisitive minds and our faculty and staff bring a commitment to our core mission—the education of students that will make an impact on the world.
BU Today:
I wanted to ask about an important shift many of us have been noticing: BU's moving forward with more online graduate degree opportunities. In addition to many of the programs offered through Metropolitan College, online graduate degrees are now available at Questrom, the School of Public Health, the School of Social Work, and soon, the Center for Computing & Data Sciences. What is BU's strategy and thinking in this space?
Freeman: We have record enrollment in Questrom's online MBA, which continues to grow in stature and enrollment, currently with more than 2,000 students. We want there to be multiple points of entry for individuals who want to earn a master's degree in business, the MBA. The online MBA gives us a full menu because the average age for our online MBA students is in the late 30s. The online MBA gives us scale and access to adult learners all over the world, with a low-cost, high-quality MBA.

Last fall, the School of Public Health launched its own online master's program, at the same price point, $24,000. They currently enroll more than 230 students. We're gaining traction with BU Virtual in partnership with the schools and colleges. The next online program under development is an online master's in computing and data sciences, with a first cohort to start in the fall of 2024.

We have a long history in this, of course, with Metropolitan College. Traditionally MET has provided online degrees and supported degree programs offered by our various schools and colleges. For example, the School of Social Work has offered a highly successful online degree for more than 10 years.
BU Today:
So with all of this happening, what is BU's strategy moving forward? Do you see the expansion continuing under BU Virtual and Wendy Colby?
Freeman: Looking across BU, we have done an amazing job at the University providing an outstanding residential experience for our students. As we think about online, it's a clear complement to the residential experience. By offering high-quality online graduate degrees and certificate programs at a moderate price point, we expand access to Boston University for students in this country and around the world.

I see the possibility of further expanding our offerings, so that if you want to come for the residential experience, you can do that, or if you want the online degree from BU, you can do that, too. It doesn't mean every school or college will offer an online degree. The deans and faculty play a really important role here, and BU Virtual exists to provide technical and design support.
BU Today:
The importance of the humanities in higher education has increasingly become a topic of conversation—even debate—in some circles. Could you talk about how BU is paying attention to this and its commitment to a humanities education?
Freeman: Sure, but first some background. Although my undergraduate degree says business, I wanted to be a musician, taking at least as many music and history classes as an undergraduate as I did business courses. I don't have a STEM background. Boston University must not evolve to become simply a collection of professional schools. We need to be able to offer our students the opportunity to absorb the lessons of the humanities that provide broad perspective and insight as our graduates go into the world. It is our job to make sure we invest appropriately across our multitude of disciplines that accomplish our mission in its full breadth and depth.
BU Today:
This will be the first full year of operation for the new Center for Computing & Data Sciences building. What can we expect there?
Freeman: The University's commitment to advancing data sciences across all campuses remains one of the highest priorities in a world of artificial intelligence and rapid technological change. We've invested in a world-class facility, LEED platinum, and it's a finalist for a medal in Singapore as the World Building of the Year. And we are investing aggressively to assemble a world-class faculty.

Buildings don't deliver on promises. People deliver on promises. Computing and data sciences is an area where other major universities across the United States are spending heavily. Because of our scale and breadth, our structure that is interdisciplinary in nature, and the investments we are making, we can lead in this space.

I've been assured the punch list on the building is just about done, and it is already a beehive of activity. And the best thing is that you don't have to be a computing and data sciences major to enjoy the space. It's there for everybody to use and has already become a very popular hub of activity.
BU Today:
Can you talk about the recent hiring of Joan Donovan by the College of Communication, after her departure from Harvard? Her area of research—misinformation and disinformation—is vitally important, of course, and yet to some it's also been a source of debate and discussion.
Freeman: If we take a historical perspective, we know that BU has a long history of being willing to go where others wouldn't go. It started with the first African-American woman to graduate from a medical school. BU has a long history of wanting to advance conversations and move with its feet, not just talk about it. Some might view this as controversial, and that's fine. But if universities aren't willing to engage in research and teaching and dialogue about critical issues of the day in a safe environment, who will? We believe we have an obligation to sustain our legacy, our history, in this regard. Will everybody agree with these decisions? No. We live in a divided society. But we stand for the opportunity for voices to be heard.
BU Today:
With the recent reported surge in COVID cases, how does BU plan to respond?
Freeman: Judy Platt, our chief health officer, and her team are closely monitoring the ongoing situation. An assortment of masks will be made available in high-traffic areas around our campuses. We do not believe that any changes to our protocols announced in the spring of last year are warranted at this time.