Joan Donovan, Nationally Recognized Expert in Misinformation and Disinformation, Joins BU Faculty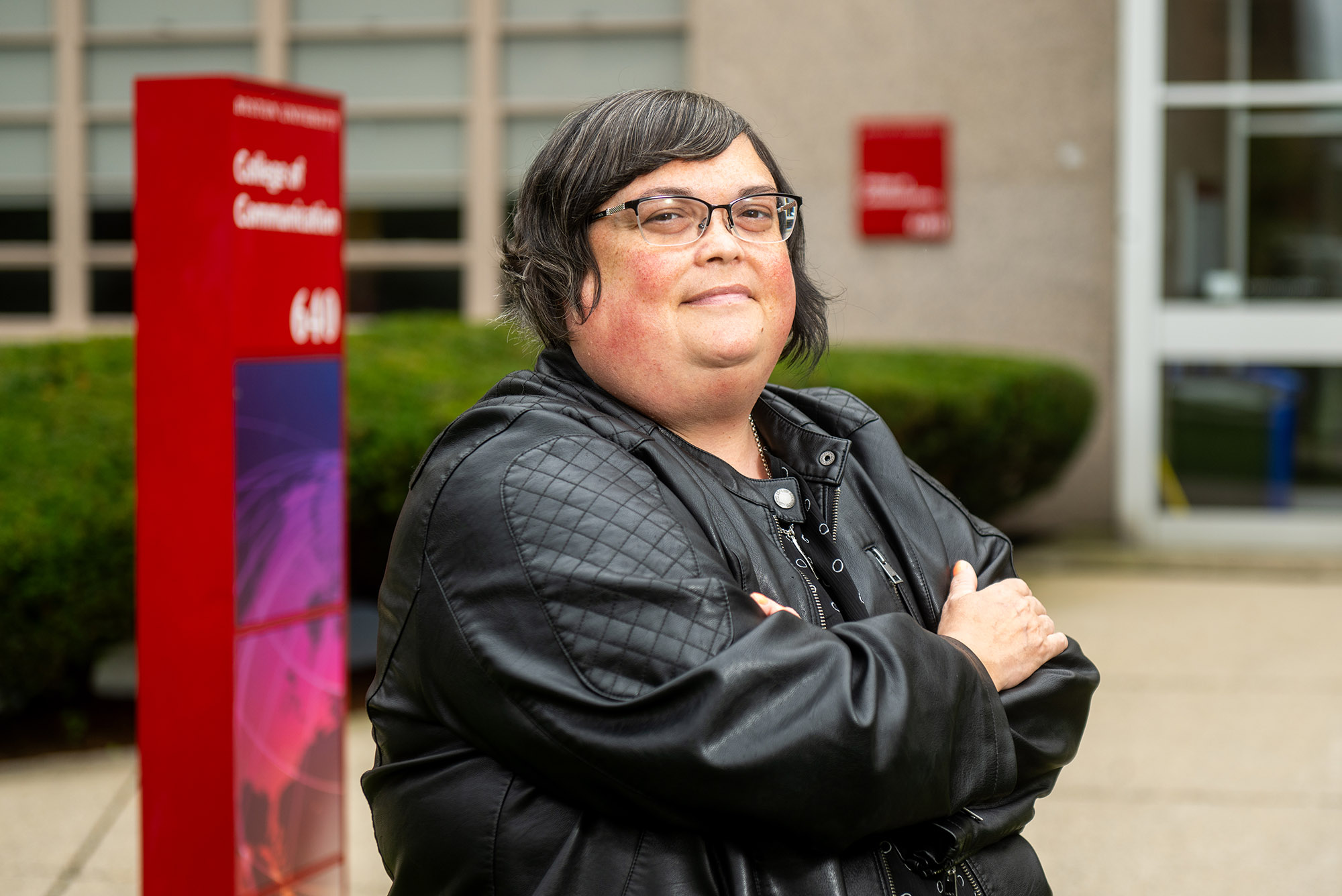 New Appointment
Joan Donovan, Nationally Recognized Expert in Misinformation and Disinformation, Joins BU Faculty
After departure from Harvard, social scientist plans to build "internet observatory" of politicians' online posts
Joan Donovan, a renowned expert in online misinformation and disinformation campaigns, will join Boston University this fall as an assistant professor in the College of Communication.
Donovan begins September 1 and will start teaching in the spring. She will hold joint appointments in the Division of Emerging Media Studies and in the journalism department.
"I was looking for a place that would offer me the most academic freedom, where they were also at a turning point in their own march through history, and I found BU very exciting," Donovan says of her move to the University. "BU also consistently gets top-tier students from around the globe. And it's important to me that I'm able to talk to students and understand more from them what they want to know about."
During a pivotal and tumultuous time in global politics, University leaders say it's critically important to understand—and overcome—online misinformation and disinformation campaigns that threaten real-world consequences.
"We're excited that Joan Donovan, one of the foremost experts in misinformation, disinformation, and media manipulation, is joining Boston University's College of Communication," says Mariette DiChristina (COM'86), dean of COM. "In an era of increasing polarization, and with a big election year coming up, Dr. Donovan's work is more important than ever. Reliable information, especially on fast-moving digital platforms, is fundamental to a functioning democracy, and Dr. Donovan is joining a strong team of researchers at the college and at BU who are focusing on these critical issues."
Donovan's work in misinformation and disinformation puts her right in the middle of a dark web of online vitriol. She wades into cynical and sometimes downright violent posts by extremists and conspiracy theorists, often picking up on nascent movements and bad actors even before they gain mainstream attention.
"It can feel a little like trying to hold back a tidal wave with your own two hands," she says, but the work is worth it, to build a better future. It helps, too, she says, to work in teams so that no one person carries the research burden alone.
"What keeps me going, I think, explicitly is that I believe we can build technology in the public interest that serves many different kinds of people safely, in a way that protects their privacy and in a way that also provides a global library of resources to everyday folks who aren't experts in any particular fields," Donovan says. "For me, that's what the promise of the internet is, and I'm not willing to give up the possibility of a hyperlink commons where people are able to easily access knowledge."
A social scientist by training, Donovan was most recently research director of the Technology and Social Change Research Project at the Shorenstein Center on Media, Politics and Public Policy at the Harvard Kennedy School.
Last summer, however, officials at Harvard informed Donovan that the project would wind down, because of an internal policy that all research projects be led by full faculty members, the Boston Globe reports. Donovan was not on a tenure track at Harvard, but will be at BU.
Her research and teaching are focused on media manipulation, effects of disinformation campaigns, and adversarial media movements, with a particular focus on how social movements, political parties, governments, corporations, and other networked groups engage in active efforts to shape media narratives and disrupt social institutions.
Donovan earned a doctorate in sociology and science studies at the University of California San Diego and was a postdoctoral fellow at the UCLA Institute for Society and Genetics, where she studied white supremacists' use of DNA ancestry tests, social movements, and technology.
In January 2020, Donovan testified before Congress during a hearing about manipulation and deception online. A year later, she studied the January 6 attack on the US Capitol. She is a coauthor of Meme Wars: The Untold Story of the Online Battles Upending Democracy in America (Bloomsbury Publishing, 2022), which explores the political adoption of memes and how the internet is changing political campaigns.
Brian McGrory, chair of COM's journalism department and a former editor of the Boston Globe, says Donovan's appointment couldn't be more timely.
"Disinformation will be front and center of this presidential campaign, as it was in the prior one, through the pandemic, and in the election aftermath. It is a threat to our very way of life," McGrory says. "Joan Donovan is among the foremost experts in the world at predicting disinformation, tracking its origin, and assessing its impact—all while fearlessly calling out the people and the platforms that give it flight. We couldn't have a more accomplished scholar at a more pivotal time to guide the public conversation and teach our students."
Donovan says she's eager to work with journalists and budding journalists at BU.
"I feel like this work is just going to be that much more invigorating because journalists are more and more becoming the front lines of the information war. And my hope is to help them design and develop new digital methods for investigative journalism."
Donovan plans to continue her research, and expand upon it, at BU. One of her first projects at the University will be to build out an internet observatory of everything nationally elected politicians post online. Together with a collaborator at McGill University, she hopes to create this living online archive for elected politicians around the world, beginning in the United States, Canada, India, and New Zealand.
"My hope is that in a couple of years we can get a law passed so that the National Archives will take this over and do it permanently," she says. "And what that's going to teach us is manifolds about online civic engagement—digital democracy, as it's called—as well as the behaviors of politicians themselves, especially around particular wedge issues."