BU Virtual, a New Department, Will Chart BU's Online Learning Future
New Appointment
Boston University Virtual, a New Department, Will Chart BU's Online Learning Future
Wendy Colby, BU's first associate provost in charge of online learning, talks about what comes next for Terriers
Online learning for Boston University officially started 20 years ago, when Metropolitan College began offering programs way back in 2002. Growth for BU's online programming was slow and steady over the next two decades. Now it's full speed ahead. In fall 2020, Questrom School of Business launched an online MBA program that now has more than 1,700 students enrolled from around the world. This coming January, the School of Public Health will start offering an online Master of Public Health degree.

And there's more to come, says Wendy Colby, the University's inaugural vice president and associate provost for BU Virtual. Colby oversees a new department dedicated to working with BU's schools and colleges on identifying and implementing opportunities to expand online education. The new unit brings together under one umbrella the design, development, and delivery of a complete portfolio of online graduate and certificate offerings from across BU, ranging from online master's programs in social work and computer science to criminal justice and others.
Colby previously ran UMGC Ventures/AccelerEd, the global education technology and services businesses affiliated with the University of Maryland Global Campus (with more than 90,000 students) and the broader system across the University of Maryland's 12 regional campuses.
One of her first moves will be launching a BU Virtual website, which is expected to go live in late November or early December. BU Today spoke with Colby about the future of online learning, BU's initial efforts, if the University's undergraduate programs might one day have a virtual component, and what more to expect from her office.
BU Today:
This space of virtual learning seems like it evolved slowly for years, but now is moving very fast because of the pandemic's fallout. Do you think that's accurate, and where do you see it going next for colleges and universities?
Colby: Yes, I believe the pandemic accelerated the call for innovation and digital transformation inside of universities to move beyond the walls of the classroom. There was a recognition that we can serve a wider range of learners who want to access their courses and programs at different times and in different formats to suit their goals, lifestyles, and careers. While the two-year or four-year residential education will still attract a large and important segment of learners, many learners are now seeking to upskill or gain credentials rather than get a traditional degree. There's never been a more important time than now to think about scaling for the workforce—to extend our online programming in ways that will position BU as a leader in innovative education delivery—and increase the scale at which we impact lives, businesses, and communities around the world.
BU Today:
BU has seen tremendous success with its Online MBA at Questrom. What about that program impresses you, and do you imagine it's something that could be replicated in other spaces at BU?
Colby: It has been wonderful to see the growth that Questrom has experienced with the Online MBA program—now a key component of the overall business management portfolio at Questrom. As we speak to students in this program, what impresses me most is their ambition to grow in their careers and adapt to changing business environments. This is a common theme—the need to build workforce skills and navigate through the changes that are driven by a constantly evolving global market. We have students in this program from all over the world, and from many of the top companies in the world. Many of them are in middle management, and have years of work experience. They cannot take off a few years to go to campus. They value the rigor and relevance of the program, and the community and collaboration they get with other business leaders—their peers—along with the same world-class professors who teach on campus.

The Online MBA is a good model for how we can further pursue a range of other online offerings across the University. As technology advances and events unfold, acquiring new skills is becoming even more urgent in areas like global health, management, leadership, sustainability, data science, cybersecurity, legal, engineering, and other sectors. It's important to look at what is happening in the labor force and to align new solutions to the changes in demand. Scale is about collaboration and community—and not just about size. It's about how to best bring BU to the world and serve more students in ways that serve them best, and to become a vital education hub for learners everywhere.
BU Today:
Are you finding that students who take online degree programs have different expectations from their school or college than those who are taking classes in person on campus?
Colby: With the Online MBA program, we have built out a model for supporting excellence in online education delivery. Students today expect the kind of service and support they receive in person—through rich, interactive instruction and discussion, the ability to solve real-world problems, opportunities for collaboration and community, and support services that keep them engaged and connected.

Many of our online forums between faculty and students take place at our BU Virtual live studios, a new center that was established to deliver video and streaming technology and other online conference tools for polling and group interaction. Our faculty now have an opportunity to be "professors to the world" in a dynamic and engaging way. Our goal is to continue to provide the educational and technological excellence that has earned BU a global reputation as a top-ranked institution. A critical component for us in this journey is to support our faculty and instructors in this new modality, and to help them thoughtfully explore what can be done virtually, given the many advancements now available in online instruction.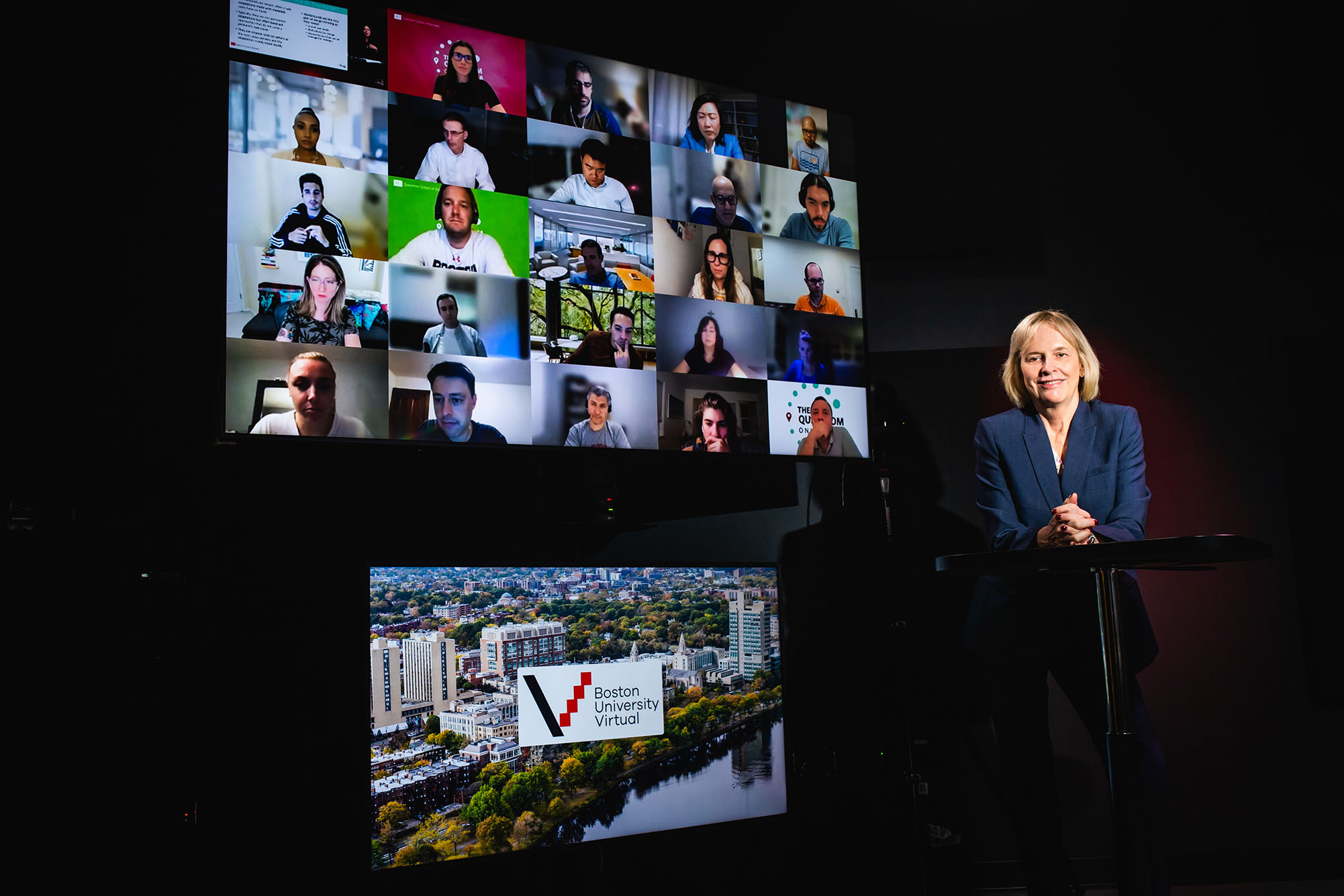 BU Today:
Other than cost, can you talk about what you see as the biggest challenges for schools in the virtual space?
One of the biggest challenges for universities is in how to navigate these shifts in demand to a broader portfolio that includes online and hybrid degree and certificate offerings, while also continuing to support the more traditional face-to-face, residential campus, degree-focused model for education. We're living in a time where disruption is touching all industries—and that is changing the future of work and the role universities must play in preparing learners throughout their career journey.
BU Today:
So, how can BU do that effectively?
I believe we have an opportunity to leverage our strong roots in research and teaching to meet this new challenge. It will take a coalition of those willing to support a culture of innovation, embracing new learning models and creating flexible learning experiences to keep pace with a changing workforce.

It also means we will need to continue to address the structural support needed to build BU Virtual capabilities, including the ways in which we can collaborate and advance the academic rigor, marketing, student support, and creation of relevant and affordable learning experiences to new segments of learners. It takes time to build the capacity, expertise, and experience needed to support online delivery, from enrollment and marketing to student services. We will need to make some strategic decisions about how to best build our muscle here as we grow.

Many universities are starting to create institutional hubs to support and grow the focus on online learning. We have established an inaugural BU Virtual Advisory Council of leaders across the University to help us look at the best options for BU. The good news is we are off to a great start—and we have a tremendous opportunity to extend our reach and build on BU's world-class excellence.
BU Today:
Right now, your focus is on graduate students and graduate programs at BU. Do you imagine the day when undergraduates might also feel the impact of virtual learning, or is that still down the road?
Today our focus is on online graduate programs, as a starting point, as it is where we see the greatest unmet global demand. Many universities, like BU, are getting into this arena, at least at the master's level. It also aligns with our mission to advance the great work we are doing at BU to reach broader audiences and segments. It's about how we educate and inspire today's business leaders, educators, health professionals, data scientists, artists, and technicians and engineers who are working in industry, and how we support the workforce of our region and around the globe to build competitive advantage. We're entering a world of learners who want flexibility, who can access learning from anywhere in the world, who are balancing families and careers, and who want to continue to make an impact. We have an opportunity to reach a very different population of learners, and to open access to more learners.

As for undergraduate students, I believe there will always be a large segment of learners who value the in-person residential experience. I wanted that for my own children as they were beginning their college journeys—to be part of a vibrant community that allows them to learn and grow, and gain the life skills necessary to be strong citizens in the world. Optionality, however, is the new norm in higher education. We learned this in the pandemic. Undergraduate students want flexibility, too. They want the ability to take a mix of online and in-person courses. They are digital natives in almost all aspects of their lives. We need to meet them where they are, too.

Over the past year alone, at a macro trend level in the United States, we saw more freshmen choose online-only schools than ever before. This speaks to the shifts that are happening as students look for choice, flexibility, and optionality as they balance work, family, education, and career. In the near term, I think we will see more hybrid options in undergraduate education, blending the best of both worlds.
BU Today:
Was there a program you oversaw while at the University of Maryland system that you were particularly proud of, that worked well, that you could see working at other institutions?
One of the initiatives I am particularly proud of during my time in Maryland was the focus on increasing our focus on pathways to success and workforce learning. For some of our student populations, we had students who were coming from very diverse backgrounds. Many of them struggled to make ends meet. They were balancing very challenging work and life situations. Often, they had compiled a series of credits, but had not been able to complete a degree.

That's where the pathways come in—how to make it easy and seamless to transfer credits, how to choose a path that will allow flexibility and affordability online while they work, how to match them with success coaches who will aid them through each step of the journey. We had to really rethink the entire online and technology support ecosystem, even in places where we had incredible experience creating online learning experiences. We had to be more thoughtful in how we designed online courses and the overall online journey from enrollment to graduation—so that information was easier to navigate and available on demand.

We also had to help our faculty understand the pedagogical innovation, resources, and technology available to improve engagement, retention, and persistence using more active learning and collaborative options. New programs and services were developed to support the teaching and learning in a highly collaborative way. And from a workforce perspective, we began to engage in several partnerships with industry and local business to align our programs and curriculum to practical industry needs for economic development and workforce skills in the region and beyond.
 
There are common themes here that apply to many institutions: opening access to new segments of learners, meeting learners where they are, creating the support structure and programs that best serve your students, the importance of faculty collaboration, the power of partnerships, and so much more.

At the end of the day, however, it is not a "one size fits all" model. What works for one university will not work in the exact same way for another university. It's about innovating with purpose. For BU, it's about supporting our mission and vision for the University and working collectively to define this new chapter together.