BU Hollywood Writer Alums React with Joy, Relief to End of 148-Day Strike
Film & TV
BU Hollywood Writer Alums React with Joy, Relief to End of 148-Day Strike
"This was a once-in-a-lifetime victory for labor"
After 148 days of not working—or rather, of working in the hot California sun carrying a picket sign—members of the Writers Guild of America (WGA) had reason to be cheerful at the packed Hollywood Palladium last week.
Actually, many reasons: the union's second longest strike, the first since 2007, had ended September 27 with a resounding victory in the fight with the Alliance of Motion Picture and Television Producers (AMPTP).
"It was an absolutely rocking celebration, and I don't think I'm using hyperbole here," says Peter Paige (CFA'91), co-showrunner of the ABC Grey's Anatomy spinoff drama Station 19. "I think we gave them 30 standing ovations—everyone in the Guild, the strike captains, the lot captains, the woman who ran the grocery fund. People were so overjoyed with the outcome and so grateful for the hard work everyone put in."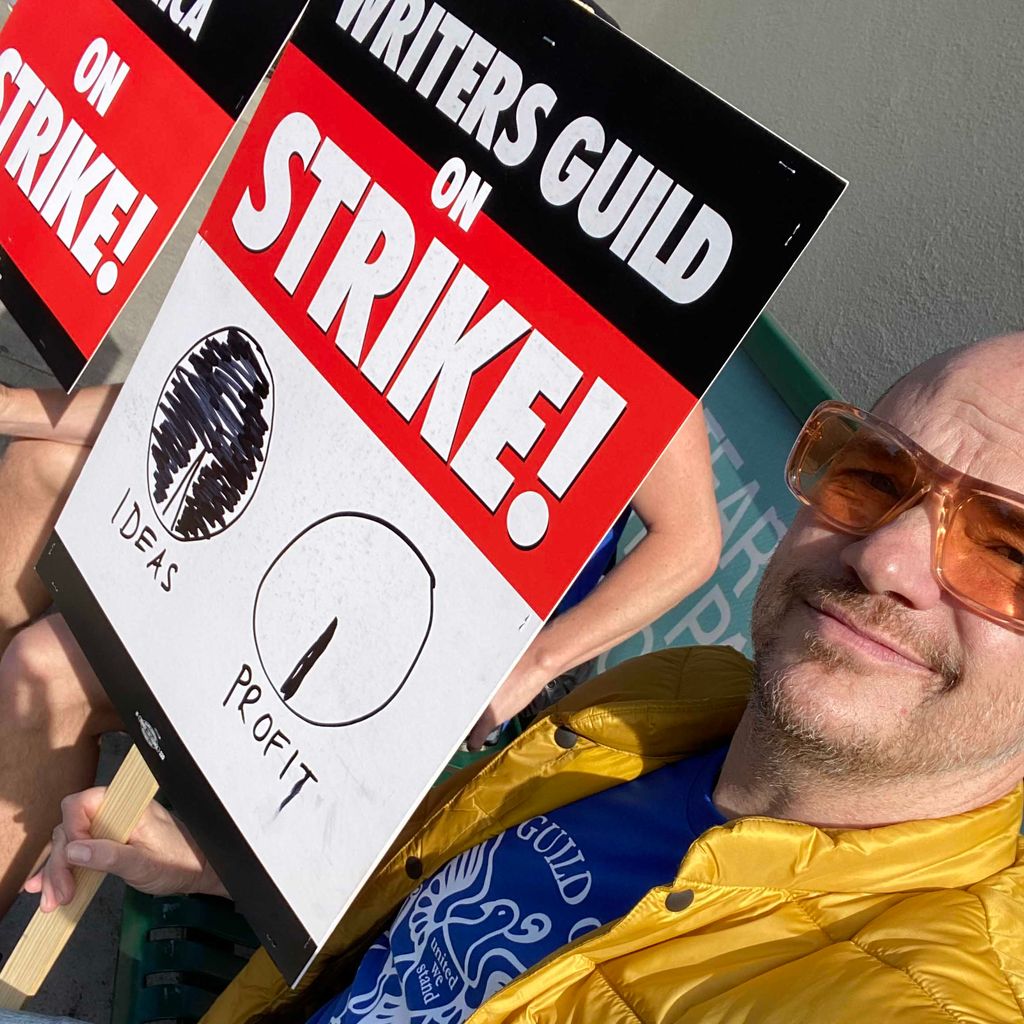 Bostonia reached out to some of the many Boston University alums working as writers in Hollywood for their reaction to the resolution of the strike, what life was like during those long weeks, and what expectations are now. The vote by the full 11,000+ members will be this week; the agreement is expected to be ratified overwhelmingly.
"This was a once-in-a-lifetime victory for labor in Hollywood," says Paige, who first became known as a featured actor on The Fosters and Queer as Folk. "We got 80 percent or more of what we asked for, which is just unheard of in times like these. It was not all of what I was hoping for, but it did exceed what I thought we would get."
Among the gains, according to the New York Times and Deadline: residual payments for overseas viewing of streaming will increase 76 percent, and for the first time, writers will receive a bonus from streaming services that's based on a percentage of active subscribers. The Guild had demanded that entertainment companies establish a viewership-based bonus to reward programs that become hits.
On the staffing issue, at least three writer-producers must be hired for writers' rooms for first-season shows running 20 weeks or longer, then minimum staffing for further seasons will be tied to the number of episodes.
WGA says the tentative contract includes enhancements worth an estimated $233 million annually, a compromise between the Guild's $429 million and the studios' proposed $86 million. WGA members got the same raises as the Directors Guild got in June, annual pay raises of 5 percent, 4 percent, and 3.5 percent over the life of the contract or 13 percent compounded over three years.
On the big issue, artificial intelligence (AI), the contract guarantees that artificial intelligence technology will not encroach on writers' credits and compensation. Studios cannot use AI to rewrite original material. Writers may use the technology for assistance if allowed, but cannot be forced to do so.
"The WGA Negotiating Committee was able to negotiate great gains in many areas and won the Guild much needed protections," says Daria Polatin (CFA'00), a writer on one Amazon Prime series, Hunters, and a writer/producer on another, Tom Clancy's Jack Ryan. She is the creator/showrunner on Netflix's Devil in Ohio as well.
Polatin was pleased with what WGA had accomplished. "The most important gains relevant to my career include protection and preservation of writers' rooms, having multiple writers on set, and protections against AI," she says. "Performance-based residuals in streaming were also a huge gain, and while the numbers still aren't equal to residuals in broadcast, we gained a foothold in the area, which is a huge step forward."
Paige calls the result an "unequivocable victory and hopefully one not only for us, but for the actors [who meet with producers this week] and ultimately for the directors when they renegotiate their contract in three years. We are going back to work to create jobs for SAG [Screen Actors Guild] actors when their strike is over."
He also hopes the WGA strike will be inspirational for other labor movements around the country. "It feels like we, as a culture, have hit a real nadir in terms of union power, which seems to happen every 50 years or so," he says. "It was time we did one of the only things that work to get the money out of the hands of oligarchs."
Igniting a flame of triumph for working people
"I started getting texts from producers the minute the end of the strike was announced," says Pat Casey (COM'01), writer of 2022's Christmas action comedy film Violent Night and the Sonic the Hedgehog movies. "I had to tell them I was still on strike for a few more hours. Call back tomorrow. My partner, Josh Miller, and I will be back at work almost immediately—we turned in some things just before the strike started that will need rewrites, so right now I'm rereading all that stuff and re-uploading it into my brain."
The two are working on a sequel to Violent Night, which they hope to start shooting this winter and have ready for the 2024 Christmas season. "It will be weird to have to shift gears back into being productive all the time," Casey says. "It was a real adjustment to suddenly have so much unstructured time during the strike. I was just getting used to it. Now I have to forget all that and get back to my old writer habits of hunching over my laptop all day and stressing all the time."
Paige says during the first four months of the strike he didn't—couldn't—write. "I really struggled for the first time in my career, the first time since I transitioned to being a writer-director," he says. "I've always been someone who's had multiple projects cooking, had something on the front burner, something on the side burner, and then a few things on the back burner. I've always had some creative hamster wheel I'm ready to jump on, but I didn't write a word."
Part of that, he believes, was a result of the physical and mental energy of just being on strike. "You really are out there walking in circles on hot concrete," he says. "I know I'm very, very lucky to love what I do for a living, but when you're feeling rejected by all the buyers, by all the people you can do your work for, it was hard to sit down and do it. My brain was like, 'No, you're on strike.'"
Michael Russell Gunn (COM'07), a writer on HBO's The Newsroom, ABC's Designated Survivor, and Netflix's Thai Cave Rescue, was eager to get back to work. "I trust that this is indeed the historic agreement that we all sought," he says. "We have stood on the shoulders of so many generations before, not least those in 2007-2008 who fought for internet domain, and of course those who organized writers in the first place 100 years ago. I struggle still to comprehend the struggle and courage they had, and I want only for us to honor that memory with this new deal."
Like others Bostonia talked to, Gunn, who is currently adapting a novel for Oscar-winner Charlize Theron at Universal, hopes the WGA victory will become part of a larger national labor movement. "There is clearly a much wider zeitgeist moment happening right now," he says. "If we at WGA played any small role in helping to ignite a flame of triumph for the working people in this nation, then I would be thrilled. We are incredibly fortunate here in Hollywood to have a long history of unions, and I think we've proven again how critical solidarity can be to the survival of workers in the ever-changing world. AI represents the largest single threat to American workers, and we don't yet know how this history will play out, but certainly establishing ground rules now in the hopes of precedent is critical."
Adam Lapidus, a College of Communication assistant professor of film and television, spent 33 years working in Hollywood, with credits that include The Simpsons, Who's the Boss, Charles in Charge, and Full House. A writer/consulting producer on the Netflix sitcom Team Kaylie, he exited Hollywood in 2020.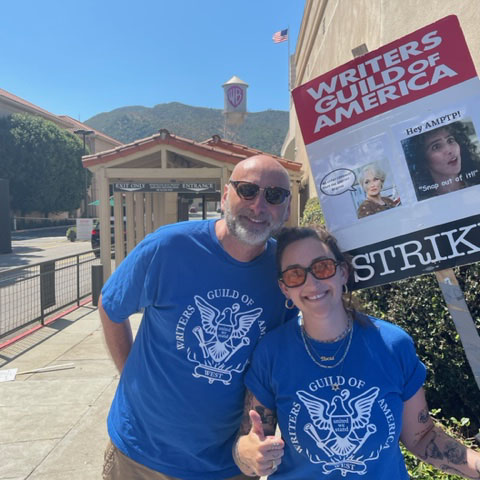 "I hit that point where the things I loved weren't good enough to overcome what I didn't love," Lapidus says. "My classes are like one big writers' room and that fulfills my needs. I get to do it now with my students."
But this summer, the Hollywood veteran felt the need to get into the action for a bit. His 28-year-old daughter, Peri, also a producer on Team Kaylie, was a WGA strike captain. So he flew to the West Coast and joined her on the picket line.
"We walked for about two hours, and it was amazing," he says. "Not only walking with my daughter, but seeing the actors out there as well. This was my first strike when another union was also on strike. The energy SAG gave the picket was great, and they had a huge turnout."
Lapidus says the resolution made him happy. "I was thrilled about the AI—that there's no AI at all—and I think that will make the actors strike go quickly, too. But it was also frustrating that I have had to go on strike three times in my career to get what we have earned and deserve while making the studios and their execs wealthy."