BU Alums Open New England's First Dog Bar
Humans can grab a beer while pups play at BU alums' Park-9 Dog Bar
Watch it again
Where Everybody Knows Your (Dog's) Name
Entrepreneurship
Where Everybody Knows Your (Dog's) Name
Dog-friendly bars are scattered across the country, but most exist as bare-bones establishments—more like a fenced-in yard with a pub next door. And restaurants that claim to be dog-friendly tend to have more of a "dogs should be seen, but not heard" vibe.
For those dog owners who appreciate a good cocktail, but can't envision leaving their pooch at home for hours at a time, there's a new spot for a pup playdate: Park-9 Dog Bar. The brainchild of married couple Emily Gusse (Questrom'23) and Tess Kohanski (MET'17), along with Kohanski's brother Chris, Park-9 offers indoor and outdoor off-leash dog parks, a menu of fancy dog treats, and themed nights and events. And if the dogs' humans didn't already think this the coolest spot ever, they might be persuaded by Park-9's full cocktail bar and rotating food trucks.
Since Park-9 opened in Everett, Mass., last April, 11,000 dogs have been registered to visit, proving there is a hungry market for a place where both humans and dogs are equally welcome.
"Dogs are a great uniter and the easiest thing to start a conversation about," Gusse says during a tour of the business one recent day. "We want to take care of people who want to be with their dog, but we're now starting to see a lot of traffic of non–dog owners coming just to play with the dogs and have a drink." Lots of first dates happen here too, she adds.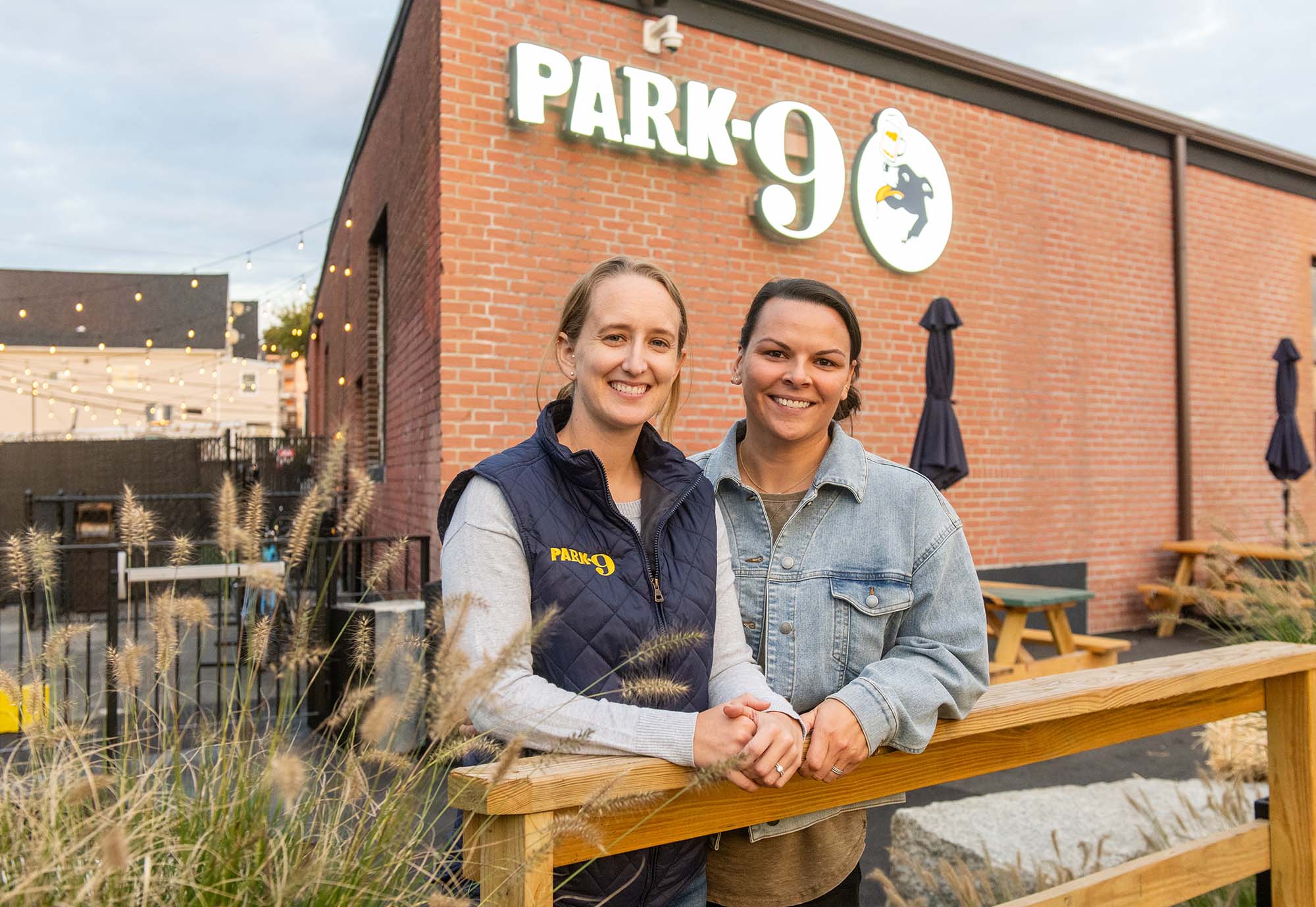 Park-9 is housed in a converted 10,000-square-foot cement manufacturing factory in Everett's Fermentation District—named for its existing businesses, including Night Shift Brewing, Bone Up Brewing Co., and Short Path Distillery. Right outside Park-9's door is the Northern Strand Walking Trail, which stretches from Everett to Lynn.
Kohanski, who has a degree in urban planning from BU's Metropolitan College and works as a commercial real estate agent, took a tour of the building with the current landlord in spring 2021. He mentioned in passing that he hoped to sign a new tenant, maybe a brewery. Developers were quickly knocking down similar historic warehouses in the neighborhood (a 400-unit housing development is around the corner), but Kohanski saw its potential. "I love industrial development and adaptive reuse, and that's basically what we did here," she says.
At that point, a dog bar was something that Kohanski and Gusse had talked about as a retirement plan (they married in June 2022 after dating for six years). They'd seen a similar concept in the Midwest a few years before. "We thought it would be fun to do when we were old and gray," Kohanski says. "But then I walked through this space and was like, 'We're doing it!" Gusse was on board, and they signed the lease three weeks later.
Gusse, whose background is in healthcare consulting, advocacy, and marketing work, says they were also inspired by the number of people adopting dogs during the COVID-19 pandemic. With the vaccine rolling out and the crisis easing, pet parents were itching to get out of the house with their new pup.
In 2022, Gusse quit her job at a pharmaceutical company to focus full-time on the bar, figuring out everything from payment systems to how many employees to hire (they now have around 35 part-time and full-time staffers).
They opened Park9 in April 2023 to long lines and lots of media coverage—including in the Boston Globe, Boston magazine, and WBUR. The business has remained popular and sustainable thanks to their multipronged approach: the space is in use from 7 am to 10 pm, almost daily. They offer clients a dog daycare, a dog park, and a bar. They welcome kids (they're not allowed to run around) and host dog birthday parties and regular theme nights. A recent corgi night drew 100 of the stubby-legged pups.
Visitors to Park-9 must register their dogs and confirm they are properly vaccinated, and dogs older than one must be spayed or neutered. Visits cost $10 per animal on weekdays, $15 on weekends—monthly memberships are also available—and then it's a "choose your own adventure," in Kohanski's words. There is an on-leash lounge area, which looks no different from a trendy restaurant, with industrial touches: an old lathe by the door, reclaimed wood floors, soaring ceilings, and a giant safe. Look closely and you'll notice leash holders underneath the tables and dog couches tucked away in corners.
Most dogs will want to head to the main event: the large dog park, which resembles an actual outdoor expanse, with natural light and fake trees. Park rangers patrol, prepared to break up any inappropriate behavior and send a dog to timeout if need be.
Of course, all this play might leave Fido feeling famished. Dogs have a dedicated section of the menu, with baked treats, a pup cup (whipped cream, Beggin' bacon, and cod flake sprinkles), and nonalcoholic "beer," made with bone or pork broth, in flavors like Mailman Malt Licker or Tail Chasin' Blonde.
Humans can find snacks outside, at one of the food trucks (Park-9 is in the process of building a kitchen). Cocktails include the Snoop D-O-GG (strawberry- and cucumber-infused gin, Pimm's, citrus, mint, and ginger beer) and the Bark Side of the Moon (vodka, maple cream, brown sugar, cold brew, and whipped cream).
Kohanski and Gusse spend much of their time at Park-9 getting their business off to a strong start. If you visit, you may notice a dog who looks pretty comfortable in the space. She is Nora, the couple's four-year-old golden retriever, who helped inspire the business and has the title of chief happiness officer.
"She helps us realize how much dogs can change your life and have a positive impact," Gusse says.