Alum Mike Grier Is Hockey's First Black General Manager
The retired NHL player, who's working on building the San Jose Sharks, taps fellow alum as coach
National Sports
Alum Mike Grier Is Hockey's First Black General Manager
The retired NHL player, who's working on building the San Jose Sharks, taps fellow alum as coach
Mike Grier never backed down from a challenge. As a six-foot-one, 225-pound forward, he won a national championship with the Boston University men's hockey team and had a 14-year career in the National Hockey League by pounding opponents with bruising checks. Now, as the general manager of the NHL San Jose Sharks, he's channeling that fearlessness into the next phase of his hockey career, this time making history as the first Black general manager in the NHL.  
"I always put pressure on myself to do the job right, to be successful, not too dissimilar from as a player," says Grier (CAS'97). "Hopefully, I'll be able to open the door for Black people behind me so owners and others can see that they can do the job."
His older brother, Chris, general manager for the National Football League's Miami Dolphins since 2016, was able to provide some guidance. "His biggest advice was just to be myself, do the things I believe in, what I think is right," Grier says.
Grier's success on the ice is based on his belief in himself and his ability to do the right thing. He started playing organized hockey at age five in Holliston, Mass., where he was raised, and he starred at St. Sebastian's, a private all-boys prep school in Needham known for turning out top hockey prospects. He was one of them, receiving scholarship offers from the University of Maine, Cornell University, and Providence College.
But his dream, cultivated over years of watching the Beanpot Tournament at TD Garden with his father, had been to play at BU. Assistant coach Blais MacDonald recruited Grier, but Jack Parker (Questrom'68, Hon.'97), head hockey coach, had concerns that he was too big and he withheld a scholarship offer. Undeterred, Grier got into BU and tried out for the hockey team as a walk-on. "I believed in myself," he says. "I have never been afraid of competition. I figured once I got my foot in the door, I'd be able to play."
He figured right. Playing in 39 games for the Terriers in his first season, 1993–94—all the way to the national championship game—Grier made a believer of Parker, who offered him a scholarship for the following year. He didn't disappoint, scoring 29 goals—tied with captain Jacques Joubert (CAS'95) for most on the team—and adding 26 assists while espousing his role as an imposing physical presence. "My job was to make some big hits early in the game and score goals," he says.  
His play earned him All-American honors. He was also named to the All–Hockey East First Team and won the Walter Brown Award, given to the best US-born collegiate player in New England. And he was a finalist for the Hobey Baker Award—hockey's equivalent of football's Heisman Trophy—given to the nation's top college player.
Grier's play helped spark the team's success. Powered by Grier, Chris O'Sullivan (MET'07), Steve Thornton (Questrom'95), Joubert, Shawn Bates (MET'97), Chris Drury (CAS'98) (1998 Hoby Baker winner), and Jay Pandolfo (CAS'96), who took over as BU head coach this season, among others, the Terriers won the national championship to cap the 1994–95 season. Grier assisted on two goals in the final game.
"We had a good team the year before, but we were blown out in the national championship game by Lake Superior State," he says. "That loss brought the group together. We were so determined to win the next year."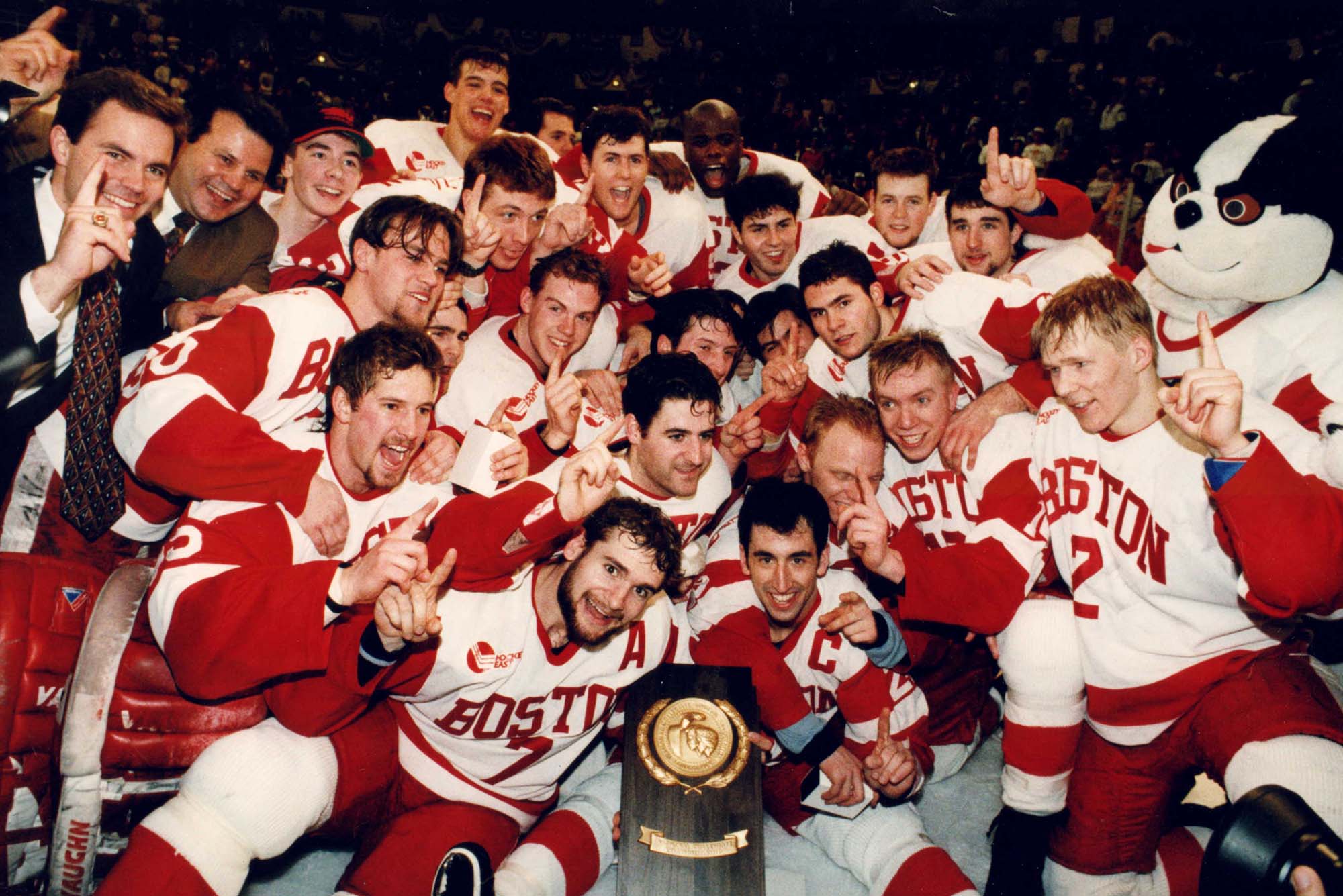 Grier had also gotten serious about his conditioning when he arrived at BU. He was already strong, but he knew that to play at the highest levels, he needed to be quicker and faster. He logged hours in the gym with [then strength and conditioning coach] Mike Boyle, which paid off in college and beyond.
After his junior season (21 goals, 26 assists), Grier was selected by his teammates to captain the Terriers his senior year ("It meant a lot that my peers thought that highly of me," he says), but the Edmonton Oilers, which had acquired his NHL rights, wanted Grier to turn pro. So, he sought the advice of his coach, the same coach who didn't give him a scholarship a few years earlier and eventually named him captain. "I was getting penalties just for hitting guys too hard at the college level," Grier says. "Coach Parker told me, 'It's time for you to play against men.' Once I got his blessing, it was easier to go."
In 1996–97, his rookie season with the Oilers, Grier became the first US-born Black player who had trained exclusively in the States to play in the NHL. He stayed for 14 seasons, playing 1,060 games with four teams (the Oilers, Washington Capitals, Buffalo Sabres, and San Jose Sharks) on the strength of his physical play and ability to kill penalties.
Role model to people of color
There are not many Black players in the NHL. Of the 1,125 men who played at least one game last year, 4.8 percent were BIPOC, and 2.7 percent were Black. Grier knew others looked up to him as a minority thriving in that environment, and he embraced his responsibility as a role model to people of color.
"I wanted to make sure I carried myself the right way, to keep opening doors and create a path for others to follow," he says. "If someone looked up to me, some young kid playing hockey somewhere in the world saw me playing in the NHL, having success, and thought they could do it, too—that's what it's all about."
His sons may one day be among those who follow their father's path. Grier and his wife, Anne (Sargent'96), who swam at BU, have three children: Jayden, 19, Brooklyn, 15, and Tristan, 11. Jayden, a 6-foot-3, 225-pound wing, played hockey at St. Sebastian and is currently playing junior hockey in the British Columbia Hockey League. Tristan plays at the Peewee level with the Boston Junior Terriers, a premier youth team.
After Grier retired as a player in December 2011, he scouted for the Chicago Blackhawks, was an assistant coach for the New Jersey Devils, and was working as a hockey operations advisor for the New York Rangers when the Sharks tapped him to replace Doug Wilson, the team's 19-year general manager.
---

If someone looked up to me, some young kid playing hockey somewhere in the world saw me playing in the NHL, having success, and thought they could do it, too—that's what it's all about.

---
The NHL has lagged behind the other major sports leagues in entrusting a Black man with the role of assembling a team's roster through drafts and trades, hiring and firing coaches, and negotiating contracts. (The vast majority of NHL employees and of its 32 teams are white—83.6 percent. NHL leadership has stated that it wants to increase diversity in the workplace.) The NBA—which became the first sports league with a Black general manager when the Milwaukee Bucks hired Wayne Embry for the position in 1972—has eight Black GMs. Major League Baseball hired its first Black GM in 1976 (Bill Lucas with the Atlanta Braves). While there have been four Black men hired as MLB GMs over the past two decades, there are none currently employed in the role. The NFL had its first Black GM in 2002, when the Baltimore Ravens hired Ozzie Newsome, and had seven at the start of its 2022 season, including Mike's brother Chris.
Grier started his job as Sharks GM in a whirlwind. Three days after he was hired on July 4, 2022, he shepherded the team through the amateur draft, trading away the team's No. 11 pick for two second-round choices. Less than a week later, he traded one of the Sharks' favorite players, All-Star defenseman Brent Burns, and his high salary to free up about $5.3 million of salary cap space. Before the month was over, Grier hired a new coach, David Quinn (CAS'89), who played for the Terriers from 1984 to 1988 and coached the team from 2013 to 2018.
Grier had known Quinn since his playing days, when Quinn ran preseason skates for the Terriers. After Grier retired as a player, he would work out at the BU gym a couple of times a week and often ran into him during Quinn's tenure as the Terriers coach. They'd talk hockey, even discussed the possibility of Grier helping out as an assistant coach. Instead, Grier went to work for the Devils, and Quinn took a job coaching the New York Rangers, a job that lasted almost three seasons, from 2018 to 2021. Quinn coached the US men's hockey team to a fifth-place finish at the 2022 Beijing Olympics.
When Grier found himself looking for a coach to fill the opening in San Jose, he didn't hesitate to turn to Quinn, a like-minded Terrier, shaped by Parker's philosophy. "Jack's the tie that binds all of us former Terriers," Grier says. "He definitely shaped the way we see the game."
Although he got off to a busy start in his new role, Grier is not in a hurry. The Sharks finished near the bottom of the standings last season, and his bosses know it will take time for him to build them into contenders. Perhaps the more urgent contribution, and bigger measure of his impact, will be seeing if other Blacks follow him into the NHL's ranks of general managers.