William Giraldi's About Face Is a Surreal Tale of Celebrity Obsession in the Internet Age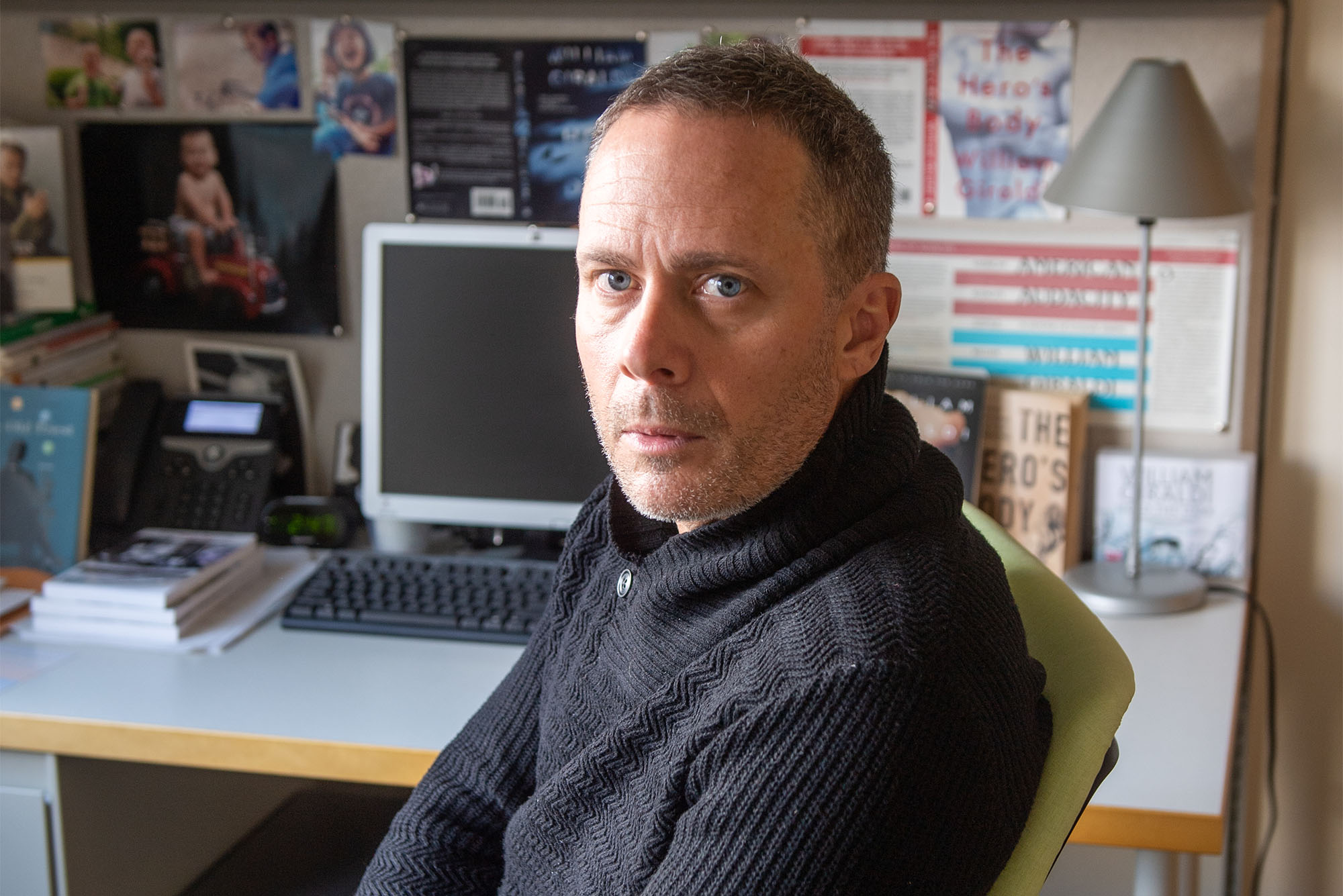 Arts & Culture
William Giraldi's About Face Is a Surreal Tale of Celebrity Obsession in the Internet Age
CAS Writing Program master lecturer's new novel explores the relationship between a journalist and a self-help guru
With his latest novel, About Face, William Giraldi wants readers to look more critically at their favorite celebrity influencers (1970s rock stars, on the other hand, are fine).
"The 1970s and '80s were a really rich and pivotal time for pop culture in the United States and in the UK in terms of music, film, and TV," says Giraldi (GRS'03), a College of Arts & Sciences Writing Program master lecturer "I was interested in how celebrity changed from Mick Jagger to people who became famous on the internet."
In About Face (Liveright/W. W. Norton, 2022), which is set in Boston, a hapless journalist is charged with profiling a self-help guru with a messianic following. Valentino Face, whose fame originated from a well-timed viral video, is a preternaturally beautiful megacelebrity who came from humble beginnings on the streets of East Boston. 
The novel's journalist narrator, known only by his pen name, Seger Jovi (a reference to the character's, and the author's, love of classic rock superstars), initially writes a traducement of Face for the small-time magazine he works for. Face has just arrived in his hometown on a publicity tour, and the piece catches his attention. Surrounded by acolytes, he is intrigued by his sole detractor, and decides to hire the fledgling journalist to document his New England self-help tour. Blindsided by fame (and ambition), Jovi accepts.
As Jovi moves through Face's world, he is confronted by an array of stylists, bodyguards, assistants, and assistants-of-assistants, each of whom has become accustomed to a life of luxury and triviality. At the center of it is Face, a charismatic enigma. Against all odds, the two men become fascinated by each other. And, Giraldi tells us, they both grew up in a city that used to venerate Puritan preachers like Cotton Mather—perhaps one of the original self-help gurus.
The novel is a surreal comedy of errors, told with Giraldi's characteristic boldness. Jovi speaks to the reader in a lyrical affect flecked with alliteration, puns, inside jokes, and self-aware turns of phrase. ("Coppertone Californians in the fame game, they were primped and nipped, polished and pruned, exfoliated, fitness-trained, name branded…")
About Face is Giraldi's third novel; his second, Hold the Dark, a mystery-thriller set in the Alaskan wilderness, was adapted into a Netflix feature film in 2018. He also wrote The Hero's Body, a memoir about his teenage years and the violent death of his father. In 2021, Giraldi won a Guggenheim fellowship. It's fitting that his most recent novel deals with the consequences of being in the spotlight—though he'd be the first to tell you that he's far from having celebrity status.
Giraldi sat down with BU Today to talk about the inspiration for his new novel, his reflections on contemporary celebrities, his distinctive prose style, and his fascination with the ongoing appeal of self-styled gurus.
BU Today:
This is really a writer's book. What was it like to create a writer narrator?
Giraldi: I have a funny confession to make, which is that in all three of my novels the main characters are writers. Why am I doing this again and again? It seems to be because my books are so language-focused—language-indulgent, we should say—and having this artifice allows me to indulge in language, to really stretch the bounds of what syntax and diction can do, whether in dialogue, description, scene setting, or narration. It allows me a freedom with language that I might not have otherwise.

BU Today:
What inspires your sense of playfulness with language?
Giraldi: The impetus comes from my own love of exuberant language, and from a hatred of boredom. The truth is that a lot of writers just put me right to sleep with their sentences. To read a writer with a genuine gift for the acrobatic qualities of language, who can make English do things that other people can't make it do, that's exciting to me. English is one of my great loves and so I enjoy playing with it, stretching it, and trying to tap into its elasticity. I think there are too many writers who are just craftspeople and not necessarily artists. So it's really, I think, just my effort to aspire to art.
BU Today:
What interested you in writing a book about the dangers of celebrity culture and the internet?
Giraldi: I knew that I wanted to write a novel about a celebrity guru. I had this conception that I was interested in pursuing guru-dom in part because it's a quasi-religious, quasi-mystical, quasi-spiritual role, and religion—both secularized religion and organized religion—is a subject that takes up a lot of my brain space. All of these topics came together for me: the topic of celebrity, the topic of religion, the topic of guru-dom, the topic of pop culture. These were all subject areas that I had been circling and connecting. The characters of Valentino Face and the narrator journalist, Seger Jovi, were an opportunity for me to really try to get to the bottom of what this is all about through imagination and storytelling. It's not the novelist's job to give answers. It's not the novelist's job to solve problems. It's the novelist's job to tell a story. What one hopes is that, through the telling of the story, a certain clarity can be had.
BU Today:
Your book makes a strong delineation between present-day celebrities and the superstars of the 1970s and '80s. What's the crucial difference between the two?
Giraldi: The eradication of mystique, I think. In the '70s and '80s, it was absolutely necessary that you don't have easy access to what the celebrity is thinking. This began to happen decades before, in 1930s and '40s Hollywood, as with my character's namesake, Rudolph Valentino. You had absolutely no access to him, but he was beautiful, and he was charismatic, and he was up there on the big screen, larger than life. That element of mystery elevates these celebrities to gods. There's a very powerful mystique involved with our gods, whoever those gods are. Now, we have total access to our celebrities, and I think that's detrimental. The internet has democratized celebrity, but it's done so at the expense of mystique, and I think at the expense of real superstardom.
BU Today:
How did the city of Boston influence the characters, and the plot, of About Face?
Giraldi: I think of the city as a character in the book as much as any other character in the story. The whole potency of this story was connected to its setting. When you're talking about guru-dom, Boston is the place to do the story. Boston was run by theocrats in its initial years of existence. They had a kind of fame in the city of Boston and eventually farther out that I wanted to connect to Valentino Face. We live in a city with a wealthy history of charismatics. People would trek through the snow for miles to listen to Increase Mather or Cotton Mather [father and son Puritan clergymen renowned for their preaching]. This whole idea of American guru-dom—of the seeker, the mystic—has its foundations right here.
BU Today:
What fascinates you so much about gurus and celebrities?
Giraldi: It might be because I'm a Catholic and I was raised in the Church. Catholicism is an intense and mythical and literary branch of Christianity. Because I'm interested in religion and myth, I'm interested in these guru figures, such as [self-help author] Tony Robbins. This guy doesn't bill himself as a religious figure, but when you see his audience, and you see what he's doing up there on stage, it's like a Baptist revival. I'm in the midst of studying obsession [for a forthcoming book] and different ways that it manifests: Is it good? Is it not good? What makes people obsessed? What does obsession do for certain people? I'm always circling the same topics, which I think is something all writers do. I'm writing about obsession with celebrity in a very different way from About Face, but it's nevertheless something that remains very potent for me.