This School of Hospitality Administration Class Doubles as a Marketing Agency for Cities, Hotels, More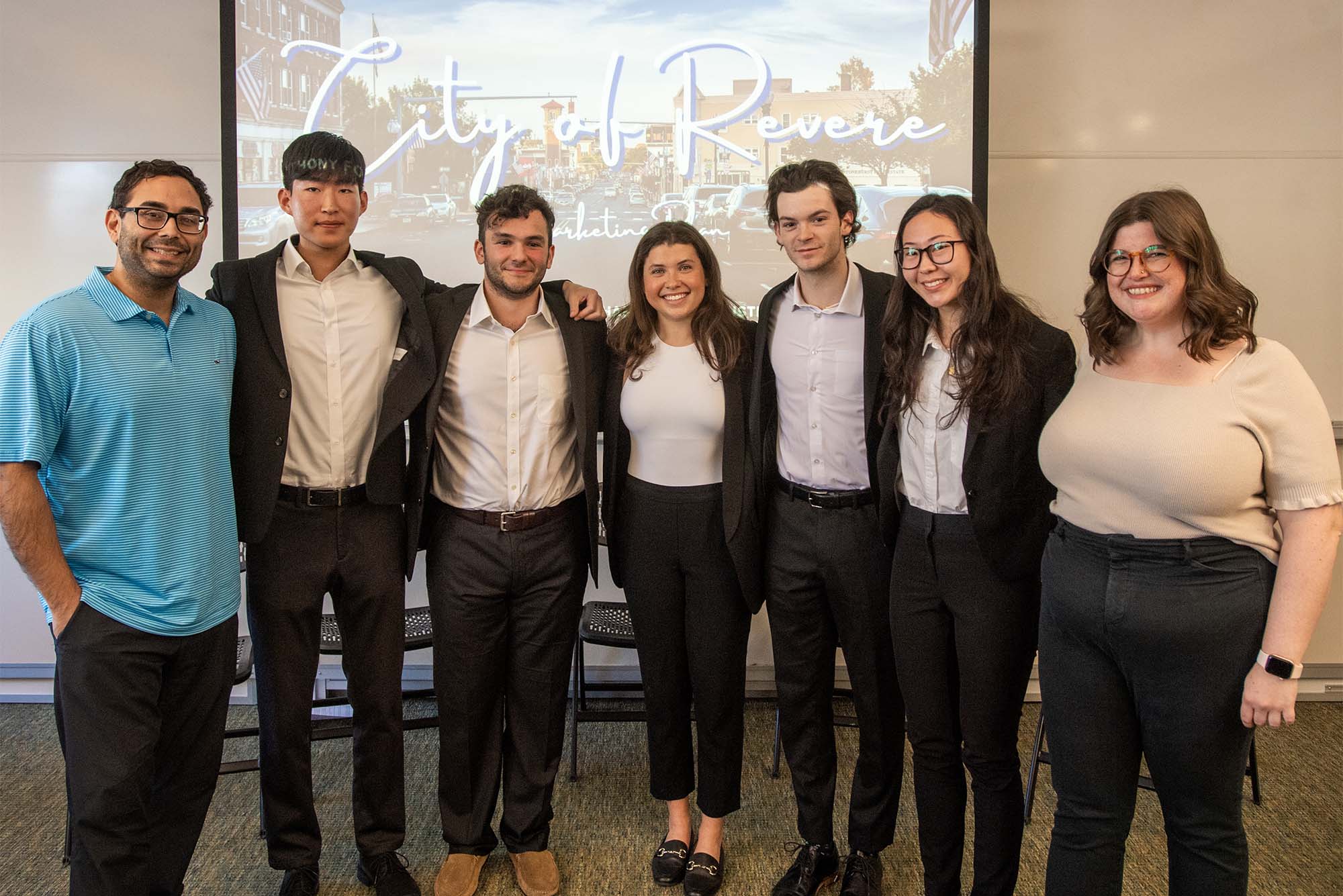 Campus Life
This School of Hospitality Administration Class Doubles as a Marketing Agency for Cities, Hotels, More
Student teams, paired with clients, gain real-world experience
When was the last time you went to Revere?

If you asked a team of undergraduate students from the School of Hospitality Administration, they'd tell you now is the perfect time to take a trip to the North Shore city.
For their Advanced Hospitality Strategic Marketing course, a Boston University HUB course, Micaela Yee (SHA'23), Ethan Phillips (SHA'23), Justin Park (SHA'23), Arielle Hammer (CAS'23, SHA'23), and Anthony Forziati (SHA'23) were charged with creating a marketing plan for Revere to increase tourism. The plan's theme? "Rediscover Revere."
"Like Paul Revere, we have a mission," Park joked during the team's presentation to representatives from the city. "While his was to keep the Brits out of the city, ours is to welcome everybody, including the Brits."
The city of Revere was just one of five real-world clients Leora Lanz (COM'87), a SHA associate professor and assistant dean, assembled for this semester's class. In addition to Revere, student teams created marketing campaigns for the Langham, a downtown Boston hotel, the Verb Hotel in the Fenway, the Koji Club sake bar in Brighton, and the Punch Bowl, a restaurant in the Hilton Garden Inn in Brookline. 
The goal of the course, which Lanz brought to fruition in 2015, is for students to apply the marketing principles they've learned in class to the real world. The clients come from Lanz's personal network, connections acquired through decades of working in hospitality and marketing. Throughout the semester, students take a deep dive into concepts like developing brand identities, SWOT (strengths, weaknesses, opportunities, threats) analyses , and business writing, all of which they use in real time for their team projects. Because the class is a HUB writing course, students must also turn in multiple analysis papers throughout the semester.
"The class is really designed as an experience," Lanz says. "We operate as if we are a marketing agency in the hospitality space."
For the Revere team, that meant identifying Revere's strengths and fleshing out "personas" to market them to. The team settled on three profiles the city would target for its marketing: a young couple interested in moving to Revere for its proximity to Boston and more affordable housing market; a college student and part-time food-and-travel influencer looking to explore Revere's food and cultural scenes; and a young family already living in Revere and trying to take advantage of its proximity to nature and entertainment venues.
The team also identified areas where Revere could increase activity and promotion, such as virtual tours of the nearby Belle Isle Salt Marsh and social media collaborations with local influencers. The team also recommended improvements to the city's website for increased usability and SEO (search engine optimization).
All of the five teams' research processes included site visits, conversations with their clients, and consultations with outside industry experts. The students also workshopped their ideas in class with guest speakers like Makarand Mody, an SHA associate and longtime hospitality professional, who is also the school's director of research and chair of undergraduate programs.
For the students, getting the chance to produce a project of this scale is indispensable, Lanz says. "This is a résumé builder," she says. "Former students have told me that this is one of the classes they really appreciated in the real world—beyond the marketing experience, it covers professionalism, branding yourself, and writing, all elements you need for any job.
"I always tell my students that my goal is to prepare them for the other side of BU, and this is one great way of doing it."
Team Revere's project was enthusiastically received by city officials. Much of what the students recommended has also been recommended to the city by professional consultants and marketing firms, says Charlie Giuffrida, Revere's travel and tourism director. "That means their analysis, in addition to being thorough, is accurate," he says. "This is high-level thinking, and I'm pleased with the roadmap they've laid out for the city of Revere."
"It's not often we get a perspective from folks outside of the city," says Jacqueline McLaughlin, a city of Revere communications associate, who also attended the presentation. "Hearing from the students inspired both Charlie and I to utilize new tactics and reflect on improvements we should make. We are very pleased with the professionalism and innovative ideas the students brought us, and are excited to get started on a few new projects."
That's the whole point of the course, Lanz says. Even though the class has a reputation for being hard, students should take pride in the professional-grade product they deliver. "By the end of the course, students have worked their butts off," she says. "I always say that there's no reason not to get a letter of recommendation from the client out of this—they earn them."
The students, too, recognize the value of their work.
"Our recommendations were realistic and innovative, and my takeaways from the class will go beyond BU and into my personal and professional life after I graduate," Yee says. "I gained insight into how much time and thought goes into ensuring brand strategies reflect the current market and research, and that those strategies really do affect how an organization appears to the public."
And not only was the process educational, but also enjoyable, Park says. "Since our team had the privilege to not only learn about Revere, but feel its beautiful qualities, we are grateful for every moment and experience," he says. "We would like to sincerely thank all professionals and professors who shared their knowledge and made our experience special."