Mural, Mural on the Wall: Two Student-Led Art Projects Installed on Campus
Both touch on issues of sustainability and environmental justice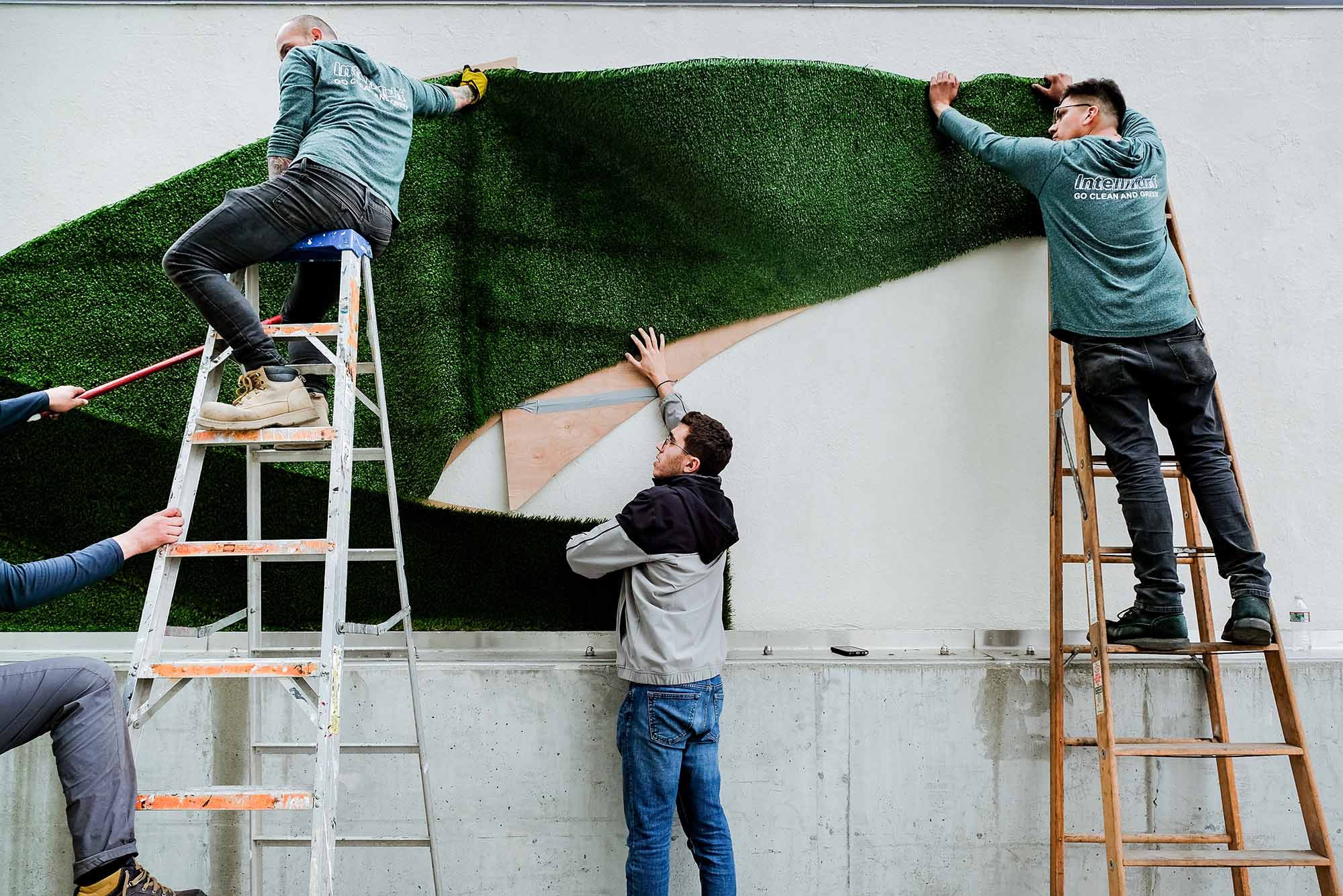 Arts on Campus
Mural, Mural on the Wall: Two Student-Led Art Projects Installed on Campus
Both touch on issues of sustainability and environmental justice
Installing a mural on an urban campus like Boston University's is essentially creating public art, visible to anyone at any time, from neighbors to residents to tourists. It cannot be undertaken lightly, and nobody knows this better than Ty Furman.
One of Furman's duties as managing director of the BU Arts Initiative is to "shepherd public art proposals through the approval process," which, he has learned, is extensive and can sometimes take years from start to finish.
"We get projects on a semi-regular basis," he says. "I get to know the student artists pretty well."
The two newest campus murals—one installed at the Joan & Edgar Booth Theatre and the other on the front facade of the Kenmore Classroom Building—first came to his attention in fall 2020. The proposals, Furman says, had more in common than timing: each was submitted by a separate team of two graduating seniors, each focused on sustainability and the environment, and each was around two years in the planning stages before finally being installed within weeks of each other this spring.
Furman "was like, 'It's so wild that you guys have come to me, because I've had more students ask to do murals now than I've had in the past,'" says Keeley Bombard (CAS'22, GRS'22), a member of one of the teams. "So I think there was just something in the air."
In spring 2020, Bombard, who was president of the Environmental Student Organization (ESO), and ESO member Halle Cooper (CAS'22) conceived of a mural as a semester-long ESO project.
"It fell into place very quickly, and then subsequently…very slowly throughout the pandemic," Cooper says.
After the COVD-19 pandemic forced their original plan off course, Bombard, who graduated in May with a dual degree in environmental analysis and policy and energy and environment, and Cooper, whose degree is in environmental science, first met with Furman the following fall.
A project of the heart
At around the same time, across campus, another mural project was also forming.
In the CFA Site-Specific Art course, Arié Haddad (CAS'22) and Mackenzie Bower (CAS'22), both architectural studies majors, decided to turn a class project into a reality. "Arié had this idea to do a mural with the phrase 'Grow Your Future' on it, and I was doing a similar-ish project in a different location," Bower says. "We were like, 'Let's join forces,' and it kind of sprouted from there."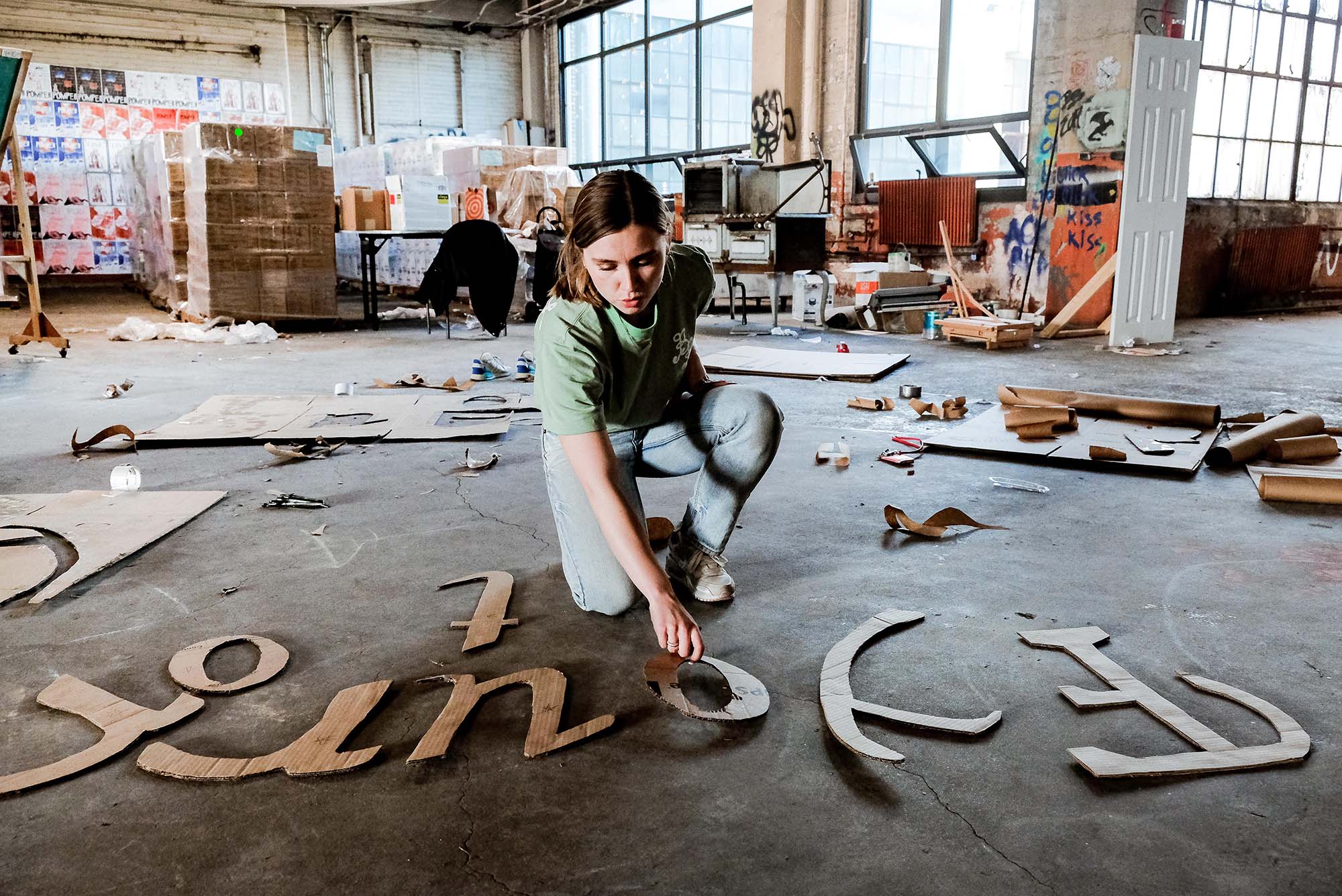 They took their proposal to Furman in November 2020, which began a lengthy funding and approvals process.
The University's contribution to Haddad and Bower's project included a seed grant from BU Sustainability, along with funding and donations procured through the Arts Initiative and funding unlocked through the BU Wellbeing Project and BUild Lab's Innovation Pathway program. The installation process for Grow Your Future began on May 18.
Their roughly 400-square-foot installation is rooted in principles of sustainable architecture, and it uses synthetic turf instead of paint to depict the phrase "Grow Your Future." A triple helix in three shades of green, Grow Your Future bears its titular phrase along a wall facing the Booth Theatre steps, visible to all who pass by on Comm Ave.
"The practice of sustainable architecture is about trying to lower your impact in any way, whether that's through transport of the materials, the materials themselves, or what they're made of," Bower says.
After much research, the pair found Intelliturf, a Newton-based turf company whose co-owner Jeffrey Lee shares their interest in sustainability. His product, he explains, is one of the few on the market that can be recycled.
"It wasn't a business project for me," Lee says. "It was a project of the heart."
Haddad and Bower say their approach was designed to provoke thought, conversations, and eventually, positive action. They decided to erect a plaque in front of Grow Your Future asking passersby to imagine their future in a changing climate. The plaque will also contain a link to BU Sustainability's "how-to" web page, which provides a collection of sustainable living guides for students, faculty, and staff.
Forced off course by the pandemic
In contrast to Grow Your Future, the mural by Bombard and Cooper started out with a design, and its ideology was developed later. The artwork itself, which resulted in an 8-by-12-foot mural, began as a personal project of Cooper's. "I was touching on these ideas of interconnectedness and fractals and patterns that show up in different ecosystems," she says.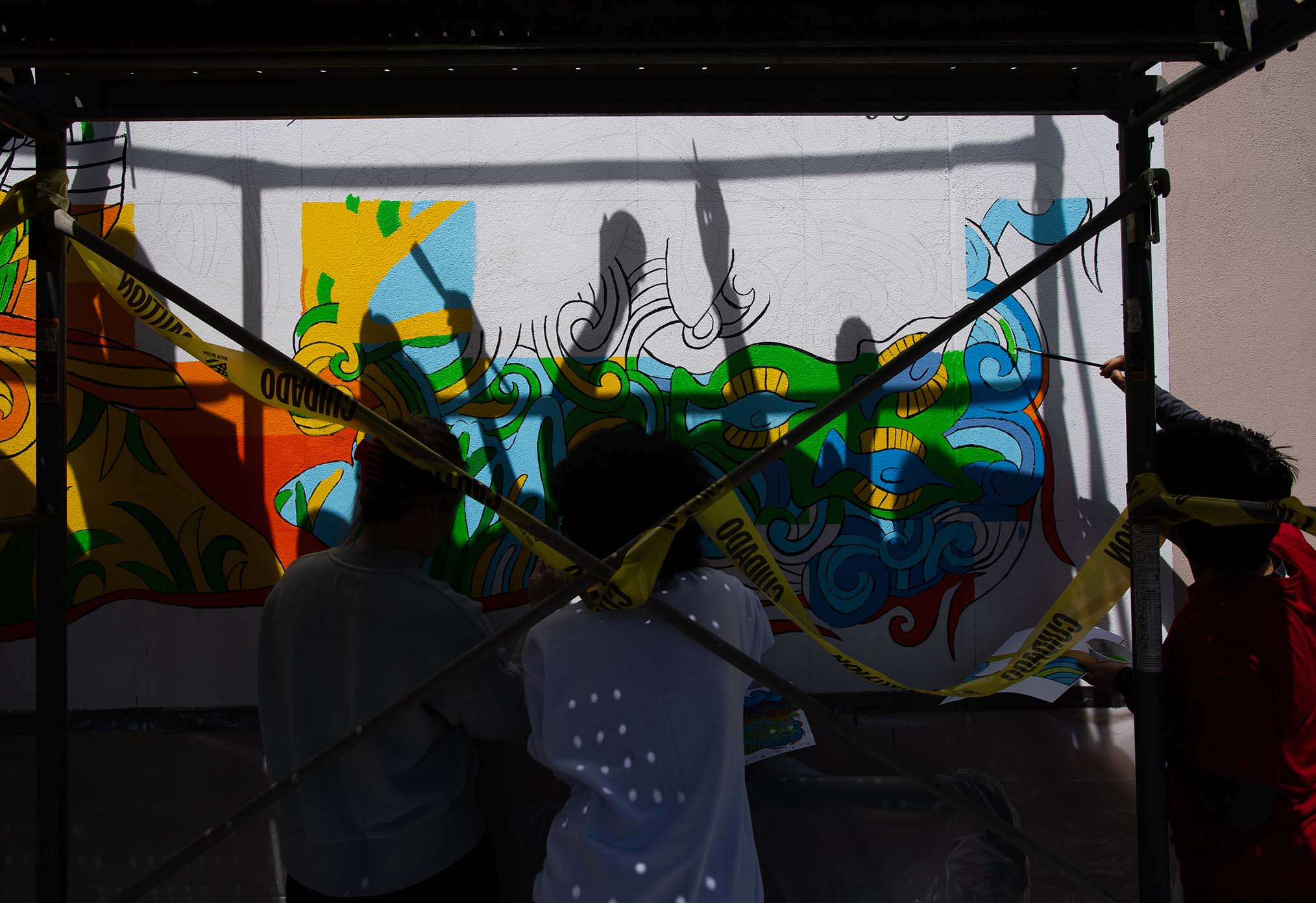 Once she and Bombard embarked on the project via the ESO, they realized they needed to settle on a message. After first choosing to highlight the destructiveness of climate change, they quickly pivoted to Indigenous environmental justice. Awash in neon hues, the mural depicts thick, curling lines weaving through Earth's ecosystems. The sky sweeps into the mountains, going from blue to green to orange as it flows into forest, grasslands, and ocean. In one corner, two human silhouettes reckon with their place in the natural world.
"There're so many cultures in the world that have a really positive, sustainable, and respectful relationship with the environment," Cooper explains. "I think we were interested in celebrating that rather than perpetuating that narrative of anthropogenic destruction."
Bombard and Cooper incorporated a QR code at their mural site, similar to Haddad and Bower's plaque, that takes viewers to a resource page containing links to local Indigenous activism groups. Over two and a half years, the two 2022 grads raised funds through the Arts Initiative's gift fund and programming grants, according to Furman. The mural was installed at the end of April on the front facade of the Kenmore Classroom Building, where it faces the MBTA station.
Furman was also quick to link up Cooper and Bombard with Erin Genia, a mural specialist and member of the Sisseton-Wahpeton Dakota nation, to consult on Indigenous perspectives while the proposal made its way through what he calls "a pretty extensive" process.
"We just would not have come to the same conclusions had we rushed into it with the original intention behind it," Bombard says.
Cooper says she's grateful to be able to communicate their message to the University as a whole, and she hopes their mural inspires current and future students to take up their own public art projects.
"It would really be cool if BU was covered in art," she says.