Opera Singer Morris Robinson (CFA'01) on Working with Acclaimed Conductor Gustavo Dudamel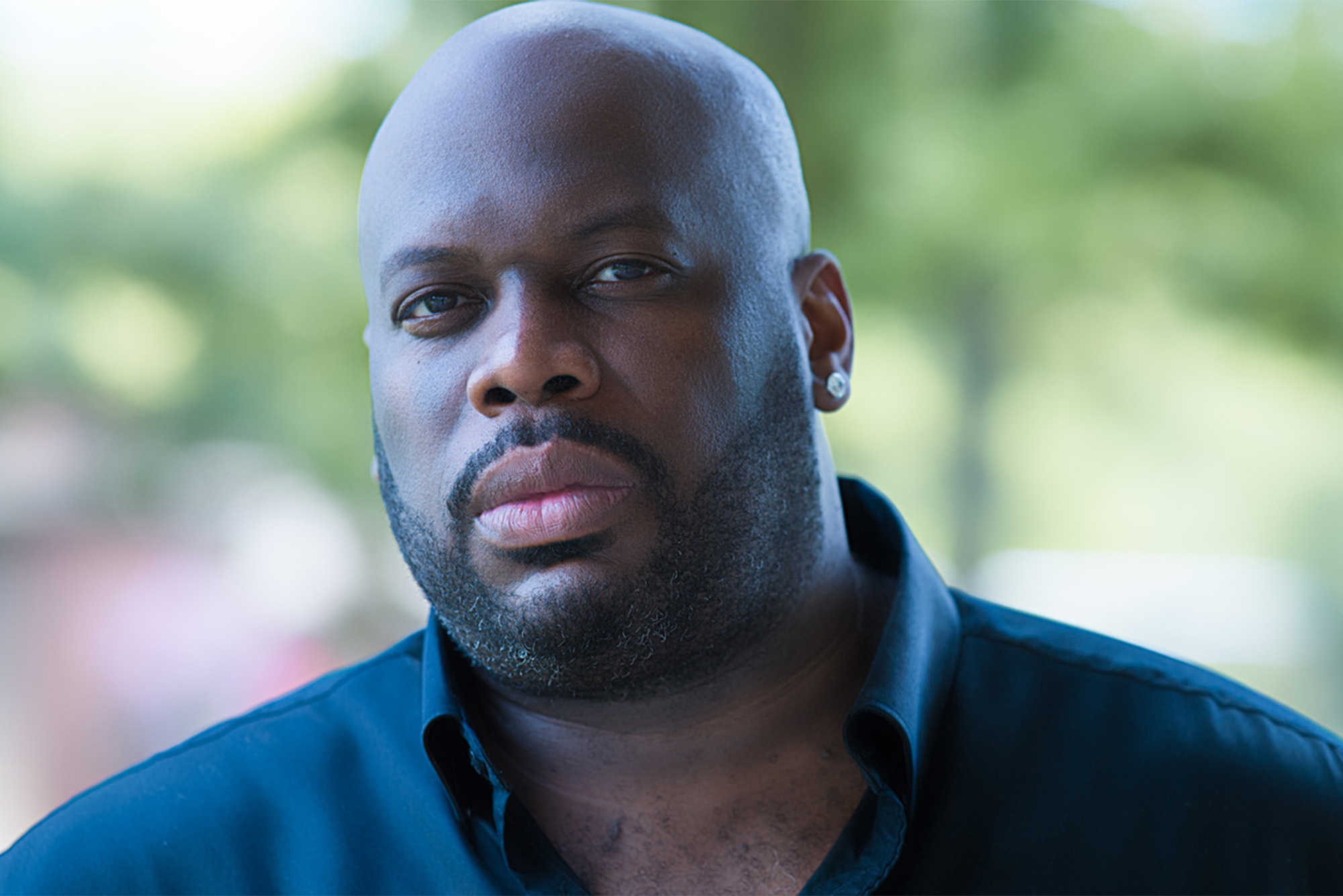 Music
Opera Singer Morris Robinson (CFA'01) on Working with Acclaimed Conductor Gustavo Dudamel
Los Angeles Philharmonic recording of Mahler's Symphony No. 8 has been nominated for two Grammy Awards
Bass Morris Robinson isn't technically a Grammy nominee, but he's still thrilled that the Los Angeles Philharmonic's CD and streaming release Mahler: Symphony No. 8, Symphony of a Thousand is nominated for Best Choral Performance and Best Engineered Album–Classical at the 2022 Grammy Awards. Robinson (CFA'01) was only one among 350 performers on stage for the Mahler, but his powerful solo is a highlight of the performance and recording.
"It feels like you're walking out on the 50-yard line and you're the captain of the football team, all your buddies are behind you, and you're representing, saying, 'I got this, follow me,'" says Robinson, a three-time All-American offensive lineman for the Citadel. "Of all the solos, the bass solo is the most exciting. It's high, it's low. You get to unleash, so to speak."
Despite his college gridiron achievements, Robinson was not quite big enough for the NFL, and after a brief corporate career, he enrolled in the BU College of Fine Arts Opera Institute at age 30, kicking off a dramatically successful career as a singer.
The performances of what is formally known as Symphony No. 8 in E Flat Major (1910), recorded at Walt Disney Concert Hall in Los Angeles, May 30 and 31 and June 2, 2019, were conducted by Gustavo Dudamel, the orchestra's acclaimed music and artistic director, and featured six soloists besides Robinson, as well as the Los Angeles Children's Chorus, the Los Angeles Master Chorale, the National Children's Chorus, and the Pacific Chorale.
The symphony "is glory amplified," Los Angeles Times classical music critic Mark Swed wrote after attending one of the performances. "Can radiance be recorded? Goosebumps digitized? We'll find out. Deutsche Grammophon came to town to preserve a historic occasion for now and whatever media we rely on in the future."
"Especially memorable [was] Morris Robinson with his imposing, rich Pater Profundus, a voice that seemed to bellow from the depth of the earth," Néstor Castiglione says in a review on the site Bachtrack.
Robinson's aria (track 13 on the recording) comes in the second part of the symphony, a musical setting of Goethe's epic poem Faust, in which he sings the part of Pater Profundus, literally Father of the Deep.
"It's one of the most challenging solos ever written for bass," Robinson says from his home in the Atlanta suburbs, where he lives with his wife and son, a high school junior. "You have to go up to high F sharp several times, and it's lots of leaps and bounds and requires a virtuosic control of your instrument and you don't get any mulligans, you've got to do it right now. I love the pressure, the intensity, the excitement of the moment, and I love being able to do it.
"It's just weird. It's Mahler, you know?" Robinson says with a deep chuckle. "I found it kind of odd and atonal, but once I got into it, I found I could really say something with this piece. It felt like it spoke to the natural gifts I bring vocally."
He had plenty of time to get into the role; the Los Angeles performances were his fourth go-round with the piece over a handful of years, including performances for the BBC Proms and orchestras in Milwaukee and Atlanta, in part to prep for the recording with Dudamel.
"We said, if Dudamel's going to do it, we're going to win a Grammy," he says with a laugh. "I said that two years before we sang a note because that was the potentiality. It worked out! I'm very proud of my work and everyone else's work on this. It was a special event.
"I've worked with Andris Nelson there in Boston who's very exciting and incredibly musical. The Boston Symphony is the best band in the world if you ask me. The LA Phil is a different animal, though," he says, noting that he performed in Frank Zappa's 200 Motels with the orchestra pre-Dudamel. "I'm always doing stuff way out on the edge with them. The energy Dudamel has is incredible. He's a singer's conductor, a musician's conductor, he allows you the freedom to bring your artistry to the table.
"When you're working with intelligent and accomplished musicians, you can only get in their way if you're not allowing them to do what they do. He does not get in the way, and that energy and freedom and musical expression is what caused this recording to be nominated for two Grammys. It's very exciting."
The 64th Annual Grammy Awards ceremony, originally scheduled for Los Angeles on January 31, will instead be held in Las Vegas on April 3. Should the recording win, Grammys go to Dudamel and the choral directors and groups. Robinson gets a letter, he thinks. "The official nomenclature aside, it's a tremendous honor," he says.
He had met Dudamel before, and "one of the coolest things" that happened offstage at the Mahler performances was that he was able to introduce his friend Verdine White—the bass player in Earth, Wind & Fire—to the conductor. "He was trained as a classical bass player…and he walked backstage with me, and every bass player in the orchestra lost their minds! They were freaking out, he was happy as well, and Dudamel was like, 'What are you doing here?'" Robinson adds, "Dudamel is such a cool cat—he knew who that was."
The Grammy reschedule is of course one more piece of the fallout from the COVID pandemic, which has proven an enormous challenge for performers like Robinson, who rely on live performances before an audience to make a living.
On March 11, 2020, Robinson had traveled to Dallas for rehearsals of a Verdi opera. "I never made it to rehearsal," he says. "They sent us all home. And sequentially, every gig I had for the next year and a half canceled. Nope, nope, nope, nope, nope."
---

They sent us all home. And sequentially, every gig I had for the next year and a half canceled. Nope, nope, nope, nope, nope.

---
The loss of income, the uncertainty about how he would provide for his family, the wondering when Earth would return to normal—all of it was difficult. "You pray a lot, cross your fingers, tap your savings; we gotta survive, this is what we're going to do." Fairly quickly, he began performing home concerts via Zoom, with his son running the camera. And when music went live again, he performed Rigoletto in a baseball field in Tulsa, Götterdämmerung in parking garages in Detroit and Chicago, a tent concert series with the Atlanta Opera—all venues chosen to avoid the indoor spread of the virus.
Robinson also took an online diversity and inclusion course from Cornell and shot a movie of The Magic Flute in Munich for producer Roland Emmerich. "Not a musical, an actual movie, coming out in December 2022. I sing one half of a verse and otherwise it's straight acting."
"I worked more during the pandemic than when there's not a pandemic," he says. "There's always a Zoom. As long as you have WiFi, you're working."
Now, though, he's back on stages in real, not virtual, concert halls. He sang with the Los Angeles Opera and the Metropolitan Opera in the fall, and he has spring and summer dates in Dallas, Los Angeles, and Cincinnati. On the table in front of him as he speaks are scores for upcoming performances of Copeland's Lincoln Portrait and Turandot.
"I am very blessed and happy," he says.
The 64th Grammy Awards ceremony is Sunday, April 3, at 8 pm ET and will be televised live on CBS and Paramount+.